Using audiophile headphones takes the experience of listening to music to a whole new dimension.
With the right headphones, you'll get to listen to clear crisp music, and experience the best soundstage. You'll be able to imagine the location of each musical instrument as if you're listening to a live music performance.
Audiophile headphones, however, come with big price tags. That's because only high-quality build materials and drivers are used to make them. But this doesn't mean you can't find a nice set of headphones at a reasonable price.
In this article, we'll show you a variety of budget audiophile headphones, and we'll tell you what to look for to get the best budget audiophile headphones.
Our List of the Best Budget Audiophile Headphones
In this section, we'll show you a bunch of budget-friendly options. These will suit your needs, whether at home or on the move.
Philips Fidelio X2HR headphones are a catch for an audiophile on a budget.
With their open-back design and noise isolation feature, you can enjoy your music with a large soundstage. The bass, midrange, and treble responses are good for a budget set of headphones.
You can wear them for hours thanks to their comfortable, padded headband and lightweight design. The earpads are made of breathable memory foam covered with soft velour.
Philips Fidelio X2HR headphones include a removable, oxygen-free cable. Plus, you get to have a 3mm adapter and a cable management clip.
✓ Fit type: Over-ear
✓ Back: Open-back
✓ Connection: Wired
✓ Colors: Black
✓ Durable and portable
✓ Comfortable, cool design
✓ Immersive music with the open back
✓ Perfect for gaming and watching movies, too
‍
✗ Some users found it a bit big for small heads
All in all, Philips Fidelio X2HR headphones offer the best value for the money. They combine durability, performance, and comfort, all at a very good price.
If you're big on quality and durability, then these German headphones are the ones for you.
As with other closed-back headphones, you'll keep the noise out to a great extent. However, in extremely noisy situations, you may get a bit distracted.
The headphones feature high-frequency clarity. Also, the bass reflex system and treble are great. Though, they could do better with the midrange.
Beyerdynamic 770 headphones are mainly made of metal with some plastic parts. The sturdy, metal headband is covered with pleather. You can easily adjust the padded headband to fit your head shape.
The earpads are padded, too, and covered by breathable, soft velour for your comfort. The metal structure, supported by great padding, offers a high level of durability. Only one thing to mention, the hinges are made of plastic. So you'll need to be a bit careful with them.
The headphones feature a 3mm single-sided cable which enables you to put it on and take it off easily.
✓ Fit type: Over-ear
✓ Back: Closed-back
✓ Connection: Wired
✓ Colors: Black and grey
✓ High-end sound quality
✓ Durable structure and soft surface
✓ One-sided cable for easy handling
‍
✗ Midrange needs some improvement
✗ Plastic hinges require careful use
With Beyerdynamic 770 Pro Studio, you'll be able to enjoy your music indoors and outdoors. However, if you're not careful when using it, the plastic hinges may break.
HiFiMAN HE-400I headphones feature a planar magnetic driver giving you the perfect spatial imaging and soundstage. They also offer a good balance between the bass, midrange, and treble.
However, having an open back doesn't make them perfect for commuting or in the outdoors in general. Noise leakage from and to your surroundings may be unpleasant for you and others.
HiFiMAN HE-400I headphones have a durable, metallic structure and padded earcups. Surprisingly, they are 30% lighter than other planar magnetic headphones.
You can get an extended warranty for an extra three-month, by registering your headphones on the manufacturer's official website.
✓ Fit type: Over-ear
✓ Back: Open-back
✓ Connection: Wired
✓ Colors: Grey
✓ Lightweight
✓ Improved headband pressure pattern for comfort
✓ Comfortable pleather and velour ear pads
‍
✗ Not ideal for outdoor use due to noise leakage
Overall, if you're looking to listen to great music at home, or in a quiet place, this is the right product for you. If you prefer to listen to music on the go, then you'd better get a closed-back set of headphones to avoid noise leakage.
If you're trying to find bargain headphones that look and feel luxurious, you've come to the right place.
With Sennheiser HD 600, you get to have deep bass, warm midrange, and crisp treble. The open-back design with mesh grills allows you to get the best soundstage.
They have a lightweight, ergonomic design that fits comfortably into your head. The headband is connected to the earcups with a metal band for maximum durability and fit.
High-end, durable plastic is used to make them. The removable audio cable has decent length and thickness to it which contributes to the durability of the product.
The headphones come with a 2-year international warranty.
✓ Fit type: Over-ear
✓ Back: Open-back
✓ Connection: Wired
✓ Colors: Black
✓ Great soundstage
✓ Comfortable design
✓ high-end, durable material and structure
‍
✗ You may need to get an amplifier for the best audio quality
If you want headphones that you can use at home with very decent quality and style, these might be the ones for you.
These headphones offer relatively very good sound quality considering that they come with an active noise cancellation (ANC) feature. The feature comes with 3 modes: flight, city, and office.
Bowers & Wilkins PX are very responsive headphones. They pause when you lift one earcup, go on a power-saving mode when you put them down, go back on when you put them on.
They have a good battery life (up to 22 hours of active playback). The battery can be recharged using a USB-C.
They're made of high-quality aluminum and plastic. The earcups are well-padded and large enough for your ears. So you can use them comfortably for hours.
They also come with a downloadable mobile application to control your audio playback and to save your preferred settings.
✓ Fit type: Over-ear
✓ Back: Closed-back
✓ Connection: Wireless/Bluetooth
✓ Colors: Gold
✓ Long battery life
✓ Decent active noise cancellation feature with 3 modes
✓ Strong Bluetooth connection
‍
✗ Audio quality might be affected when the active noise canceling feature is on
✗ Some users found them a bit tight at first
If you like to try new gadgets, these headphones will be a good fit. They're wireless and come with an application for easier control.
Because Philips SHP9500 are open-back headphones, you can enjoy the soundstage and clear music in a quiet place. However, a lot of audio is leaked in and out of them. So, they're not best in the outdoors or in a place with a lot of noise.
The drivers are precisely angled to fit the ears, so audio signals can go directly into the ears for a great listening experience.
In terms of audio quality, the midrange performance is better than the bass. So if you're too concerned about the bass, you may not be quite happy with these headphones.
Philips SHP9500's steel headband has a comfortable double layered cushion and you can adjust its size easily. The earcups are breathable and can be used for long sessions of listening to music.
✓ Fit type: Over-ear
✓ Back: Open-back
✓ Connection: Wired
✓ Colors: Black
✓ Drivers aligned with ears for good sound quality
✓ Breathable earcups for extended use
✓ Comfortably fitting headband and earcups
‍
✗ The bass could be improved
✗ Audio leakage
You'd be surprised at how good these headphones are considering their price. You'll only think of them as a steal when you see the quality, performance, and comfort they offer.
How to Choose the Best Audiophile Headphones?
Before selecting your next set of headphones, read the following points for tips on how to find the best match for you.
Besides Sound Quality, What Should I Look for in a Pair of Headphones?
Comfort
You should be looking for the right material that'll guarantee comfort. As an audiophile, you'll be listening to music for long hours. The headband and earcups should be padded for comfort.
The material used to cover the earcups should be soft and breathable to avoid overhearing and soreness. A set that perfectly fits your head size and shape should be considered, too
Durability
Audiophile headphones tend to be a bit pricey. So, you should expect them to stay with you for a while.
Choose a set that has durable material, whether metal or high-quality plastic. They also should have a well-built structure to withstand wear and tear.
Should I Select Open-Back or Closed-Back Headphones?
It depends on where you want to use them. Open-back and closed-back headphones have different features and uses.
Open-back headphones offer great soundstage and clear sound quality. You'll feel immersed in the music that leaks from the drivers to surround you. So, it's best to use them at home or in a studio.
Outdoors, closed-back headphones keep the noise out and stop the music from leaking. That makes them best for use in noisy places. However, they offer smaller soundstage and less audio quality.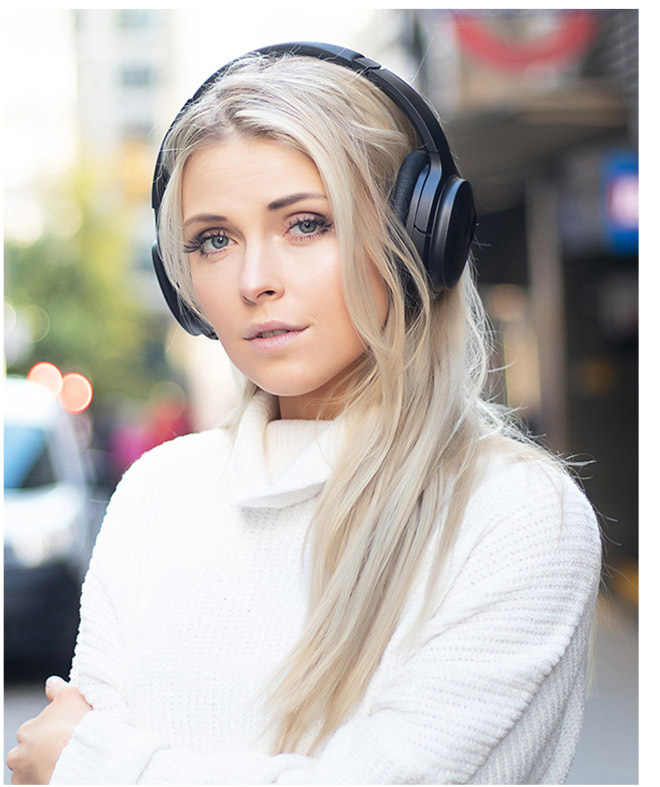 Should I Go for Over-Ear or In-Ear Headphones?
In-ear headphones can have great prices. They'll feel lightweight if you want to use them while moving around. They can be used discreetly and you can store them easily. Plus, they isolate noise from the outside, because they fit perfectly inside your ears.
If you care more about sound quality, over-ear headphones are more suitable for you. They have larger and more powerful drivers. That's why most audiophiles prefer them to all other types. They can also offer great isolation unless you're using an open-back pair.
Although they're bulkier and heavier, they're more comfortable than in-ears when you listen to music for long hours. The padded earcups won't make your ears feel sore.
What's the Difference between Noise cancellation and Noise Isolation?
People always confuse noise cancellation with noise isolation . Noise cancellation is an expensive feature in headphones. It plays back an inverted version of the noise around you to cancel it out. Only battery-operated headphones may have this feature, but it's really effective.
The noise isolation feature is all about blocking the noise around you by physically sealing your ears. That keeps the music inside and the noise outside. It doesn't require any kind of charge, so it's cheaper.
These two features will keep you from wanting to turn up the volume which may cause future hearing problems.
How Can I Test My Headphones?
You can get to know a lot about your headphones by reading their manufacturer's description and user reviews. But it's also a good idea to test your headphones before buying them.
First, you need to test them for comfort and size. You need to make sure they fit your head size comfortably so that they don't hurt later.
Second, you need to check the sound quality. In addition to trying tracks from your own playlist, some experts recommend listening to old music . Old music isn't as compact as modern music. So, it offers a wide variety of frequencies.
Is Wired Better Than Wireless
Wireless headphones allow you to move freely while listening to music. You'll be able to play, pause, skip your tracks right from the headphones.
While they offer great convenience when busy or working out, they need to be recharged or you'll have to buy batteries often. Also, wired headphones have much better sound quality.
Final Thoughts
Audiophile headphones don't have to be pricey to perform well. We've collected some budget-friendly options for you to choose from.
After reviewing many budget audiophile headphones, we found that ​Philips SHP9500 HiFi Precision Stereo​ headphones have it all. At a very low price, they're durable, comfortable, and inexpensive. And most importantly, the audio quality is very good.