Buying new headphones is exciting! The idea of listening to your music differently is thrilling, isn't it? Well, we're here to make your process easier and bring you closer to your new headphones!
Are you sick and tired of having your noisy surroundings come between you and your beloved music? The best closed-back headphones can eliminate this problem for you and make you feel like you and your music are the only two things that exist.
Closed-back headphones are the most commonly used kind of headphones. Even musicians use them to record and mix their tunes. They can be used for all sorts of things.
Top 5 Closed-Back Headphones on the Market
Check out the 5 best closed-back headphones you can choose from.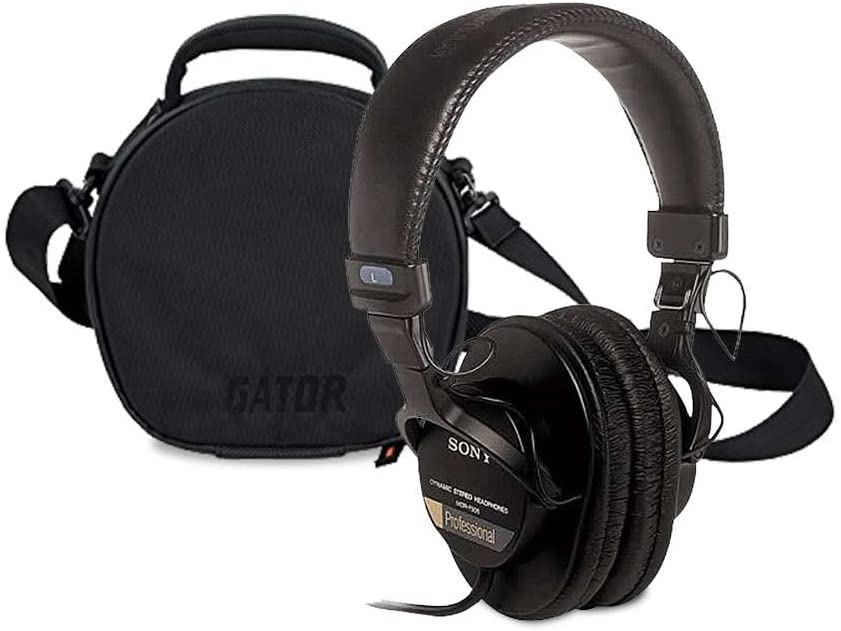 We all know that those at Sony know what they're doing. If you didn't already know that, Sony MDR7506 would definitely change your opinion!
We'd like to start by saying that these headphones were made for professional musicians. With a frequency response of 10 Hz to 20 kHz, an amazing sound is practically a guarantee.
Add to it the 40-millimeter drivers and neodymium magnets used and you'll be able to hear your music in a way you've never experienced before. Loud and clear, as people say.
If you take a look at a photo of these headphones, you can see for yourself how the headband is heavily padded. This is arguably the most important part of over-ear headphones, it's what is most likely to be uncomfortable. Not in this case, though.
What We Like
✓ Audiophile sound quality
✓ Incredibly durable
✓ Comfort is a plus
✓ Amazing value for money
✓ Comes with a case
✓ Foldable for versatility
‍
✗ No wireless Bluetooth connectivity
✗ Ears might heat up after long hours of use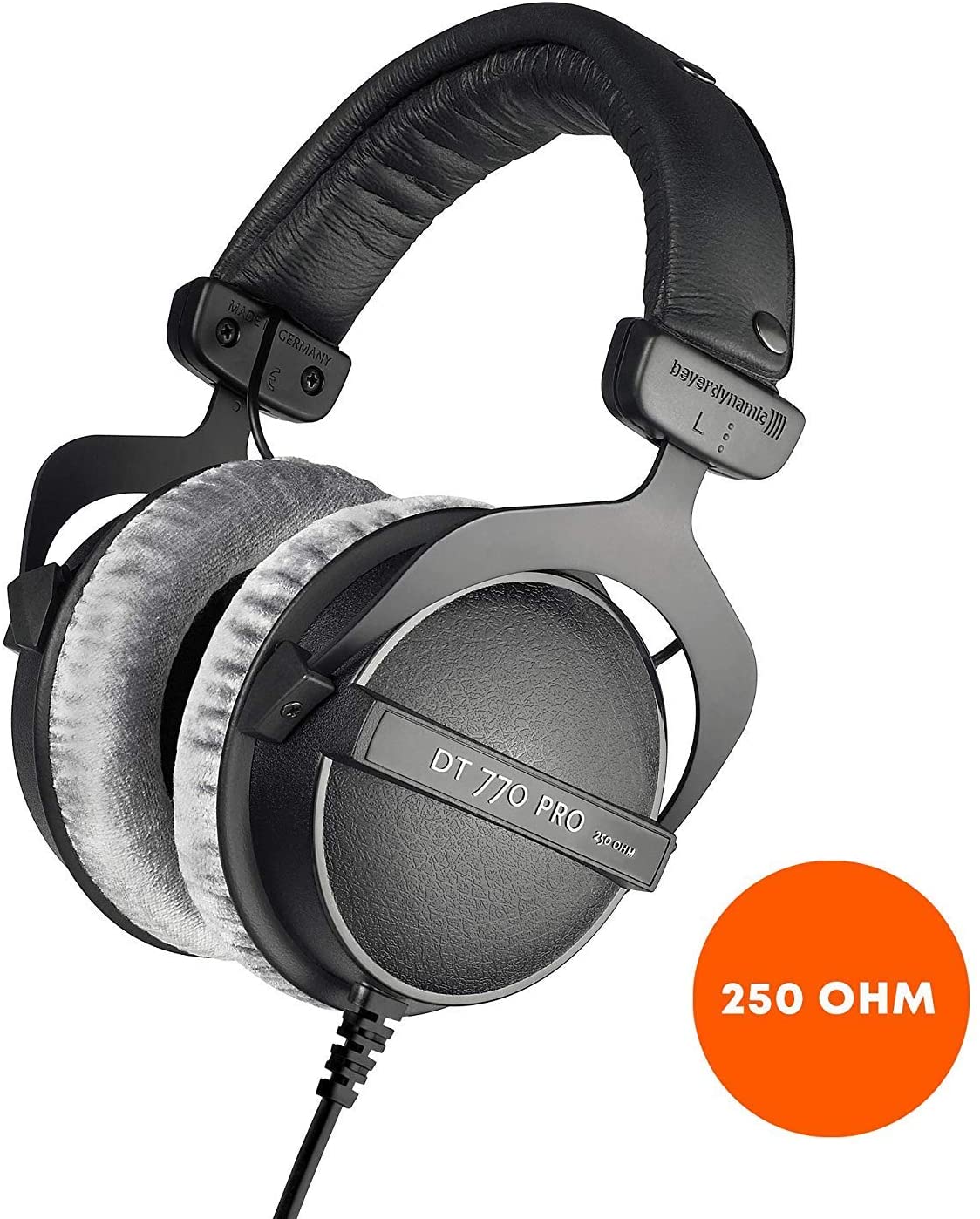 Beyerdynamic DT 770 PRO is another top-of-the-line closed-back headphone. It scores high on quality, sound, and comfort spectrums.
These headphones are designed for monitoring, which means they pick up every single detail. They'll make you rediscover your music, thanks to the 250 ohms impedance.
The sound you get is impressively dynamic as a result of the great impulse response. It's clear, spacious, and filtered.
What We Like
✓ Amazing sounding bass
✓ Low to no background noise passes through it
✓ Comfortable
✓ Comes with both a coiled and a straight cord
‍
✗ They make your ears warm after a long time
✗ Not very versatile
✗ Not wireless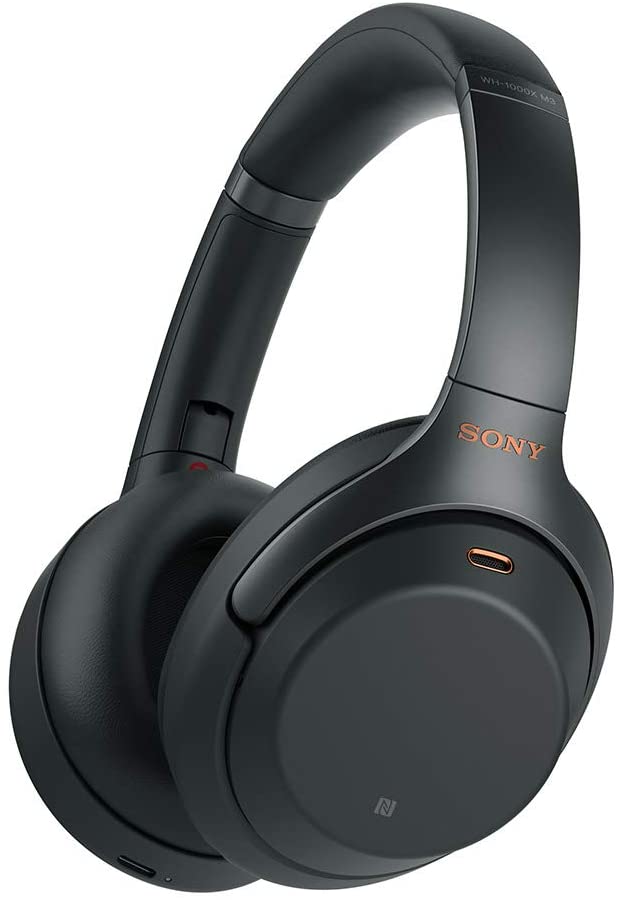 Another Sony masterpiece, the WH1000XM3, is a sleek pair of headphones. It has everything you can dream of and then some!
The frequency response on the WH1000XM3 is 4 to 40,000 Hz. The sound is clear, detailed, and unobstructed.
Sony has been mastering its noise cancelation for a while now. Not only does it actually prevent background noise from ruining your music, we can actually confirm that, but the Smart Listening can adjust to your ambient noise to best cancel them.
It also has a pretty handy feature that enables you to listen if someone's talking to you. To activate the quick attention mode, simply place your hand over the right cup, and you'll be able to hear who's talking to you.
On that same cup are some touch controls that enable you to control your volume, skip or return to songs, activate voice assistants, and take your calls.
What We Like
✓ Noise Cancelation
✓ Wireless Bluetooth and NFC connectivity
✓ Touch controls
✓ Alexa built-in
✓ Application software for easier control
✓ Incredibly durable
✓ Comfortable after long hours of use
✓ Foldable
✓ Long battery life
‍
✗ Bass might be much for some people
✗ Could be out of budget for some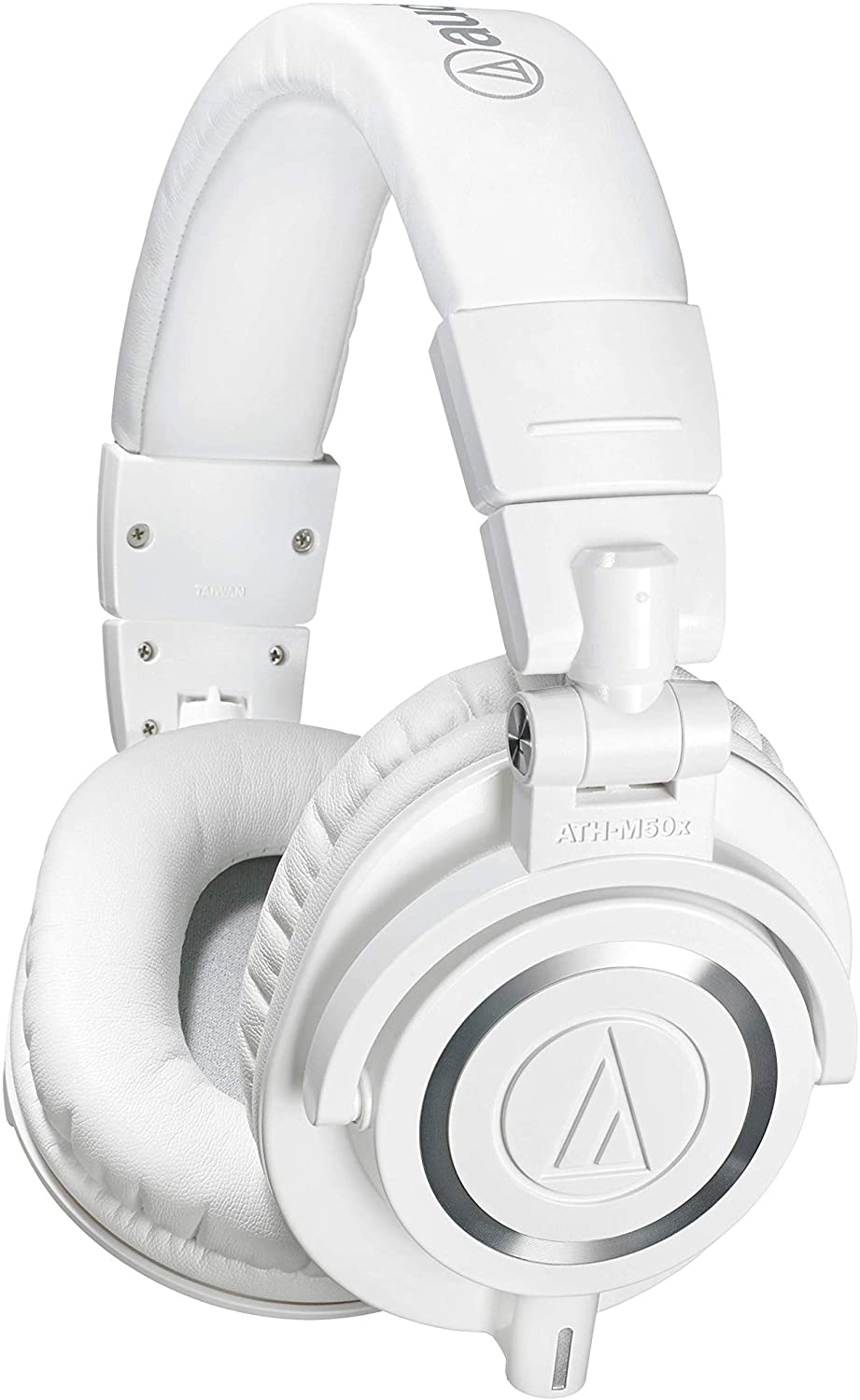 Audio-Technica is one of the most popular headphone brands on the market right now. They make headphones that are perfect for personal as well as professional use, and ATH-M50x is no exception.
Whether you're an audiophile, singer, mixer, or even a DJ, these headphones might just be right for you. The sound quality is incredible, thanks to the 45 mm drivers.
They have a sensitivity of 98 dB and a range of frequency responses between 15 and 28,000 Hz. In other words, they sound fantastic.
Have we mentioned versatile? The ear cups are rotatable up to 90°, which DJs will love.
What We Like
✓ There's a wireless model
✓ Amazing value for money
✓ Collapsible
✓ Comes with both a coiled and a straight cable
✓ Removable cord
‍
✗ Can get uncomfortable after long hours of use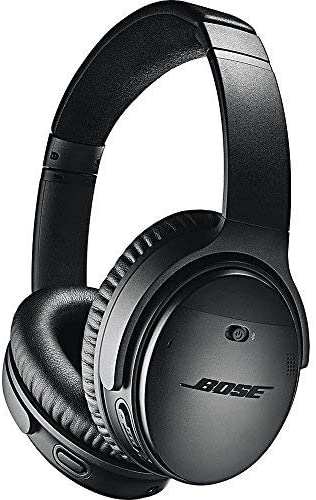 Bose QuietComfort 35 II shows just why Bose headphones are so high in demand.
As always, sound quality is incredible. It's very well-balanced and natural sounding, which makes the listening experience even more enjoyable.
There are three different levels of noise cancellation. This is quite a practical feature since it allows you to adjust to your surroundings.
The built-in microphone allows you to take your calls with no trouble. The dual-microphone is there to ensure your sound is clear and not distorted by any background noise.
What We Like
✓ Noise cancelation
✓ Wireless Bluetooth and NFC connectivity
✓ Alexa built-in
✓ Multi-function buttons for easier control
✓ Application software for easier control
✓ Lightweight
✓ Comfortable to wear for long hours
‍
✗ Battery life could be better
✗ No quick attention mode
✗ Doesn't always work smoothly with all devices
Did You Know?
Test your knowledge about closed-back headphones before buying some!
What They Are
Most standard headphones are closed-back. Closed-back headphones are headphones where the back of the cup is completely sealed, which means sound travels only towards your ears.
How They Work
Whether they're on-ear or over-ear, the cushions on the cups serve as a barrier between your ears and the outside world.
This means that sound travels straight from the headphones into your ears with nowhere else to go. It also means that there's less chance of exterior noise reaching you since the headphones block them out.
Types of Closed-Back Headphones
There are two types of closed-back headphones; on-ear and over-ear.
The less professional ones are on-ear. They are smaller and typically made for people who don't use their headphones very often or for personal use.
The cushions of the cup sit on the ear itself, so they're not recommended for long hours of use. However, they're pretty affordable.
Over-ear headphones are sometimes referred to as studio headphones. You guessed it, they're the kinds that are used in studios since they're comfortable long-duration uses.
The cushions sit around your ears so that they don't squish them. This way, your ears shouldn't hurt you if you have them on all day long.
When to Choose Them
Every person has his/her own preferences. Closed-back headphones aren't for everyone, but, generally speaking, they are the best option in some situations.
If you like to listen to your music one-on-one, speaking from experience, you're definitely going to want closed-back. You don't have to raise the volume on too high and nearly turn deaf simply to enjoy your music without any distractions.
You can think of closed-back headphones as on-the-go headphones. They're the best kind to have with you when traveling or commuting since they're going to leave behind background noise.
Most, if not all, musicians use closed-back headphones. They're ideal for mixing and recording music since they're going to keep your focus lasered on the music and nothing else. Not to mention, they don't emit any sounds that might ruin your recordings.
The Difference Between Closed-Back and Open-Back Headphones
Whereas closed-back headphones are sealed at the back, don't allow any music out and block out any ambient noise, open-back headphones are open at the back on purpose.
They work by letting out some music so that the sound surrounds you to make it more realistic. In doing so, some of the exterior sounds bleed in, and you hear it through the headphones.
Noise Canceling Feature
Noise-canceling is featured in some closed-back headphones. Its purpose is to prevent any background noise from making its way to your ears.
Noise-canceling is an amazing option. Speaking from experience, it does eliminate distractions, and it allows you to focus only on what you're listening to. You don't want me to get started on how background noise negatively impacts productivity and concentration.
This is a pretty convenient feature to have if you're working from home, like most of us are these days. You can shut everything out and finally get some work done for a change.
Best Headphone Brands
Get to know the brands that make the best closed-back headphones.
Sony
Who doesn't know Sony ? Well, here's what you might not know about Sony. Did you know that Sony's very first consumer product was a rice cooker? For real.
The company was created in 1946 by Ibuka Masaru and Morita Akio in Tokyo. They had met in World War II while developing missiles for the military.
Initially known as Tokyo Telecommunications Engineering Corporation, Sony officially got renamed in 1958. The name of the brand is derived from the Latin word "Sonus." It means sound, which brings us to here and now.
Beyerdynamic
Eugen Beyer founded Beyerdynamic in 1924 in Berlin. They're Germans who make electronics, so you know it's bound to be good. It is.
At first, Beyerdynamic was a manufacturer of cinema speakers. Then they moved on to making walkie-talkies and more.
Audio-Technica
Not many companies can boast about winning the GRAMMY® Awards or being inducted in the Rock & Roll Hall of Fame, but Audio-Technica can. Let's see how it all started.
It was 1962 when a man named Hideo Matsushita started this company in Tokyo. Its main purpose was problem-solving audio equipment before it moved on to making its own products. Now, look at how far this company has come!
Bose
Bose is one of the leading brands when it comes to headphones. Would you believe it all started with a teenager at home?
Dr. Amar Bose repaired radios from his parents' home. Needless to say, he succeeded after gathering patents during his time at MIT and investing them into his own company.
The company was founded in 1985 and had been dominating the audio market ever since.
FAQs
Got some questions? We've got the answers!
Are closed-back headphones the best for gaming?
Closed-back headphones are good for any kind of music if you invest in the right set. Their advantage when it comes to gaming is that your focus will be on your game only. No distractions.
Most gamers, however, prefer open-back headphones due to their realistic sounds. They might make you feel as though you're inside the game and hearing the sounds all around you, unlike closed-back ones, which make you hear the studio-recorded sounds and nothing more.
Do closed-back headphones sound better?
If you're asking about the quality of the sound and nothing else, then no, open-back headphones have better sound quality. But it's not that simple. It depends on when or where you'll be using them.
You're less likely to enjoy that quality if you're surrounded by noise since open-back does nothing to hold back background noise.
When it comes to listening to music when you're not alone, closed-back headphones definitely sound better since you will actually be able to hear them!
Some people say that closed-back headphones sound pressurized. It's true, but what's the use of having a realistic sound if you can't hear it over the noise in the first place?
Can others hear your music if you're using closed-back headphones?
The purpose of closed-back headphones is to prevent sound from leaking out or into your headphones. They shouldn't be able to hear what you're listening to unless the volume is really loud.
Are all closed-back headphones noise-canceling?
Noise-canceling is a newly developed feature that's only available in some closed-back headphones. The technology of it isn't in all closed-back headphones.
That being said, closed-back headphones are designed to prevent noise from reaching your ears. While they are supposed to cancel noise, they're not necessarily noise-canceling headphones.
Bottom Line
So, how does this all sound? Pun intended.
Since it's headphones we're talking about, it all comes down to the sound quality. Our top choice is the Sony MDR7506 . Its sound is exceptional. Its incredibly low price for such quality is definitely a plus!
If you'd like some tech features, once again, Sony wins! Sony WH1000XM3 is all about those features, and that bass!
Now go decide, my friend. You have an entire music library waiting to be rediscovered.