Bose has been leading the market in noise-canceling, convenient headphones for years. They continue to offer great value and industry-leading technology in both noise cancellation and sound quality.
However, as Bose is such a big company, it's natural that they would offer their customers many choices in the specific make and model of the headphones available. This review compares and contrasts two of their most venerated noise-canceling headphone models – the QuietComfort 15 and 25 – so that you know which is right for you.
We will go over the main features in this buying guide that you should be comparing when trying to decide which model best suits your needs in terms of design, comfort, features, and price.
Bose Headphones: Features Comparison
Knowing the unique design, comfort features, technology, and price of the QuietComfort 15 vs 25 will help you match a product to your needs and expectations. By comparing both models within the same criteria, this buying guide intends to give you a metric on which you can judge their aptitudes and buy the over-ear headphones that work best for you.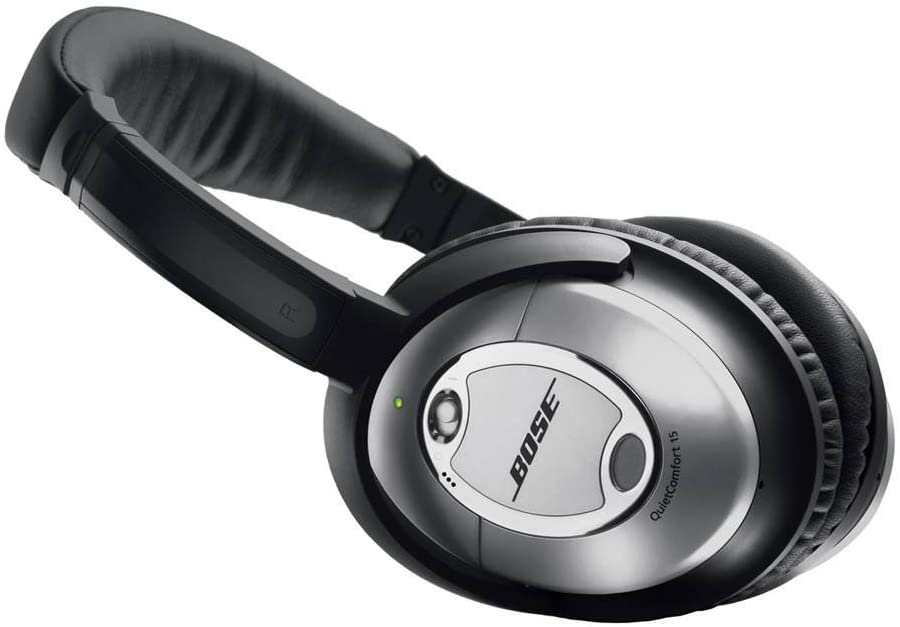 ✓ Comfortable design
✓ Extensive battery life
✓ Balanced, clear sound
✓ Clear bass
‍
✗ High price owing to discontinuation
✗ Flimsier cord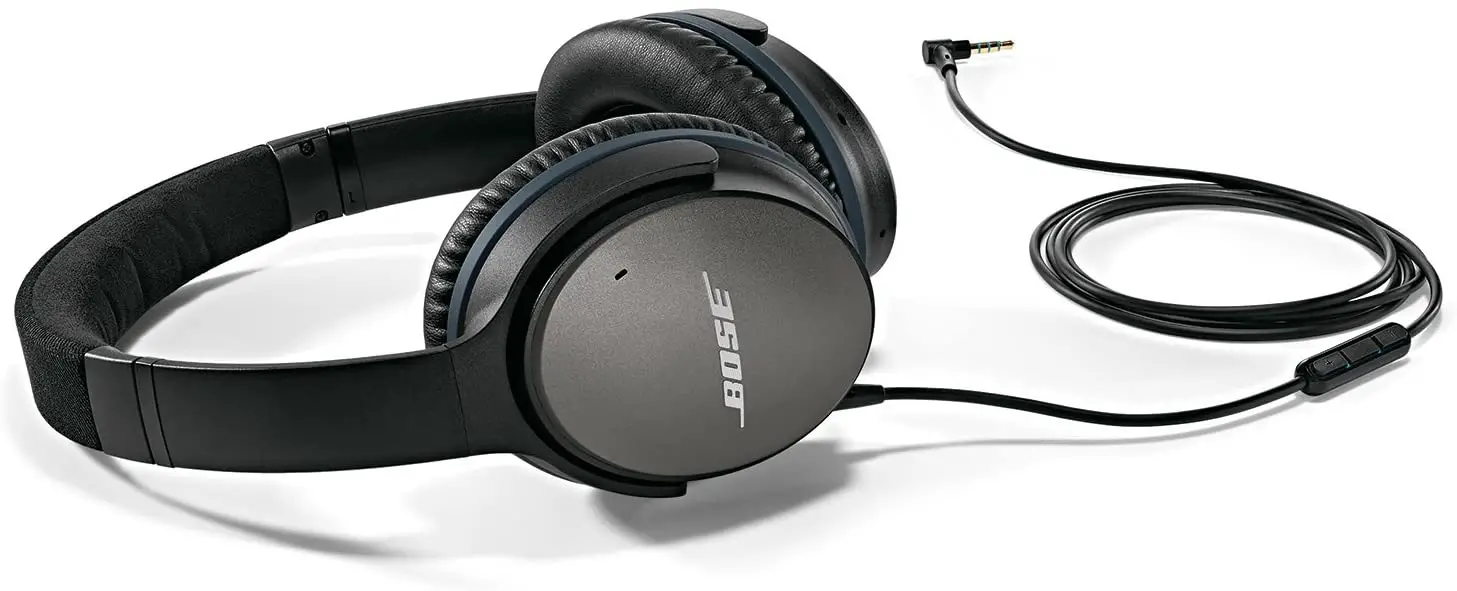 ✓ Memory phone earcups
✓ Balanced sound quality across all registers
✓ Customizable color choices
✓ Lower price
✓ State of the art noise-canceling technology
✓ Sturdy cord
✓ Active noise cancellation
‍
✗ Single AAA battery runs out quickly on the noise-canceling mode
✗ Not wireless or compatible with Bluetooth
✗ Headphone design
The differences in the physical design of each model are a significant change. They could affect your comfort, the features offered, or the durability of the headphones. We compared the main design features to see how the QC 15 and QC 25 stack up.
Earcups
The first noticeable difference between the physical design of the QuietComfort 15 and 25 is that the earpieces on the 15 are round and oval on the 25. Neither is objectively better, but depending on your ear shape and your experience with your preferences, you may choose one over the other.
The 15 is brighter, with white ear cups and yellow pads, while the 25 is black with a metallic finish. Are you the kind of person who cares what their headphones say about them? If so, the 25 model gives off the appearance of more luxury.
A common complaint with the physical design of the QC 15 headphones is that there are no distinguishing features to help you tell which earcup is for the left or right side. While it may not be at the top of anyone's list of comparative features, the fact that the QC 25 denotes explicitly which cup is for which ear is not only convenient but a clue to the work that Bose went through to improve the design of their device.
Weight
Both headphones feel sturdy in your hand. Light headphones can be a blessing for those with painful necks but be wary of any model that's too light since it can imply cheap materials. On that note, the QC 25 model is heavier than the 15, probably due to its additional features. It doesn't make a significant difference, however, this could be a deciding factor for you if you have neck problems.
It's worth noting that for most people, both the 15 and 25 are comfortable to wear. The difference in weight is worth mentioning, but not significant.
Cord
The cords on the 15 and 25 are slightly different and it's important to know how different since Bose uses only proprietary cables manufactured for the QuietComfort headphone line. If they break or get damaged, you won't have a generic or third-party option to replace them. Your only choice is to buy the cord from Bose directly. Since this could be a considerable expense if it happens often, you may be interested to know that there's a significant difference in quality between the cords of the 15 and 25 models.
In fact, this seems to be one of the main things that Bose worked on in their quest to make the best noise-canceling headphones around. The cord on the QC 15 is flimsy and feels like it could break or split after a while. The QC 25 cord is comparatively high-quality and thicker, giving you the sense that you won't have to worry as much about loose wires or cord replacements.
Case
Both models collapse into a convenient carrying case that helps you keep track of your headphones and pack them for a vacation without worrying about them getting bent. The cases are different, however, and the edge goes to the QC 15.
The case for the QC 25 headphones seems intended to be more advanced, but the hard carrying case is not as convenient to carry and the headphones have to be folded and stored very specifically in order to make them fit. By contrast, the QC 15 carrying case is fabric, which may not offer as much protection but is much easier to fit the headphones into and store in a bag for the road.
Unless the extra weight is a serious issue for you or you have a specific preference for round earcups, the QuietComfort 25 headphones are slightly better designed. The case isn't as convenient, but the higher quality cord is a deal-breaker in this category. It will save you from having to get it replaced and makes the 25 model a slightly better return on investment than the 15 in terms of design.
Your Comfort
Since you're looking for premium headphones, you'll be happy to know that Bose invests in your comfort as well as in the technology. You may be planning on wearing these headphones for short or long periods of time and that may affect the model you decide to buy.
The QC 15 earcups are soft and comfortable. Both the pads and the cups are designed with user comfort and wearability in mind. It's hard to find a complaint about the physical material and fit of these premium earcups.
After extended wear, however, the seal around the earcups can start to feel uncomfortable, with some users reporting a "high pressure" feeling that makes them want to take a break. For comfortable use in shorter bursts, the QC 15 earcups are top of the line.
If you plan on using them for a long time, however, such as for work in audio mixing, the QC 25 earcups are light, gentle on your ears and neck, and have not been reported as producing this "pressure" feeling. The cups are soft leather with a cushion inside made of memory foam for maximum comfort against your ears. The foam also allows the headphones to be used by more head shapes and sizes.
This makes them ideal not only for your comfort but for the possibility of sharing them with siblings, friends, or other family.
While the QC 15 earcups are comfortable, particularly in short sittings, the QC 25's are simply more versatile and feel more comfortable for longer. They are made of softer material (polyester and polyurethane) and are form-fitting as well as loose enough to keep your neck comfortable.
Due to the improvements in padding and the versatility of the fitting on the QC 25 earcups, they easily win the overall comfort category.
Sound
Bose is an industry frontrunner in high-quality headphones so the QC 15 and 25 are going to be almost too close to call. No matter which you buy, you're buying into high audio quality.
The sound quality of the QC 15 headphones is above industry standard in terms of balance and smoothness. The mid-range, low, and high ranges of the sound output all sound right in terms of professional-grade headphones.
So long as you're not expecting anything bright or harsh, the QC 15 has perfectly balanced sound quality. We especially liked the base range, which can be way too loud on cheaper consumer-grade headphones. On the Bose models, it's completely balanced.
QC 25 seems designed along the same vein for balance and clarity. Particularly in the mid-rage tones, the QC 25 headphones have a sharp sound quality, though this diminishes in both the higher and lower ranges.
By eliminating white noise and remaining clear and balanced in the mid-range, the QC 25 headphones are a worthy purchase, especially if you plan on listening mostly to acoustic or indie music or need great noise reduction to block outside noise.
However, the QC 15 sound output is heavier in the bass, so that could influence which type of music sounds the best on it. This category is too close to call objectively. Which model you should use depends on what type of music you like listening to. In general though, both headphone models will give you a perfect listening experience.
Noise cancellation
Noise cancellation may be the main reason you're buying these headphones, so it pays to know how they stack up on this feature. The QC 15 headphones were one of the first noise-canceling consumer-grade headphones on the market.
The QC 25 continued the trend in this technology to offer even greater noise cancellation. With the canceling mode turned on, you can block out 85% of the surrounding noise.
If this is a major factor for you, the QC 25 headphones improve on the noise-canceling technology with an activated feature that has tested cancellation capacity for a wide range of noise in many different ambient environments. If this is what you're looking for, the QC 15 model will do you well, as it has been doing for users for years. However, the QC 25 model has improved on them and is the clear winner in this category.
Price
These are expensive, professional-grade noise-canceling headphones. Both the QC 15 and 25 models will set you back, but you may be surprised to learn that the later QC 25 model is cheaper. This is because the manufacturer no longer produces the QC 15 model, meaning you have to buy it from a third-party seller from a much more limited supply.
So while both of these headphones are expensive, if the price is the real sticking point for you, you will save by choosing the QC 25 model.
The Takeaway
If you're looking for high-end consumer noise-canceling headphones, Bose is an industry frontrunner. Their QuietComfort 15 headphones were some of the first truly noise-canceling headphones on the market and the upgraded 25 model lives up to its reputation.
There are many factors to consider when trying to choose between them, including sound quality, comfort, design, and cost. These categories have been broken down for you here with special attention to how each model stacks up against the other.
In general, both have high marks in terms of balanced sound output, with the lower ranges being favored on the QC 15 model, and are about equally comfortable. The 25 is heavier but also equipped with softer memory foam. Your comfort preferences have to help you make your own decision there.
In terms of the overall design, both headphones are designed with professional-grade materials, though we noticed that the cord on the QC 15 was comparatively flimsy. In terms of price, the QC 15 headphones are also discontinued by Bose. This means that to get your hands on them, you'll have to pay a little extra to buy them from a third-party seller.
Ultimately, the QC 25 wins in more categories and proves with its stellar sound-canceling technology, balanced sound output, and sturdier construction that it's an improvement on the QC 15, despite similarities in their designs. Being heavier and less generous on the base means that you may opt for the 15 if your needs are very specific, but our overall pick between two of the best noise-canceling headphone models on the market is the QuietComfort 25 model.
Do you know How to pair Bose Headphones with your Mac? If not, we've got the answers.