Nowadays, noise-canceling headphones are a necessity. In the age of working from home and noisy commutes, why wouldn't they be? Not only do they offer terrific audio quality, but they also provide the ability to listen to your music in peace.
Some just let you turn on or off noise-canceling, which is good if you listen to them on a train or plane. Others give you more flexibility and the ability to adjust the noise-canceling power depending on where you're using them.
Most importantly, they allow you to experience music the way it was intended to be heard: loud, simple, and uninterrupted. This is why we've bought you today a list of the best noise-canceling headphones under $200.
Alright, let's jump in!
Best Noise-Canceling Headphones Under $200
For those on a budget of $200 or less, you're in luck. There are some solid noise-canceling headphones available on the market today. They balance affordability and noise-canceling technology efficiently. These are some of them.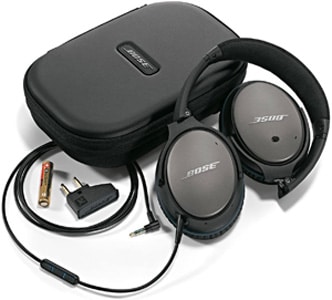 Runners and gym-goers should be pleased to hear about the QuietComfort 25. Compared to Bose's last models, the comfort of the fit hasn't changed much. However, Bose seems to have increased the tension in the headband a bit to offer a more secure fit to your head.
The noise reduction was one of the best we've seen, especially in active headphones. Using a switch on the right cup, you turn the feature on and off. There was no attempt to hide the switch as is common in other headphones. However, you need to remember to turn the headphones off. There's no auto-off feature here.
Instead of using a rechargeable battery, the Bose QuietComfort 25 opts to use a single AAA battery to power the active noise-cancellation. While this may seem "last decade" to some people, it's easy to throw a few AAA batteries in your bag. It also means you can replace the battery as needed instead of plugging the headphones into it.
The QuietComfort 25's key advantage over other alternatives is its price and removable battery. If you're looking for a travel buddy to block airplane noise, you might be able to grab quite a deal.
✓ Terrific noise-cancellation
✓ Removable battery
✓ Balanced full sound
‍
✗ The color customization costs extra money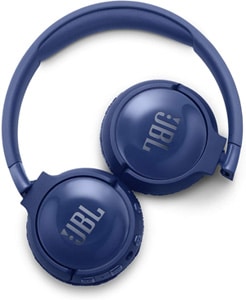 Extremely lightweight, the 600BTNC sports a slim, on-ear design. Because of this lack of weight and a lack of clamping, the fit remains comfortable.
It's quick and effortless to pair to via Bluetooth, and the active noise-cancellation feels surprisingly comfortable. The total charging time for the battery is a low two hours, but this two-hour charging period gives you impressive battery life. So you're ending up with 12 hours with ANC and Bluetooth switched on, and 22 hours with only Bluetooth on.
With these headphones, you could knock the noise down a notch or two. That means you could listen to music at a lower level without having to deal with annoying background noise.
It also means you don't even have to listen to anything at all to ignore any commotions. Your headphones will drown out much of the ambient noise, leaving you to enjoy the bliss and quiet.
The 600BTNC isn't perfect, as the mids have some distortion and the highs seem a little comfortable. But for the price, nothing else comes close to delivering that sound quality in a durable and feather-light build.
✓ Lively and emotive sound
✓ Lightweight
✓ Noise-annihilating ANC
‍
✗ Suffers from some midrange congestion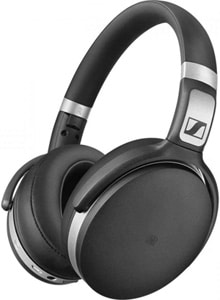 Here, a good fit is all that matters. It doesn't take much to realize that the HD 4.50 BTNCs is both lightweight and flexible. This pair weighs 238 g by itself and are relatively small, but thick cushioned and closed ear-cups.
This pair of headphones does remarkably well for the money. When connected to a smartphone wirelessly via Bluetooth, they proved to be more rounded with music than the Bose QC35s. However, they aren't as crisp as the Sony MDR-1000X.
Here's what we noted about this pair. When the headphones are in NoiseGuard mode, music loses a bit of its luster, but this isn't unusual for the genre.
In general, compromise comes with affordability, and we expected to experience this in the form of restricted battery life. However, the Sennheiser HD 4.50 BTNCs last for 20 hours, which is extremely impressive. In fact, the only problem we had was those snug-fitting ear-cups that lack ventilation. Hot ears on a warm train can be very uncomfortable!
✓ Impressive battery life
✓ Satisfying stability
✓ Decent audio quality
‍
✗ Uncomfortable fit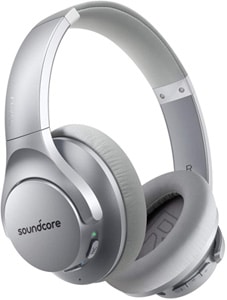 When on a budget, you shouldn't expect much from a pair of headphones. Compromises have to be made, after all. Yet, the snug SoundCore Life Q20 took us by surprise with its rich, fully-rounded sound.
The Anker Soundcore Life Q20 are mixed-use headphones. Their sound profile is fairly suitable for a wide range of genres, but their ANC is not the best way to block the rumble of engines, buses, or aircraft. Nevertheless, it does an excellent job of blocking background speech.
The battery life is quite solid and should last nearly a whole week of work. For its part, Anker claims that with active noise-canceling enabled, you can write up to 60 hours of music playback in normal mode. The Q20 is also very comfortable and you should be able to wear them without feeling any discomfort for extended periods.
However, voices can cut through the cancellation of noise, particularly at quieter volumes. If you want to hear, say, announcements from the captain of your flight, that's a plus. However, this also means you can hear chatter nearby, clattering keys, and closing doors. Unlike on some higher-end headphones, there is no mode that allows you to hear ambient sounds intentionally.
✓ Exceptional sound quality over Bluetooth
✓ Solid battery life
✓ Good value for money
‍
✗ Voices can sometimes cut through the active noise-cancellation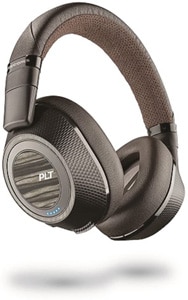 For the price, the Plantronics BackBeat Pro 2 offers excellent battery life, top sound quality, and good active noise-cancellation. It may not offer the best noise-cancellation on the market, but this pair delivers on its promises.
With active noise-canceling enabled, when no music is playing, we noticed a slight hiss. It may not offer the industry's best noise-cancellation, but the Plantronics BackBeat Pro 2 can do an excellent job to shut out external noise.
We were pleasantly surprised to find that ANC still works when playing music in wired mode, meaning you can save some battery when you don't mind being wired for a period of time. A little bit of added bass focus helps to drown out ambient noise, so we can understand why Plantronics has chosen to sign a bass-heavy sound.
As for battery life, the durability of the BackBeat Pro 2 has made us highly impressed. The original also provided an amazing battery life of 24 hours a day. The second-generation consumes even less power while idle, offering a claimed DeepSleep 6 months (up from 180 hours).
✓ Solid 24-hour battery life
✓ Pleasant sound
✓ Excellent wireless range
‍
✗ Bulky design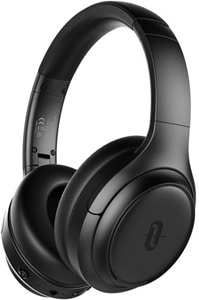 If you're on an awfully restricted budget, then this pair is for you. Regardless, we ourselves were impressed: the sound quality is way much better than you'd expect for the price.
These Taotronics headphones provide a decent music-listening experience. Unlike with other headphones of a similar price range, the audio doesn't sound muted. And thanks to the inclusion of active noise-cancellation, you have a way to block background noises or other audible distractions.
Taotronics also provides you with 25-30 hours of battery life per charge. Other features include a feature called Hyper Speed Charge, which delivers two hours of use after just five minutes of charging. There's also Bluetooth 5.0 which allows for reliable connections with your devices.
Yet, there are definitely some downsides to these Taotronics headphones. With this pair, bass can sometimes get fuzzy. We've noticed that all sounds aren't as pronounced as they'd be on more costly headphones.
✓ Bargain price
✓ Decent isolation performance
✓ Satisfying battery life
‍
✗ Muffled sound quality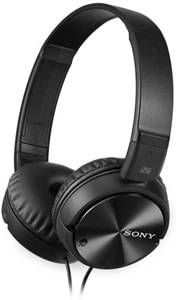 The Sony MDR-ZX110NC has a lightweight build, so there isn't too much pressure on the ears from the headband. However, these headphones are a little uncomfortable due to the lack of padding on the headband and the slightly stiff ear cups that don't swivel.
Those headphones can filter out a decent amount of noise from the environment. The closed on-ear back design has all right passive noise isolation qualities, while the noise-cancellation works great to filter out mid to high frequency sounds.
With noise-canceling off, the sound of lean mids and bass is focused on the tops. The low end is improved with noise-canceling activated, giving you punchy bass, although it isn't very powerful.
Here's what we noticed. You may find that the bass is a bit underwhelming. Even with noise-canceling turned on, the bass performance that doesn't have strong thump may underwhelm you.
✓ Amiable audio reproduction
✓ Offers minimal leakage
✓ Long-lasting battery life
‍
✗ Provides poor noise isolation
How to Choose the Best Noise-Canceling Headphones Under $200?
As with buying anything else, here are some things to keep in mind when looking for noise-canceling headphones.
What's Your Budget?
When looking for anything that ranges from $0 to $200, you're bound to find too many options. Under $200 is a large range. There's certainly a difference between a pair of headphones that cost $199 and a pair that costs $50.
Here's something you should know. No headphones with satisfying noise-canceling tech would cost $50. This is why they're often dubbed as "noise isolating" instead. It's because they don't employ the special microphone technology that picks up and cancels ambient noise.
What Kind of Design?
Navigating the market, you'll find many different designs and fits. The key here is to determine which one you're most comfortable with before going in. For example, which would you prefer: standard noise-canceling over-ear or on-ear headphones? Would you rather opt for some earbuds instead? Maybe both?
If you're having a hard time figuring it out, try to predict what you're going to use these headphones for. Are you going to use them for exercise? For long, noisy commutes? Air travel? Would you need something light or something with a traditional earpad and headband headphones build?
Wireless or Wired?
What would you be most comfortable with: wireless or wired ? The world of wireless noise-canceling headphones is a large one. We've found that they're more common than wired headphones. This is mostly because many people with ANC headphones enjoy traveling.
There's also the inconvenience of cables to consider. Most would rather just forgo the whole ordeal and go for wireless headphones. Nevertheless, both offer different tradeoffs.
Those with wired devices will never have to worry about charging. This is a big deal when considering noise-canceling technology since it'll certainly drain your battery. Wireless models usually last no more than 10-20 hours or so. They're also a bit more expensive.
On the other hand, wirelessness in noise-canceling headphones is a must. This is even more accurate when considering those who travel.
Conclusion
It's undeniable. There are a lot of great headphones out there. However, you need to focus on the features when you're working on a limited budget.
Overall, it wouldn't hurt to consider the featherlight Bose QuietComfort 25. The battery is removable and the noise-cancellation is made to impress.
If you don't mind a bulky design, then the Plantronics BackBeat Pro 2 is definitely worthy of your time. It offers an excellent wireless range and a solid battery life. On top of that, it also has an emotive, full sound.
Now, all that remains to be done now is to pick your favorite and start listening. Remember: don't get caught up in the details. There are no perfect headphones and your volume level will naturally drown the ambient noise of lower amplitudes. Good luck!