Listening to your favorite tunes while breaking a sweat is extremely enjoyable if you have a pair of comfortable headphones. While most people resort to in-ear headphones or earbuds when it comes to sport, others fancy over-ear headphones for their versatile, more comfortable designs.
Finding a pair of over-ear headphones that are suited for working out can be very hard, as most models don't fit securely enough to remain in place during a workout. But no worries, this article will help highlight the best over-ear headphones for working out available today, so stick around.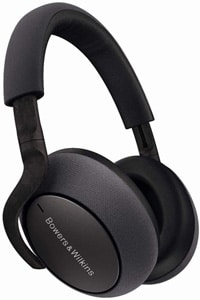 Starting off our list is the highly popular PX7 Over-Ear Wireless Headphones, with its Qualcomm aptX Adaptive Bluetooth codec which helps grant it superior noise-canceling capabilities. PX7 is an excellent pair of headphones for a wide range of sports, from running to gym workouts.
B&W PX7 houses a battery that displays a remarkable lifespan of up to 30 hours. And thanks to USB-C connectivity, it only takes around 15 minutes for this pair of over-ear headphones to offer 5 hours of playback. The design isn't all that visually striking, but it's extremely comfortable.
This pair of headphones is equipped with a proximity sensor that pauses the music when you lift up an ear cup. As soon as you put that ear cup back on your ear, the audio starts playing. As far as sound quality, PX7 offers an authentic, well-balanced replication that's truly impressive.
Compared to their predecessors, the PX7 headphones provide tremendous drive. They may not be the most authentic or grounded pair out there, but they're definitely entertaining. Sadly, this is a pair of headphones that cannot be folded, so they're not the most compact option available.
✓ Great noise-canceling capabilities
✓ Upbeat, entertaining sound output
✓ Fast charging and superb lifespan
✓ Distinctly comfortable construction
‍
✗ Not the most compact headphones
Verdict
The Bowers & Wilkins PX7 headphones strike an exquisite balance between comfort, longevity, and well-balanced output. Certainly the best pair of headphones designed by B&W so far. Keep in mind that they're not very compact, so make sure you have a backpack to put them in.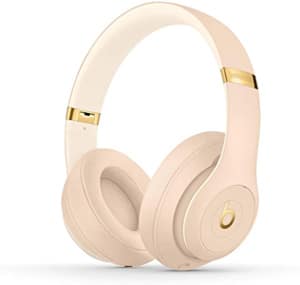 Beats Studio 3 is arguably the best pair of over-ear headphones available today, but it's all very subjective, so it's for you to decide whether that's true or not. This pair's tight fit makes them an excellent choice for working out, as it helps secure them in place even during intense routines.
This pair of headphones flaunt lightweight construction and a very well-padded design, making them some of the most comfortable over-ear models on the market. They're also super easy to use and navigate, thanks to the physical controls. The pair can also be folded for portability.
Even though Beats Studio 3 offers a fairly warm sound, it still carries a punch that can help keep you driven and motivated in the gym, especially if you're into bass-heavy music. The pair does a brilliant job of blocking out distracting noise with the aid of their active noise-canceling feature.

In terms of battery life, the Beats Studio 3 wireless headphones offer 23-hour playback time. Not just that, but they're equipped with quick-charge technology to ensure speedy charging. Sadly, it seems like the faux leather material used for padding isn't very breathable, so keep that in mind.
✓ Lightweight and comfortable build
✓ Secure fit that's ideal for workouts
✓ Superb noise-canceling capabilities
✓ Foldable design for easy portability
‍
✗ The padding isn't very breathable
Verdict
Considered by many as the best pair of over-ear headphones on the market, the Beats Studio 3 headphones offer excellent sound quality and snug fit that's ideal for training. While the padding is extremely comfortable, it can irritably warm up your ear, so keep that into consideration.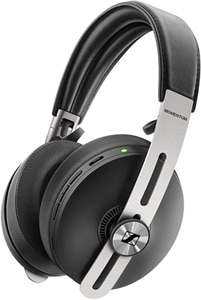 The third-generation Momentum headphones from Sennheiser are yet another excellent pair of over-ear units that are ideal for almost all situations, including working out. If you're a fan of the previous two Momentum models, then the Momentum 3 will absolutely blow you away.
Sennheiser's Momentum 3 is one of the best-looking over-ear headphones out there, thanks to the sleek finish, oval-shaped cups, rugged stainless steel sliders, and leather earpads. The pair is available in all-black, and there's a sandy white model that's supposed to come out soon.
The on-ear controls on Momentum 3 make it extremely easy for you to navigate everything from the volume to the tracks being played. These headphones are also foldable, so they're a superb choice when it comes to portability and commuting. They're the greatest travel companions.
Sennheiser's Momentum 3 capitalizes on the already-splendid sound quality of the previous two models. The battery lifespan is around 17 hours, which isn't super impressive compared to other models, but it's enough for you to get a good workout. An incredible pair of headphones, overall.
✓ Aesthetically striking construction
✓ Excellent, rhythmic sound quality
✓ Tons of handy usabilities features
✓ Superior noise-canceling capacity
‍
✗ Battery life isn't all that impressive
Verdict
A lot of over-ear headphones flaunt remarkable sound quality but often sleep on aesthetics. Not Sennheiser's Momentum 3, though. This pair of headphones not only sound great, but they look incredible. If the battery life was a little better, it would've been a flawless pair of headphones.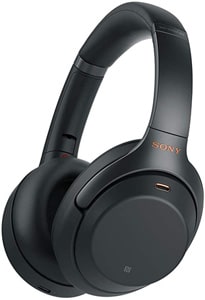 Sony's third-generation WH-1000 over-ear headphones belong to the same tier that the popular Beats Studio 3 is in, indicating the level of quality that you should expect. Compared to the first- and second-generation WH-1000s, this pair of headphones are more lighter and comfortable.
Sony's WH-1000XM3 features thick headbands that are very well-cushioned to ensure an ideal level of comfort. To add, they're equipped with touch-sensitive and voice controls, providing you with convenient control over the unit's features. Not to mention the improved microphone.
The noise-canceling technologies utilized by Sony were always effective, but you'll be happy to know that the WH-1000XM3 over-ear headphones feature an improved noise-canceling feature that ensures zero external interference. The overall sound quality is quite open and balanced.
The bass quality that this pair of headphones offer is pretty rich and thumping without being too overpowering that other textures are lost. The built-in battery grants up to 30 hours of playback and doesn't require a lot of charging times. A 10-minute charge will give you 5 hours of use.
✓ Pretty competitive battery lifespan
✓ Well-rounded sound quality overall
✓ Foldable build with swivel earcups
✓ Extremely comfortable construction
‍
✗ Touch controls are a little puzzling
Verdict
Even though Sony's WH-1000XM3 over-ears are considerably more affordable than most of the units on our list, it's not in any way lacking as far as sound quality, comfort, or battery life. It may take you a few tries to find your way around the touch controls, but you'll get there eventually.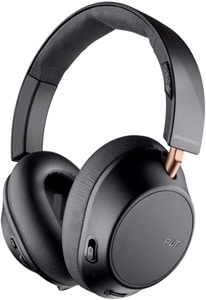 Over-ear headphones don't need to be costly in order to be deemed as high-quality, and the GO 180 headphones from Plantronics are a prime example of that. These headphones are priced at under $100 yet they offer a phenomenal performance that rivals high-end competitors.
The Plantronics BackBeat GO 180 over-ears feature a stable and snug design that isn't going to come undone during intense workout routines. Further, the unit is equipped with simple physical controls that minimalists are going to love. The construction is pretty lightweight as well.
Of course, you shouldn't expect BackBeat GO 180 to be as well-built as high-end over-ears like Beats Studio 3 or B&W PX7 considering the significant price gap. But what you should expect is a decent design that's ideal for exercising and a balanced sound profile that's very versatile.
It's worth pointing out that the earcups on the BackBeat GO 810 over-ears are smaller and more shallow than other products on our list. So, if you have larger ears, this isn't the ideal product for you. Another thing worth noting is that the bass quality is comparatively light, so take heed.
✓ Highly affordable pair of over-ears
✓ Very simplistic navigation scheme
✓ Great battery lifespan for the price
✓ Well-balanced audio reproduction
‍
✗ Sound latency is exceedingly high
Verdict
The BackBeat GO 810 over-ear headphones from Plantronics provide an excellent deal of value at an unbelievable price. Granted, this may not be the most impressive pair in terms of design or sound quality, but they're very well-suited for working out, especially if you're on a tight budget.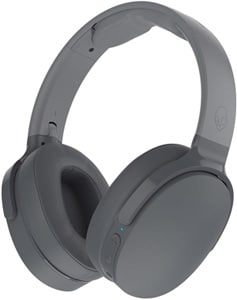 Are you beginning to see some sort of pattern with these third-generation models? It seems like they're all well-suited for training and workout out, and the Skullcandy Hesh 3 isn't any different. This pair of headphones is highly recommended for those who champion deep, consistent bass.
You should know that these over-ears create a serious seal around your ears, which is primarily how they're capable of producing such thumping bass. This also means that they'll likely irritate your ears, as they're not as breathable as other models on the list, so keep that in mind.
Another benefit that's the result of the good seal that Hesh 3 forms around your ears is that the unit won't fall off your head during intense workout routines or while you're running. This pair is featured in 8 different color variants, so you don't have to be stuck with a color you don't like.
Skullcandy Hesh 3 is priced almost similarly to GO 810 from Plantronics, so which one should you select if you're on a limited budget? Well, if you're in it for comfort and breathability, opt for GO 810, but if you're seeking thumping bass that will pump you up, Skullcandy all the way.
✓ Highly affordable pair of over-ears
✓ Delivers unrivaled, thumping bass
✓ Fast charging and ideal battery life
✓ Lightweight and super-stable build
‍
✗ Not the greatest noise cancelation
Verdict
Skullcandy Hesh 3 combines thumping bass, superior wireless range, stable design, and superb battery lifespan at an unmatched price that's under $100. It may not be the most breathable pair of over-ears on our list, but it's surely an excellent choice for working out if you're on a budget.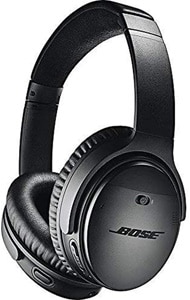 As the name implies, Bose's QuietComfort 35 II is one of the most comfortable pairs of over-ear headphones on the market today. This pair flaunts lots of convenient features, from a dedicated button for Alexa/Google Assistant to another button to switch between noise-canceling modes.
The design of these headphones doesn't vary much from the design of their predecessors. This isn't necessarily a bad thing considering how comfortable and versatile the design is. Also, it's a pretty compact design, which makes QuietComfort 35 II ideal headphones for commuting.
The sound quality of the QuietComfort 35 II over-ears is nothing short of impressive. From bass, mid, and treble accuracy to peaks and imaging, this pair delivers authentic replication. Further, it comes with a companion app that enables you to adjust its performance to your liking.
Sadly, the companion app doesn't feature EQ settings, which is quite a bummer. Also, you need to know that the headphones often leak a little bit when playing audio at higher volumes despite being closed-back headphones. Overall, a well-built, feature-rich pair of over-ear headphones.
✓ Button for Alexa/Google Assistant
✓ Exceedingly immersive experience
✓ Comes with a cord for wired mode
✓ Extremely comfortable construction
‍
✗ EQ settings are lacking from the app
Verdict
From exceptional comfort and durability to authentic sound reproduction and lots of convenient buttons and features, the Bose QuietComfort 35 II over-ear headphones are ideal for almost all situations. We would've loved to see EQ settings in the app, but it's a very minor complaint.
Final Thoughts
There you have it! The absolute best over-ear headphones for working out. We're confident that one of the above-mentioned products will meet your needs and budget. Please feel free to let us know if you have any questions with regard to today's topic. Now go on and work up a sweat!