When it is time to settle down for your daily meditation session, it can be challenging to block out noise distractions in the surrounding environment. If you can relate, or if you are trying to take your meditation to the next level, then you probably need to try listening to meditation music with proper headphones.
Today, we are helping you find the best headphones for meditation by reviewing the top 5 wired and wireless models on the market. We have also put together a simple buying guide, so you know what features to look for in your upcoming purchase.
So, let us not waste any time and get started!
5 Best Headphones for Meditation – Wired and Wireless
Kicking off our list with a fabulous pair of headphones for meditation and just about any other activity, the Audio-Technica ATH-M50x Headphones are an excellent choice for anyone looking to buy reliable, high-quality headphones that don't compromise on the audio experience.
They sound so good that thousands of DJs, turntablists, and audiophiles recommend the Audio-Technica ATH-M50x as one of the best studio-level headphones out there.
One of the main reasons for such high ratings is that they deliver a well-balanced tonal profile with superior clarity, reproducing sound as it is without coloring. The extended low-frequency response and the deep bass only do you right while hearing the binaural beats, as well as other music genres.
While they are not labeled noise-canceling, we appreciate how the Audio-Technica ATH-M50x blocks external noise that may be interrupting your peace. The performance is awe-inspiring, and quite frankly all you need, with minimal sound leakage thanks to the seal and oversized design of the ear pads.
These headphones are constructed using mainly plastic, which may not be precisely luxurious, but they are durable nonetheless if you do not treat them too harshly. Additionally, the Audio-Technica ATH-M50x Headphones come with detachable cables and 90° swiveling ear cups, available in black, white, and metallic colors.
✓ Type: over-ear
✓ Frequency response: 15Hz – 28kHz
✓ Weight: 10 ounces
✓ Case: soft bag
✓ Impressive noise blocking
✓ 90° swiveling ear cups
✓ Comfortable design
✓ Balanced sound profile
‍
✗ Pricey
If you are in the market for some wireless action, you may not need to look further than the TaoTronics Active Noise Canceling Bluetooth Headphones.
The TT-BH060 is an upgraded version that offers enhanced noise cancellation to drown out street noises or annoying chatter to give you a fully immersive experience. Noise cancellation is a valuable feature to have when trying to tune out the outside world during meditation sessions.
The audio quality of the TT-BH060 is also captivating thanks to the large 40mm drivers producing crisp sounds and thumping bass. These headphones, being wireless, support Bluetooth 5.0 connectivity that provides higher rates of data transfer to eliminate audio delays.
Another recently added feature that we appreciate is the hyper-speed charge, which gives you 2 hours of playback after charging your pair for just 5 minutes. Moreover, it takes only 45 minutes to fully charge the headphones, allowing for 30 hours of use.
Even though you probably will not do this while meditating, it is worth mentioning that taking calls is quite convenient with these headphones because of the built-in CVC 6.0 microphone, which delivers clear and precise sound.
As for comfort, you can count on the adjustable headband, the 90° rotatable ear cups, and the pillow-soft cushions to give you first-class treatment. The TaoTronics Headphone also comes with a handy carrying case for protection and easy storage, as well as an extra 3.5mm audio cable to use whenever you feel like switching to wired mode.
✓ Type: over-ear
✓ Frequency response: 10Hz – 20kHz
✓ Weight: 7.7 ounces
✓ Case: hard case
✓ Enhanced noise cancellation
✓ Hyperspeed charge
✓ Great battery life
✓ Amazingly comfortable
✓ Comes with hard carrying case
‍
✗ Not the best Bluetooth range
From the globally established Sony brand (yes, the manufacturer of PlayStation), we have a pair of headphones that excel in sound quality, construction, and comfort. The Sony MDR7506 Headphone has tens of thousands of users raving about its audio quality and long-term performance.
Although not explicitly built for DJing, these headphones are highly recommended by music producers of various skill levels, which gives you insight on just how stunning the listening experience is.
Of course, there is also the advantage of these headphones being mid-tier affordable, making them a solid choice for meditation and pretty much every other use.
The Sony MDR7506 Headphone features neodymium magnets and a 40mm driver unit for detailed, powerful sound output. The mids and highs are impeccably balanced, and the bass response exceeds average quality.
Also, the construction of the MDR7506 is relatively durable despite being made of plastic so that they will stick around for extended periods with decent care.
These headphones come with a long 9.8-foot cord, which makes moving around while wearing them a whole lot easier. As for comfort and isolation, the featured closed-ear design provides outstanding noise reduction while the generous head padding lets you wear the headphones for several hours without issues.
✓ Type: over-ear
✓ Frequency response: 10Hz – 20kHz
✓ Weight: 8.1 ounces
✓ Case: soft pouch
✓ Beautiful sound quality
✓ Comes with a 9.8-foot cable
✓ The frame is foldable for convenient storage
✓ Durable build
‍
✗ Can be too tight for larger heads
If you're looking to experience phenomenal listening to your relaxing binaural beats and delta brainwaves, then your search may end with the V-MODA Crossfade M-100 Metal Headphone.
This award-winning M-Class version is the next-level successor of the brand's original V-MODA M-100 headphones, which can be seen on the heads of DJs across worldwide.
However, the Crossfade M-100 surpasses the original thanks to a broader soundstage and exceptional bass separation courtesy of the patented dual-diaphragm system. With such a terrific audio experience, what is stopping you from using them for meditation?
Moreover, the noise isolation feature and minimal sound leaking offer an immersive listening time without bothering others around you.
When it comes to design and construction, the Crossfade M-100 headphones do not compromise. Right at first glance, there is no missing the unique hexagonal shape of the cups and the high-quality materials used in manufacturing.
These headphones come with a steel frame and metal accents to provide the needed support at stress points that take the most beating. But they weigh only 9.8 ounces and include a low-profile headband to secure the headphones over your head without causing pain if you wear it for a long time.
The Crossfade M-100 headphones are equipped with incredibly soft foam cushions to boost comfort, and they offer a shield customization option where you get to change the shield material or color.
✓ Type: over-ear
✓ Frequency response: 5Hz – 30kH
✓ Weight: 9.8 ounces
✓ Case: hard sleeve
✓ Exceptional base separation
✓ Ergosoft foam molds to your ears
✓ Premium construction
✓ Dual-diaphragm design
✓ Unique hexagonal shape
‍
✗ On the costly side
Finally, the all-time best-seller COWIN E7 Active Noise Canceling Bluetooth Headphones is one of the top-performing wireless options you can get your hands on. This pair sets the bar when it comes to mastering high-quality audio output at a super affordable price, which makes it an excellent choice for shoppers on a budget.
The COWIN E7 headphones feature an Active Noise Cancelling technology (ACN) that blocks out lower frequency sounds (such as traffic noise and engines), allowing you, so you to entirely focus on your mediation. However, they do struggle a little bit when it comes to canceling higher frequency sounds like close talking and snoring.
Working with advanced Bluetooth 4.0 and NFC connectivity, the hassle of corded movement limitations is eliminated. Instead, you get a 750mAh battery that takes 4 hours to charge and provide more than 30 hours of playtime fully.
Do not worry though; these headphones come with an extra cable so you can switch to wire mode whenever needed.
The design of the COWIN E7 Active Noise Cancelling Bluetooth Headphones is rather sleek, available in 6 vibrant colors to suit your taste. The cushioned around-ear fit makes for comfortable wear throughout sessions, with all the volume, ACN, and tuning controls conveniently located on the headphones.
✓ Type: over-ear
✓ Frequency response: 20Hz – 20kH
✓ Weight: 13.6 ounces
✓ Case: soft pouch
✓ Decent noise reduction
✓ Long playtime
✓ Great value for money
✓ Multiple color options
‍
✗ High-frequency noise cancellation can be improved
How to Choose the Best Headphones for Meditation
When shopping for the best headphones for meditation, there are several features you should first consider before purchasing so you can have the most relaxing experience possible.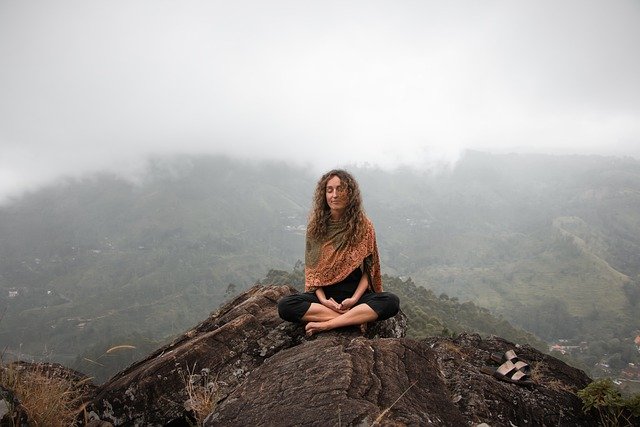 Noise Cancellation
Right off the bat, you want to check for a noise cancellation feature on the headphones you are planning to buy.
Whether you are a newbie or a veteran in the art of mediation, quieting your mind is always the first and trickiest part of a session. Noise-canceling technologies, with their varying degrees, help block out unwanted external distractions to keep you calm and focused.
The basic form of such technologies can be as simple as having tight seals on the headphones, while the more advanced ones are built into the ear cups.
They detect frequencies of surrounding sounds then produce new frequencies that are 180 out of the detected noise, resulting in a canceling effect.
Sound Quality
Your next order of business should be checking the sound quality. Your goal is to find headphones with a decent frequency response that is relatively flat.
Binaural beats, for example, are better produced when the headphones do not add coloring or enhancements to the original audio file. Also, look for headphones that emphasize low frequencies without overlooking the mids and highs.
Comfort
Comfort can make or break your entire meditation session because you should be as relaxed as possible. Imagine trying to find inner peace with sore ears!
For this reason, the ear cups should be covered in generous amounts of padding or cushioning foam to prevent itching, redness, swelling, or anything that may hurt your ears and cause you pain.
Weight
Complementing the previous comfort feature, do not forget to consider the weight of your headphones. Not only are lightweight headphones more comfortable to wear throughout longer sessions, but they are also easier to move with, carry, and store.
Open Back vs Closed Back
This choice of design is up to your personal preference. On the one hand, open-back headphones are more compact, more comfortable to pack, less likely to make your ears sweat, and offer less sound leakage.
On the other hand, over-ear headphones provide better sound isolation and more comfort since they apply less pressure on ears. But they are usually larger.
If you are interested in a specific pair of headphones, check out our guide for the Best Open Back Headphones for Gaming, or the Best Closed-Back Headphones.
Wired vs Wireless
Again, the decision is totally up to which style you like better.
Wired headphones, on one side, maybe limiting when it comes to movement since you will be feeling the cable restraint if you are wearing it. However, you will not have to worry about charging with such models –plug it in, and you are good to go.
On the other side, wireless headphones allow for free movement within the specified connectivity range. But you will need to make sure your pair is always charged, and sometimes, the battery life is not sufficiently long.
Wrap Up
Choosing the best headphones for meditation can get confusing, especially with features like noise cancellation, frequency response, ear cup design, and comfort to keep in mind.
Therefore, we included only the top-performing headphones, both wired and wireless, to make sure your land a fantastic deal no matter what you pick.
That being said, we recommend the Audio-Technica ATH-M50x Professional Studio Monitor Headphones as today's winner. If you are in the market for a balanced sound profile, superb noise blocking, and outstanding comfort, then these headphones are perfect for you.
However, suppose you're interested in wireless headphones with enhanced noise cancellation, impressive battery life, and speedy charging. In that case, the TaoTronics Active Noise Cancelling Bluetooth Headphones should be right up your alley.