Whether you want to indulge in your music or win a first-person shooter, a quality headset is an absolute necessity.
Although many of the great headsets cost more than $500, you can still manage to find more affordable options. Obviously, you need to stir away from low-end headsets that would fill your ears with awful distortion.
In this article, I'll explore the 5 best headsets under $200. I was keen on including wired, wireless, and Bluetooth headsets to match most of your needs.
The 5 Best Headsets Under $200
How does every headset perform? What about comfort? And are there any cons to consider? These are the questions I'll answer in each of the following reviews.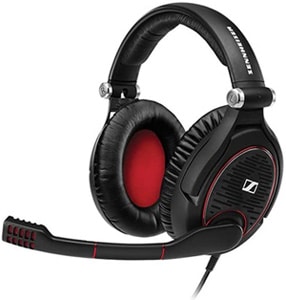 To be honest, Sennheiser doesn't produce the best headsets despite being a German brand. However, they managed to do a pretty good job with the Game Zero headset.
The best thing about the Game Zero lies in their comfort. It's equipped with XXL ear cups that would literally hug your ears. These cups are padded by double layers of memory foam to allow for hours of use without discomfort.
I only wish Sennheiser used a different material to cover the padding. The current Leatherette feels smooth over the skin, but it doesn't effectively wick moisture. That said, Game Zero won't probably suit the hot summer days.
To promote convenience, Sennheiser employed a unique feature that I definitely admire. Do you want to speak in the middle of a game? There's no need to pause the game to switch off the mic. Just raise the boom arm and you're good to go!
In terms of performance, Game Zero produces a clear sound with rich tones. But the immersive equalizations it applies are a bit annoying. They might make a funny hollowing effect, especially for voices. And since Game Zero has no software, you can't turn off these effects.
✓ Produces clear sound and rich tones
✓ Comes with a sturdy carrying case
✓ The mic can be muted by raising its arm
✓ Generous padding on the ear cups
‍
✗ You can't adjust the sound equalizer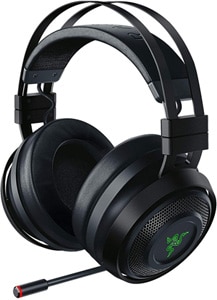 If you're into bulky headsets, you'd find nothing better than Razer. With their long history in edgy products, Razer Nari was able to satisfy the funkiest users.
First and foremost, the Razer Nari excels over the regular wireless headsets by its low latency and high quality. The retractable microphone is probably the best thing about it. It picks up your voice nice and clear thanks to its superior noise cancellation.
If you want to feel every bit of your games, the Razer Nari becomes an obvious choice. With its HyperSense technology, it's capable of stimulating your ears with a wide set of vibrations and rumbles.
Although the bulky size fits gaming, I don't think it'd be suitable for day-to-day use. Audiophiles, for instance, can enjoy the same performance with much smaller headsets.
Also, I don't like how stiff the headband feels. It doesn't conform properly over the head. You'll probably need to adjust it multiple times to enhance the fit.
On the Amazon listing, Razer states that the battery can last for 24 hours. However, many users said that it shuts down after 6 hours only. This is a bit frustrating to know, especially that you can't use it without battery, even when wired.
✓ Immersive experience via the HyperSense technology
✓ High-quality retractable microphone
✓ Lightweight
‍
✗ Short battery life
✗ The bulky size might not allow versatile use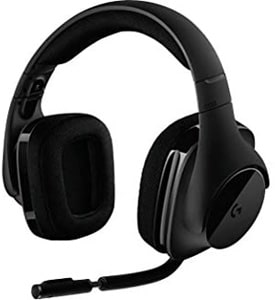 Although we're already reviewing products in the affordable category, you can still go a bit lower in price. The Logitech G Pro is perhaps the most affordable option you can find with acceptable performance.
Logitech G Pro has double hinges directly connected to each ear cup. This way, it can perfectly adapt to your head shape without being uncomfortably tight. The flexible headband also delivers the right amount of pressure that allows for hours of continuous use.
Best of all, Logitech has a universal app with which you can customize all of the headset features. For instance, you can fine-tune each channel of the surround sound technology. It's possible to enhance the sound of any direction or instrument you want to focus on.
Over to the microphone, things aren't less awesome. With the Blue Vo!ce software, you'll get a bunch of real-time filters that reduce the noise and increase the clarity. It might not be amazing for recording podcasts, but I think it's the best you can find at this price.
On the downside, Logitech G Pro doesn't feature a system for active noise cancellation (ANC). This means that it can't block the aggressive outdoor sounds. Still, its thick padding is capable of hindering the regular household noise.
✓ Ultra-affordable
✓ Excellent fit
✓ You can adjust the mic with lots of filters
‍
✗ Doesn't have an active noise cancellation system
To be honest, the best music performance is most likely to be found in strictly-audiophile headphones. However, some headsets can be quite versatile to do this job. The Turtle Beach Elite Pro 2 is one of the best in this category.
Turtle Beach equipped this headset with 50nm drivers. This allows it to provide full sound clarity throughout a wide frequency range.
The low bass tones come out clear with that pleasant thumping everyone loves. And most importantly, it doesn't produce distortion when the sound level goes up.
Since this headset is originally made for gaming, the voice quality couldn't be better. You're guaranteed to enjoy every game no matter how chaotic your friends talk.
Do I like everything about this headset? Not exactly. I wish they paid extra attention to the microphone. It picks voice with nice clarity and low-latency. But it lacks the excellent noise cancellation featured in the original Elite Pro.
In terms of comfort, the Elite Pro 2 can be worn for hours without any problems. The ear cups are padded with thick layers of gel-infused memory foam. While the memory foam insulates external sound, the gel keeps your ear cool and fresh.
✓ Excellent music performance
✓ 50 nm drivers for higher sound clarity
✓ Superior comfort with the gel-infused padding
‍
✗ The microphone doesn't have a noise cancellation system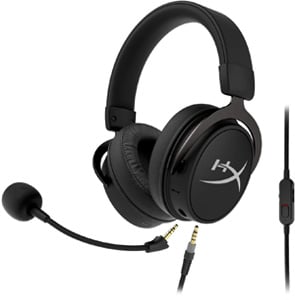 If you like the on-the-go connectivity of Bluetooth, the HyperX Cloud Mix should suit you. It features many low-latency codecs like SBC, AAC, and aptX. But since many users were disappointed by the instability of SBC, it's better to stick to the other two.
It's important to note that its detachable microphone works only in the wired mode. Once you turn on Bluetooth, you'll be speaking through the internal microphone. Unfortunately, this mic doesn't suit the gaming use by any means. It might be only suitable for phone calls.
The best thing I like about this headset is its huge battery. HyperX says that it could last for 20 hours, which is already great. But I was even happier to see some reviews saying that it lasts for nearly 26 hours.
The sound quality isn't the greatest, though. Since it's equipped with 40nm drivers, it produces accurate bass and mid-range tone. But it messes up the highs with a bit of de-emphasis. This might affect the clarity of some high-pitched instruments.
In terms of isolation, the Cloud Mix offers pretty acceptable performance. It can cancel the normal noise inside an indoor environment. But the lack of an active noise cancellation system makes it ineffective against chaotic outdoors.
✓ Superior comfort and premium esthetics
✓ Bluetooth and wired modes
✓ Excellent battery
‍
✗ Moderate noise cancellation
✗ It has a low sound quality in high tones
What to Consider Before Buying a Headset
As you might already know, determining your budget is only the first step. There are other considerations you have to bear in mind to make sure you're buying the best product.
Comfort Comes First
Let's be honest, a headset loaded with features would be useless if it feels uncomfortable. That's why comfort should be the first attribute to consider.
Pick a Suitable Size
Forget about the padding for a while. The trick to a comfortable headset is definitely the proper size.
If it doesn't fit, nothing would work. Unfortunately, there's no size chart that you can reference. The best approach would be evaluating your previous products to figure out your preferences.
Personally, I like large ear cups that completely surround my ears. This results in the least amount of pinching over my ear cartilage. However, some of my friends who wear glasses crave smaller sizes that won't interfere with the temples.
Search for a Breathable Material
Picking a breathable material for the ear cups is important to prevent sweat from building up. This gets especially crucial if you intend to use the headset for continuous hours.
Memory foam is the best material currently on the market. It provides a good balance between cushioning and moisture-wicking. The Turtle Beach Elite Pro 2 goes the extra mile by incorporating a cooling gel inside the padding.
Opt for Cup Hinges
The regular headsets fit over your head through flexible headbands. Although this provides nice pressure, the ear cups don't always fit.
Recently, brands came up with a different approach. Instead of depending on the headband, both ear cups are equipped with their own hinges. This way, you can benefit from the headband pressure while adjusting the cups to the perfect angle.
This design is featured in HyperX Cloud Mix and Logitech G Pro that I reviewed earlier.
Weight vs. Features
Clearly, everyone wants a headset packed with awesome features. But sadly, the more it has, the heavier it weighs. I don't know about you, but I definitely hate it when headsets pinch over my head after a couple of hours.
Therefore, you have to be mindful about the features you actually need. It'd be better to ditch unnecessary perks for taking a couple of ounces off your head.
Consider Noise Cancellation
Surely, nobody likes interrupting games or music with TV or traffic noise. However, opting for an active noise cancellation system would likely cost more than $200. Perhaps the Sony WH1000XM3 is the perfect example.
This leaves you with the inherent isolation of the padding. If the memory foam is thick enough, it should be able to filter the usual indoor noises. This includes a TV, a shouting neighbor, or distant traffic. However, it won't be effective in the middle of a chaotic subway or noisy park.
Then again, getting this level of noise cancellation at this cost can be considered as a valuable bargain.
Opt for Surround Sound Technology
Luckily, most of the recent headsets feature 7.1 channels of surround sound . With this technology, you'll literally feel as if you're living inside your game. It'll allow you to perfectly locate footsteps around you to have an advantage over your enemies.
There's a thing for music lovers, too. If the track is made in a 7D format, you'll end up hearing every instrument far better than before.
The software of Logitech G Pro provides even more value by allowing you to selectively enhance the channels that you want. This way, you'll be able to raise the sound of specific instruments to exactly match your preferences.
Pick a Microphone with a Convenient Switch
I don't have to say that microphones should be able to clearly pick your voice with the least noise. Most of the high and mid-range headsets already offer pretty high quality.
But the newest trend is in the switch-off mechanism. You can conveniently turn off the mic in Sennheiser Game Zero Headset by raising the boom arm. This makes the ordeal inline switches completely obsolete.
The Verdict
In my opinion, the Sennheiser Game Zero Headset is the best headset under $200. It provides a good balance between rich sound and premium comfort.
If you want to ditch the wires, you should like Razer Nari Ultimate Wireless 7.1 Headset. Its immersive HyperSense technology would double the pleasure of games and music.
If you want to cut the price in half, Logitech G Pro Headset would be your best bet. I like how each ear cup has an adjustable hinge to perfectly fit over your ears.
Remember, the best headset wouldn't be useful if comfort is compromised. So don't hesitate to choose comfort over features.
See you in another buying guide!