Long hours of computer work, boring time of commute, and tiring gym time. The perfect company for all these hard times? A well-functioning set of headphones!
Headphones are a necessity nowadays. Whether it's work, gaming, or to keep your company, you probably need one.
Scanning the market, we found countless options with variable prices. A common misconception is that you have to pay a ridiculous amount of money for a good set.
We're here to debunk this myth. Skullcandy is a company that specializes in producing high-quality headphones at affordable prices. Let's see the best Skullcandy headphones on the market.
Best Skullcandy Headphones
Affordable, good looking, and functional with crisp sound. Here's our shortlist for Skullcandy headphones.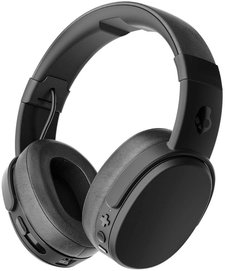 We'll kickstart our list with Skullcandy's -arguably- best headphones set, the Crusher.
These headphones are designed for bass junkies. Skullcandy's Crusher features bass drivers in each cup. They vibrate in response to low frequencies of your audio, resulting in a front-row concert effect.
At the first look, you'll notice how sleek and elegant these headphones are. They're made of plastic like most of Skullcandy's headphones. Still, its black matt finish isn't prone to fingerprints, which gives it a luxurious appeal.
We can't help but adore the 40-hour battery life of this beast. Besides, it's super comfortable. Combined together, these 2 features make it convenient for travel or long commute. They'll never sore your ears or run out of battery!
While they don't have noise cancelation, these headphones do a great job of blocking outside sounds. It's not perfect, but it's close!
✓ Long battery life
✓ Plush earcups
✓ Crisp Sound
✓ Comfortable fit
‍
✗ Flimsy build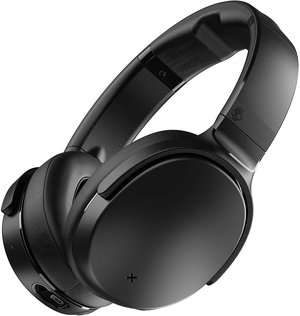 Most of the time, I wear my headphones outdoors, which renders noise cancellation a necessity. If you're here for a nice set of headphones from Skullcandy with superior noise cancellation technology, take note.
Venue Headphones sport the usual Skullcandy's simple design with 2 big well-padded plastic earcups and a cushioned ear-to-ear headband that offers a precise, comfortable fit. It's available in 3 colors; all black, white with crimson highlights, and our favorite, the wine-like deep red.
Venue headphones are lightweight too. That's a plus.
This set comes with a very reasonable price for an ANC, "Active Noice Cancellation" kit. Yet, you can't expect perfection at the $200 mark. This set's audio performance is negatively affected when you turn the ANC on. Besides, there's an audible high-frequency hiss. While we recommend this for people who want proper noise cancellation, we won't recommend it for audiophiles.
An interesting feature of these headphones is the "Find with Tile," through which you can track them anywhere. Skullcandy promises you, no lost headphones here!
All functionality is through buttons. You have one for ANC, another one to activate your voice assistant (Alexa, Siri, Google, etc.), and the Tile button. In addition to the standard on/off and volume buttons.
✓ Decent ANC technology
✓ Rapid charge feature (10 minutes of charge for 5 hours of use)
✓ Comfortable fit
✓ Sleek look
‍
✗ Audible hiss with ANC on
✗ A bit flimsy, it's not that durable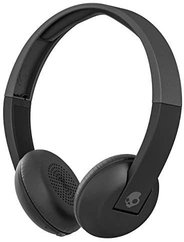 Minimalistics out there, listen up!
Skullcandy's Uproar headphones have quite a distinctive simple look, featuring small, lightweight circular earcups with plush cushions and a snug headband that tends to be "too tight" sometimes.
Uproar produces a crisp sound with decent bass. It works via Bluetooth with easy connection steps and a relatively wide coverage range. You probably can be one room away from your phone, and you'll enjoy your music. No connectivity issues included!
As for practicality, the Uproars can work up to 10 hours on a single recharge, which is pretty impressive.
While we don't expect noise cancellation at this price, we wished for reasonable isolation from the surrounding sounds. This did not happen. If you'll be wearing these in a busy, loud space, you'll probably hear the outside sounds as loud as your own music. So, it's rather suitable for people who plan to use it in office or home settings.
✓ Pretty affordable
✓ Comfortable, snug fit
✓ Lightweight & compact
✓ Comes with a 1-year manufacturer warranty
‍
✗ Its maximum volume isn't that high
✗ Sound might leak at high volumes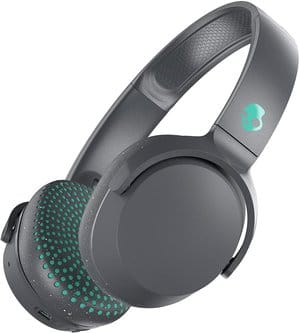 Another interesting pick that's featured on Amazon's Choice list is the Skullcandy Riff headphones.
At such a low price point, these headphones are a bargain! They have an above-average audio quality with an insistent bass. Along with the usual Skullcandy plastic build, which feels a bit cheap, but will take a couple of knocks and falls, though.
The ear cushions here are quite remarkable. Apart from their unique granite-like look, they're super soft, achieving an acceptable comfort level for on-ear headphones. The headband isn't cushioned, though.
While they're not noise-canceling, they don't have a relatively low maximum volume like Uproar, for example.
Regarding the controls, there's nothing to write home about; a steady wireless Bluetooth connection and 3 straightforward control buttons. It's available in black, grey, white, olive, blue, and dark red.
This set is a perfect entry-level for so many reasons; it's got the looks, audio quality, comfort, and simple controls. All that is wrapped in a stellar price!
✓ Super comfortable
✓ Cheap
✓ Good-looking
✓ 12-hour battery life
‍
✗ No noise cancellation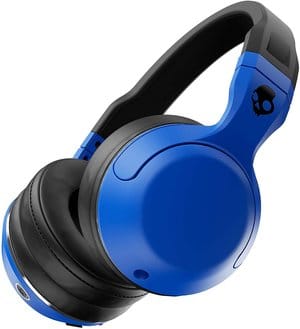 You've definitely come across some version of the "Hesh" line in Skullcandy's top products' lists.
Hesh 2 wireless headphones offer an elevated sound quality, for a fraction of the price.
Starting off with the build, it's pretty solid. We consider it sturdier than its counterparts. However, this sturdy build results in some added weight, so don't expect these to be the most lightweight headphones.
When it comes to comfort, Hesh 2 performs well, despite the fact that they don't have the lovable plush cushioning. They have regular foam and faux leather instead.
The noise cancellation is among the best from Skullcandy, which explains the price difference between it and other cheaper options on this list.
The manufacturer's claim of 15-hours of battery life might sound like a stretch, but it's actually true! These headphones will stay with you all day long.
One of the faulty design decisions is the placement of the USB charging port, where it's placed on top of the left earcup, and you have to pull the headband back to get to it. A bit annoying, to be honest.
✓ Vibrant bass
✓ Extended battery life
✓ Durable
‍
✗ A bit heavy
✗ Bluetooth connection isn't stable sometimes
Into the Skullcandy Headphone World – A Buying Guide
One day, Rick Alden was listening to music when he's got a phone call. He realized he had to stop the music, turn the headphone's mic to the other side, and reach out to his pocket to grab his phone. He didn't like that. The solution? He started Skullcandy Inc.
Why Do We Love Skullcandy?
Skullcandy has gained traction in the market over the past few years. There must be reasons for that. We'll explore them here.
Versatility
While most of the headphones are either wireless or chorded, Skullcandy offers dual connectivity options, where the default is to connect wirelessly via Bluetooth, but you can also use a wired connection.
When it comes to Bluetooth connectivity, Skullcandy offers an acceptable coverage range of about 33 feet. This means you can be one or two rooms apart from your device and still stream music with no issues.
You might be wondering why people need chorded connections then. Well, technically, it's true that wired connections offer better sound quality over wireless ones. So you might want to try that when you're sitting at a place and you're okay with losing the mobility of the wireless connection.
Affordability
It needs no expert to tell that Skullcandy's price range is among the lowest on the market. They deliver to a segment of the market who care about having a good functional set of headphones at a small price.
At such a price range, you should care about 2 things; audio quality and headphones' build. That's exactly what Skullcandy did.
You don't have to put a dent in your bank account to buy headphones. With Skullcandy, you'll manage to find good-performing headphones at no more than $200-$300.
Battery Life
We can argue about Skullcandy's headphones quality all day long. Noise cancellation is debatable, the bass might be obnoxious to some, and so on. Only one thing is undoubted; these headphones have super long battery lives!
The battery life range of Skullcandy headphones is about 10-15 hours, which is remarkable! Furthermore, most of them possess a "fast charging" option, where a short charging time results in longer battery life. Talk about practicality!
On-Ear Vs. Over-Ear
The featured headphones are not so different from each other. Yet, there's one aspect that we'd like you to consider—On-ear vs. over-ear headphones.
These 2 types differ in how the headphones fit over your head. On-ear means that the ear cups will sit on your ears, they'll just cover them and won't extend over them. Typically, these will be thicker with foam padding. Probably, these are more lightweight.
On the other hand, over-ear headphones have bigger and wider earcups that fit snuggly. These perform better when it comes to noise isolation. Besides, they reduce noise leakage.
Wrap Up
Skullcandy strikes a balance between quality and price perfectly. If we're to pick one product, we'll recommend the Skullcandy Crush set. It's good looking with high-quality sound and "feels" isolated from surrounding sounds.
Once you've got your new pair, check out our guide on how to pair your Skullcandy wireless headphones!