Getting a good night's sleep is one of the best ways to truly rise and shine the next morning. Its benefits range from a beaming temperament, and sharp thinking, to good skin, and maintaining a healthy diet.
Unfortunately, this is not always feasible. When a businessman was asked how he slept at night with all his responsibilities, he said: "I sleep like a baby, every three hours, I wake up and cry!".
About 30% of the population is like that. Insomnia is something most of us experience. One of the clever ways to get better sleep is to listen to music, or other white noise, once you go to bed.
In the following sections, we'll talk in detail, about the best headphones for sleeping. Using them safely, and how to pick the right one for you. Read on till the end to see what's my favorite one!
The 5 Best Headphones for Sleeping Reviewed
We all have our preferences when it comes to headphones. That's why I rounded up a wide range of options, so browse through them, and see which one is right for you.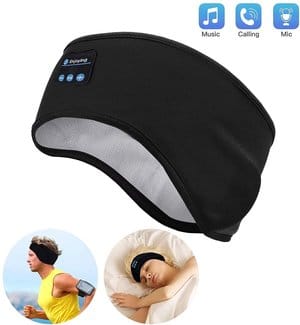 The Lavince is one of the best headphones on this list. they're comfortable, fit nicely on the head, and stay in place. they're also slim, not bridled by wired, look nice, and on top of all that, they have a remarkable sound quality.
You can use them during the day in your morning run, while commuting to work, shopping, or even while doing house chores. These headphones have a 45 ft range, so you can move around freely while listening to your favorite tunes.
Things We Like
✓ Suitable for all sleeping positions
✓ Include a mic
✓ Control buttons on the headphones
✓ Premium sound quality with HD HIFI
✓ Charge time is about two hours
✓ The battery on-time is about 10 hours
✓ Breathable washable material
✓ Moderately priced
‍
✗ The fit is a bit tight in the beginning
✗ The elasticity of the band decreases after a few months
✗ The padding over the speakers is a bit slim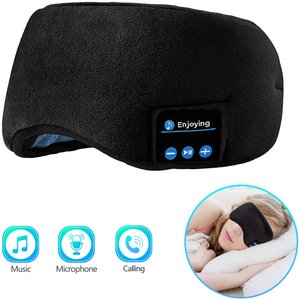 The main difference between the headband and eyemask headphones is the eye coverage part. If you need to take a nap on an airplane, or in a room that has too much light, you can use one of these.
They provide the double duty of blocking out the excessive light and providing soft relaxing sounds. They might not be very efficient, though, if the surroundings are too noisy. Also, they're not suitable for daytime activities. Unlike the headband variety, this does cover the eyes!
Their best usage is to help you to get in the mood for slumber.
Things We Like
✓ Premium sound quality
✓ Connects easily with most devices
✓ 9-hour on-time per charge
✓ Has a built-in mic
✓ Size adjustable via a velcro strap
✓ Soft breathable fabric with a lining
✓ Washable and maintains its shape
✓ Moderately priced
‍
✗ Doesn't include a noise cancellation capability
✗ Speaker is a bit uncomfortable for side-sleepers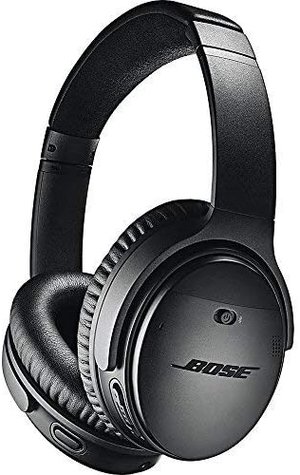 These well-built bulky gadgets are pros at chasing away the noise. There are multiple levels of noise-cancellation, so you can keep a little awareness of your surroundings, or shut the world off entirely.
The rejection of noise carries on in the dual-mic as well, so when you're on a call, you wouldn't be bothered by the wind, traffic, or the party next door.
Moreover, the sound quality is impeccable. It's designed to provide equalized balanced audio at any volume. This profile is truly hard to get. It also includes an audio cable, so when your charge runs out, you can still enjoy your favorite music.
It's hard not to love these qualities, but when it comes to sleep, one should stop and ponder things. If you're a solid sleeper, mostly on your back, this is a good option.
Things We Like
✓ Long on-time of 20 hours per charge
✓ Noise-rejection dual mic
✓ Setting personalization
✓ An app for control, music sharing, and updates
✓ Full access to Alexa services
✓ Three different levels for noise cancellation
✓ Sturdy material
‍
✗ Bulky inconvenient shape
✗ Pricey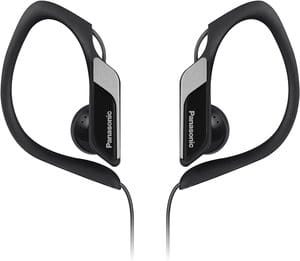 This is a relatively new model designed for nighttime as well as daytime usage. It's super compact, has an amazing sound quality, and hinges snugly on the ear. That's why you can do pretty much anything with it.
These earphones are also water-resistant, so you wouldn't have to worry if there's a bit of a drizzle outside. they wouldn't be affected by sweat either, so they're great for the active folks.
The Panasonic headphones are perfect for deep sleepers who don't lean on their sides too much. Also, for those who like pretty devices. I admit; I have a soft spot for beautiful things!
Things We Like
✓ Comfortable and fits well
✓ Stable and stays in place
✓ Includes a noise cancellation feature
✓ Full range of frequencies
✓ Good sound quality
✓ Available in 7 different colors
✓ Aesthetically pleasing
✓ Ergonomic ear supports
✓ Budget-buy
‍
✗ Connected through wires
✗ Could come off with active sleepers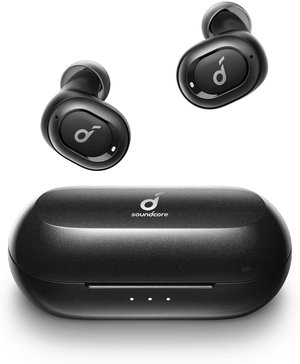 With millions of users worldwide choosing these earbuds, they had to fall on our radar. Clearly, these headphones are top tech confident performers, and they certainly far exceed what's expected of them.
They're easy to attach, and once fitted in place, they let you move freely with the clearest of tunes in your ears. The Graphene driver does wonders in that regard.
The Souncore earbuds are great for daytime activities and worth trying for aiding you to get some sleep.
They do however have a limited play-time per charge, which is around 5 hours. The batteries could even flatten out before this duration with a few phone calls. If you like to keep listening to music, or white noise, throughout the night, this might be a deal-breaker.
The other features here keep these earbuds as a viable option for a multitude of users. After all, many people require white noise as they fall asleep, not for the whole night.
Things We Like
✓ Comfortable with a good fit
✓ Doesn't fall-off
✓ Exceptional sound performance
✓ Popular worldwide
✓ Graphene drivers
✓ Lightweight and compact
✓ Waterproof, isn't affected by sweat
✓ Dependable wireless connection
✓ Customizable accessories
‍
✗ Provides sound-isolation, not sound-cancellation
✗ Short play-time per charge
✗ Expensive
How to Use Headphones Safely While Sleeping
Gadgets often need a bit of consideration for safety. Even headphones call for a few simple actions to ensure good outcomes.
Adjust the Wires and Cable
Cables often pose a risk of tangling or strangling. Even pinching a finger too forcefully causes discomfort. That's why it's best to adjust the placement of any wires while sleeping.
Having said that, we should also mention that the frequency of such occurrences, to our knowledge, isn't significant. Still, better safe than sorry.
Keep the Volume Below 60 dB's
Prolonged stimulation of the eardrum, and being constantly subjected to loud noises, could affect hearing negatively.
Playing music while sleeping means that the ears are constantly working for about eight hours, every night. It's best to keep the volume well below the 60 dB mark, which indicates noise.
Listening to quiet sounds is also conducive to better sleep, which is the whole point of wearing these headphones.
Make Sure that Ear Circulation Isn't Blocked
Every organ in the body needs free circulation to function properly. Some types of earphones, like the conical or molding earplugs, could push the blood capillaries a bit much.
If you're going to wear your headphones all night, make sure they are comfortable and fit well.
Stay Aware of Your Surroundings
This is important, as you might have to respond to a family member's needs. This is especially true if there are kids around the house.
Emergencies also require being alert. Fire alarms, intruders, and similar situations call for a quick response. That's why it's best to keep the volume as low as possible. Sometimes total noise cancellation can have a downside!
How to Choose the Right Headphones for Sleeping
Most of these points have to do with what you prefer. There is no one option that fits everyone or tops the other options.
Type
There are four basic types of headphones you can choose from. The first one on the list is designed specifically for sleeping.
Headband
The most annoying aspects of wearing headphones while sleeping are often their bulky size, the way they keep falling off, and the wires sticking out of them. Headband and eyemask headphones sorted out these issues quite neatly.
It's not a surprise that their popularity among users is booming. In addition to their nighttime usage, they can also be used during the day while doing various sports, household chores, or even shopping.
Over-Ear
These are our traditional headphones, with their bulky parts, and rigid frames. Their exceptional sound performance and efficiency in noise cancellation make a lot of people look past the inconvenience, and focus on the outcome.
This applies mostly to those folks who lie down on their backs and rarely move in their sleep. Clearly, it's not too viable for light sleepers who toss and turn all night.
On-Ear
On-ear wired headphones were my favorite gadget throughout my teen years. As a longtime habit, I find it hard to wander too far from this type.
The best feature of on-ear headphones is their relaxed positioning. They aren't intrusive. The downside is that they fall-off so easily.
For this one too, you'd better not be a light sleeper. There's a modified version of on-ear headphones, where there's extra support in the form of a clip. These new ones are much more stable, and several of them come in wireless versions as well.
In-Ear
This type of headphones hosts several models from wired silicone tiny globes to conical earplugs, and of course the new kid on the block: earbuds.
Several users favor these headphones because of their tiny size. They also attach fully to the ear canal, hence, blocking off the noises of the outside world.
Those who skip this option, often see it as much too intrusive.
Connectivity
Having a wired or wireless headphone is a matter of style. In the olden days, there was a significant difference in price between both types, but that's not the case nowadays.
If you choose a wired headphone, make sure the cord is of a practical length, and suitable to your usage. With a wireless headphone, you should check its optimal distance from the paired device, and recharge it regularly.
Size and Weight
Bigger is not always better. Especially, when you're attaching a device to head as you sleep. Slim or tiny headphones are more in demand because of that.
Naturally, the headband or eyemask types are quite popular nowadays for this reason.
Comfort
Music has a calming effect . It can slow down your heartbeat, calm your brain waves, and ease you into a soft slumber. This would be a bit hard if the headphones aren't 100% comfortable.
Make sure to pick a type and shape that contributes to that relaxed state.
Price and Warranty
The prices start from $10 for a budge-buy in-ear headphone. They spike up to north of $300 for brand name over-ear headphones.
Most headphones come with a one-year warranty. Few manufacturers grace us with two. Average headphones often go through their lifespan of a few months to a year without any major events. The sturdy types can easily turn into a family heirloom. They'd still be in good shape with your grandsons.
Sound Quality
The best sound quality was often associated with over-ear headphones. This is becoming debatable nowadays.
However, the crystal clear audio performance we require from daytime headphones isn't replicated for sleeping headphones. Most people need headphones that cancel noises, stay put, and provide acceptable sounds. That's it.
FAQ's
Q1: Can I use regular headphones?
A: If they stay in place, and don't bother you while you're sleeping, then of course you can. Sleeping headphones aren't radically different from the regular ones. They're just more suited for the job.
Q2: Are there any other alternatives?
A: If wearing any form of headphones doesn't work for you, you can check out white noise generators. There's a wide variety of these devices in the market.
Also, make sure that your partner is Okay with your using it.
Q3: Are there any apps or playlists for sleeping music?
A: there are plenty of such apps and music. You can browse through tons of options from white noise, pink noise, oldies songs, classical music, audiobooks, and tunes from every conceivable genre.
Conclusion
For the intent and purpose of getting to sleep quickly and easily, I'd recommend the Lavince Sleep Headphones Wireless Headband . It fits the bill in every way. It's comfortable, lightweight, has an incredible audio performance, and stays put. It's suitable for all sleeping styles and has a long play-time of 9 hours per charge.
It's also perfectly usable for regular activities. This versatility and functionality place it in the top spot with absolute ease. Surprisingly, it doesn't come with a shocking price tag. In fact, it's quite affordable.
If you prefer headphones that lie halfway between over-ear and on-ear, you can go for the Panasonic- Rp-hs46e-k Slim Clip-On Earphone. These headphones have an amazing audio profile, they have a noise-cancellation capability, and they're quite comfortable.
In addition to helping you to fall asleep, they're well suited for athletes, work settings, and even going out on a rainy day. As an added perk, they come at a very attractive price.