Best AM/FM Headphones
Radio entertainment might be olden technology for most people nowadays, but many enthusiasts enjoy this form of entertainment. If you're one of those people, you ought to stick around, as we're about to shed light on the best AM/FM headphones available today.
The 3M WorkTunes flaunts a simplistic design, superior radio performance, and a great deal of durability. The materials used to create this unit is on par with the materials used in some of the most premium headphones on the market. Also, the design is considerably lightweight and slim so that you won't have a hard time wearing these headphones for an extended period.
The ear cups and the headrest are well-padded to ensure optimal comfort. The padding may not be ideal for hotter summer days, but it won't be a source of discomfort. This unit's control scheme is easy to figure out, with the radio module and all vital controls located on the right ear cup. On the other hand, the left ear cup is where you put the 2xAA batteries (140h of playtime).
The 3M WorkTunes features 15 different volume levels for your convenience. Further, you can easily switch between mono and stereo. The device has a noise reduction rating of 24dB, which is ample for most applications. The radio antenna on the right cup is flexible enough for ease of adjustability, and there's a 3.5mm jack for audio-in connectivity. An excellent unit, overall.
✓ Listed at a reasonable price tag
✓ Well-padded headband and cups
✓ Extremely durable construction
✓ Very intuitive control scheme
✓ Good quality and noise reduction
‍
✗ Bluetooth audio fidelity is subpar
✗ Max volume is comparatively low
The Honeywell Howard Leight is another excellent AM/FM headphone that features an LCD screen that displays its radio stations auto-searches. The unit features high-visibility green cups and a reflective headband to ensure safety for employees working in low light conditions or bad weather. The Howard Leight features ten preset radio stations for out of the box enjoyment.
These headphones incorporate a patented air-flow control technology that helps limit the sound across various radio frequencies without adding to the unit's weight. The construction is notably lightweight and well-padded for optimal comfort. You can easily maintain these headphones, as they utilize snap-in ear cushions. The unit comes with 2xAA batteries and a 3.5mm AUX jack.
The Howard Leight's noise reduction capabilities are entirely satisfactory, with an NRR of 25. The unit displays superior signal strength and clarity than most of its competitors. The construction is also pretty admirable in terms of durability. Like most AM/FM headphones, the Howard Leight features reinforced fork slides. The only problem with this unit is that it's comparatively costly.
✓ Reliable noise reduction capabilities
✓ High-visibility construction for safety
✓ Equipped with an LCD panel
✓ Auto-search functionality for radio
✓ Control scheme is very convenient
‍
✗ Battery lifespan isn't that impressive
✗ Not the most budget-friendly option
At first glance, you'll notice that the DeWalt DPG15 is one of the bulkiest headphones on the list in terms of the size of its ear cups, but that's not a bad thing in this case because all of the bulk is a result of excellent padding. These headphones deliver a level of comfort like no other. It also features large speakers and a lot of radio components to provide superior performance.
The right ear cup flaunts all of the buttons needed to control the volume and radio components, from a toggle button that switches between AM and FM frequencies, an on/off button, forward and backward rewind buttons, and search buttons for both radio and MP3 audio. The scheme is pretty comprehensive, so it might take you some time to get the hang of everything.
The DPG15 features a large LCD panel that showcases the radio station you're tuned in to as well as all sorts of relative information. The DPG15 isn't the best for visibility, as they're only available in a black and patented yellow. It has a noise reduction rating of 25, so it should do an excellent job of limiting external noise. Sadly, the unit is listed at a steep price tag.
✓ Well-padded headband and ear cups
✓ Large and informative LCD panel
✓ Package includes a 3.5mm cable
✓ Control layout is very comprehensive
✓ Remarkable build quality
‍
✗ Construction is significantly bulky
✗ Price tag isn't wallet-friendly at all
The RST-63012 from Stanley is quite similar to the Howard Leight by Honeywell in terms of aesthetics and features. The only notable difference between the two is their weight, with the RST-63012 being the lighter option. This unit flaunts hi-fi digital stereo reception in both AM and FM modes. Further, you can use a 3.5mm audio jack to play external MP3 files.
The headphones feature an LCD screen and an antenna on the side. Above these components, you'll find the volume and radio control buttons. The purpose of the display is to show you the mode you're in and the frequency of the radio station you're tuned into. The headphones run on 2xAA batteries that will last you around ten hours of playtime if they're from a reputable brand.
If you consider yourself an audiophile, check out our Best Budget Audiophile Headphones as they may be better suited to you.
✓ Sturdy and lightweight design
✓ Removable ear cushions
✓ LCD display for useful insights
✓ Above-average noise cancellation
✓ Remarkable hi-fi audio quality
‍
✗ Subpar sound quality on AM mode
✗ Signal strength isn't always stable
Retekess might not be the most well-known brand of headphones, but it's a brand that consistently puts out high-quality units. The TR101 are on-ear headphones designed mainly for radio listening in quiet settings, as their design doesn't allow for much noise cancellation. As far as the radio signal and sound quality, however, these are arguably the best on the list.
The unit offers 15 different volume levels that you can regulate between. Further, you have ten preset radio stations that you can tune in to right out of the box. The unit does an excellent job of covering the FM band from 50 to 108 MHz, but unfortunately, it doesn't support the AM band, which can be a deterrent factor for some buyers. Nevertheless, excellent value for the money.
✓ Budget-friendly price tag
✓ Comprehensive control scheme
✓ Highly functional antenna
✓ LCD display for useful insights
✓ Remarkable FM radio signal
‍
✗ Not the most durable construction
✗ Doesn't support the AM radio band
How to Choose AM/FM Headphones
AM/FM headphones are available in an impressive range of shapes and sizes, with each model sporting a host of unique features that sets it apart from other competitor products.
For that reason, pinpointing the optimal pair of AM/FM headphones can be pretty overwhelming. The following paragraphs help highlight the different factors to consider in a pair of headphones to ensure the most value for your money.
Type
AM/FM headphones are available in two main types. The first type features only a radio receiver, whereas the second type is sound-insulated models that offer optimal ear protection. As you can probably tell, the difference between the two is that the former presents passive noise protection via closed ear cups, whereas the latter offers active noise protection.
Sound-insulated AM/FM headphones feature ear cups that flaunt a noise reduction rating. The higher the rating, the more the headphones can limit environmental noise within the ear cups—more on that in the following paragraphs.
Design
Headphones are available in a pretty extensive range of designs. No one design is better than the other, as it all boils down to personal preference and user orientation. However, it's notably essential to keep in mind that some designs offer more comfort than others, which is why you have to pay close attention to the design of whichever headphones you decide to opt for.
When selecting AM/FM headphones, or any other type of headphones, for that matter, you have to make sure that the headphones are adequately padded so that they don't fatigue your ear. You have to make sure they feature an adjustable headband so that the headphones are never overly loose or overly tight.
While most radio headphones are quite bulky, some are more lightweight than others, so make sure you invest in a lightweight model that doesn't feel like a burden sitting on your head. Also, make sure the unit feature reinforced fork slides, as that's the industry standard nowadays.
Sound
All headphones have one purpose and one purpose only, and that's to emit sound. The better the signal strength and sound quality, the more superior the product is. For starters, signal strength is influenced primarily by the quality of the material used to create the antenna and the processor's capabilities.
Some radio headphones work with FM frequency only, but these are out of the equation since we're talking about headphones that can work with both AM and FM frequencies. Further, some models can cover the entire VHF band. Such models tend to be quite costly, as they enable you to tune into less prominent frequencies used by aviation and weather services.
As far as the sound quality, it's influenced by a wide range of factors, from impedance to power. But to simplify things for you, if you want a louder speaker, you need to make sure it features a large driver. If you want superior sound quality, opt for headphones with an impedance value of 5-10 Ohms.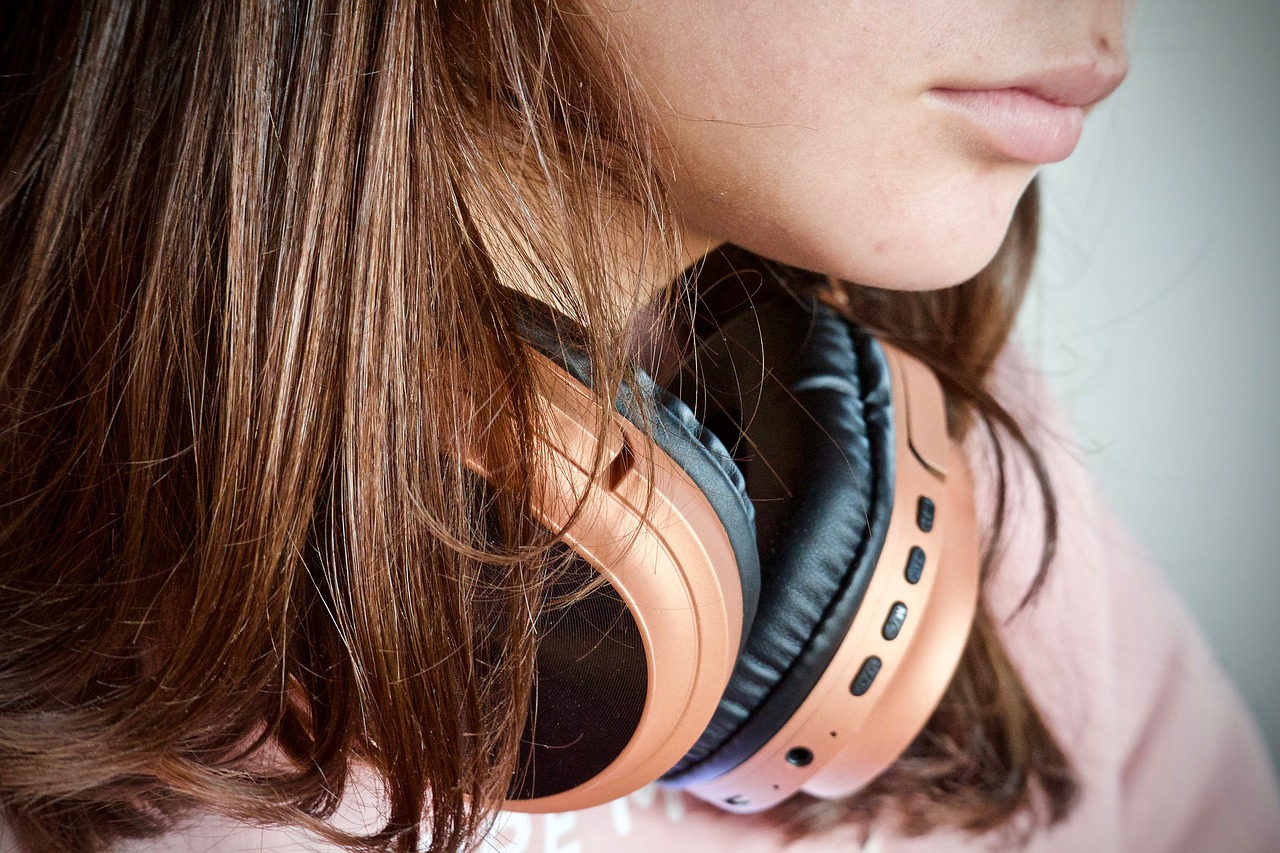 Connectivity
When in the market for a new pair of headphones, you must make sure it's compatible with your smartphone device or music player in terms of connectivity. Most headphones feature a 3.5mm jack. Others feature wireless Bluetooth connectivity to pair with any Bluetooth device, be it a smartphone or television.
Other devices don't need any connectivity, as they can broadcast their sound. These are excellent when it comes to radio listening, but they're quite costly than other counterparts.
Ease of Use
Ease of use is another vital factor to consider when shopping for new headphones. You need to invest your money in a unit that features an intuitive control scheme, with all of the necessary controls being at your fingertips.
Some of the buttons or dials you should look for include volume controls and tuning controls. Ideally, the controls should be located on the ear cups. Now, whether these controls are in the form of knobs or buttons, analog or digital, is entirely up to you.
Some people believe that digital tuning is better than analog, but it doesn't have to be. It boils down to the quality of the headphones you're buying. In actuality, some analog tuners provide users with better control over their radio signals and better fine-tuning capabilities.
Battery Life
The vast majority of AM/FM headphones draw their power from built-in batteries. However, not all radio headphones use the same type of battery. Some models use AAA batteries, whereas others rely on AA batteries. Higher-end models utilize rechargeable Li-ion batteries, which offer around 10-15 hours of playtime per single charge.
Of course, it's better to buy a unit housing a rechargeable battery so that you can use it at your convenience and so you won't have to pay an additional cost on disposable batteries.
Final Thoughts
There you have, the absolute best AM/FM headphones on the market today. If we were to pick a winner, we'd have to go with the 3M WorkTunes, as it's the most well-rounded unit on the list. And for a budget pick, the Retekess TR101 is second to none. Feel free to let us know which of the above-reviewed headphones you think is the best.