Best Bluetooth Headset for Truckers
Are you having a hard time pinpointing the ideal Bluetooth headset for trucking? We understand how daunting it can be considering the sheer variety of options on the market. This is why we've compiled a list of the best Bluetooth headsets for truckers on the market today, so you may want to stick around for a bit. If you are looking for the Best Budget Bluetooth Headset, we also have that covered, otherwise let's get into the Best Bluetooth Headset for Truckers!
BlueParrot is a headphones brand that needs no introduction, and the B550-XT is by far the brand's most advanced product. It's a bit on the pricey side, but it does make up for its price with a host of convenient functionalities.
The device features Voice Control Pro technology, meaning you can control its features without the need to touch it. All you need to do is utter a single command, and that's "Hello BluePattort."
Using the voice control functionality, you can control everything from your calls and music to your GPS directions and more. The B550-XT also features fifth-gen Bluetooth technology for wireless connectivity.
Comfort-wise, the device is perfect for all-day wearing, as it flaunts ample padding on both the headband and the earcups, with the latter being more cushioned to prevent ear fatigue. You'll be able to drive for hours with these headphones on your headphone without feeling a single shred of discomfort.
The B550-XT features remarkable noise cancellation capabilities. It's able to block out 96% of background noise no matter how loud they are. This ensures clear conversations and an ideal listening experience. Speaking of conversations, the unit offers you up to 24 hours of talk time and around 500 hours of standby time.
Last but not least, the B550-XT features the famous Parrot Button. This button allows you to customize your most used functions for easy access, including push-to-talk, speed dial, mute, and more.
When considering the Best Bluetooth Headset for Truckers, we consider comfort, voice control and noise cancellation, to name a few features. The B550-XT excels all around.
✓ Lightweight and adjustable design
✓ Effective noise cancellation
✓ Notably long battery lifespan
✓ Can connect to two devices at once
✓ Reliable voice control feature
‍
✗ Construction is a little bit bulky
✗ Not the most budget-friendly option
Featuring smart sensors, voice commands, and high-quality audio, the Plantronics 87300-141 is one of the best Bluetooth headsets for truckers. It's also one of the most comfortable, so you don't have to worry about it feeling like a burden sitting on your head for hours.
The unit's smart sensor technology enables you to take calls without clicking a single button. It's also equipped with the Voyager Legend functionality, which helps announce the caller. Via voice control technology, you can utter commands such as "Answer" and "Ignore" to handle your calls.
You can also use the voice command functionality to check the unit's connection status, battery level, and more. The 97300-141 is also compatible with Siri, Cortana, and Google Now.
The device houses several microphones that help optimize your voice to deliver precision audio. Further, this sort of optimization helps reduce background noise significantly.
The device is also equipped with a smart call routing functionality that enables you to direct your calls to your smartphone or headset with ease. Music is paused whenever you receive a call and continues right where it stopped when you're through with the call.
The Plantronics 87300-141 features Bluetooth 3.0 technology, and it's compatible with Bluetooth 4.0 headsets. The device brilliantly supports wideband audio for your convenience.
This Bluetooth headset flaunts P2i nano-coating, which makes it completely water-resistant, and by water-resistant, we mean any fluid, be it rain and sweat or coffee and tea. The unit requires about 90 minutes to be fully charged, offering 7 hours of talk time and 11 days of standby time.
The 87300-141 is our runner up in our review of the Best Bluetooth Headset for Truckers.
✓ Flaunts smart sensor technology
✓ Noise and wind cancellation
✓ Controlled via voice commands
✓ Comfortable and sturdy construction
✓ Announces in-coming callers
‍
✗ Proprietary charging system
✗ Occasional disconnecting
While its newer counterpart, the B550-XT might overshadow it, the BlueParrott B45-XT remains one of the most accomplished Bluetooth headsets on the market. The device flaunts an impressive wireless range of up to 300 feet and a well-cushioned frame that offers a great deal of comfort.
Like the B550-XT, this headset features the Parrot Button for easy access to functionalities such as speed dial and push-to-talk. It also has a voice control feature for hands-free control.
The BlueParrott B450-XT flaunts advanced noise-canceling capabilities that eliminate around 96% of ambient noise. The HD Voice feature ensures crisp and creative speech that's very easy to comprehend.
Fully charged, the device offers around 24 hours of talk time and 500 hours of standby time, which equates to about 20 days. The unit also flaunts NFC technology for easy pairing with other Bluetooth units. Over and above, it supports A2DP for audio streaming from other Bluetooth devices.
What we love the most about this headset are its large ear cushions and comfortable headband padding. It's guaranteed never to be a source of discomfort on long drives. Moreover, it's super durable, so you don't have to worry about being rendered useless after a few knocks.
Measuring 9×6.875×2.625, the B450-XT is relatively slender compared to other competitors. Also, it delivers superior audio quality, as it features a frequency response range of 20Hz-20kHz and an impedance of 32 Ohms. Also, the sensitivity of the microphone is 47dB/Pa, which is pretty satisfactory.
You should keep in mind this headset resets when you attach the USB cable to a USB port during a call, automatically sending the call back to your phone.
✓ Extremely comfortable design
✓ Reliable wireless range
✓ A2DP and NFC technology
✓ Controlled via voice commands
✓ Great noise canceling properties
‍
✗ Suffers from occasional freezing
✗ Price tag is on the steeper side
The Aminy UFO Bluetooth Headset is designed with the cost-conscious consumer in mind. The unit doesn't offer any mind-blowing features, but it does cover the basics pretty well.
The UFO is created ergonomically to ensure maximum comfort. It utilizes the 3-point-supported principle so that it firmly sits on your ears. It's made from lightweight materials so that it doesn't fatigue your ears, but it's not too lightweight that it's easily misplaced.
The Aminy UFO does an excellent job of combining acoustic technologies with Bluetooth 5.0 to ensure clear and crisp sound quality that's not affected by external noises. Further, it's equipped with an omnidirectional microphone that directly picks up sound from your mouth and disregards sounds coming from other directions.
The headset houses two batteries, with each battery providing 8 hours of talk time. One battery requires anywhere from 1 to 2 hours to be fully charged. In terms of compatibility, the UFO can be connected to Android, iOS, and Windows smartphones without any problems.
Moreover, you can connect this headset to pretty much any Bluetooth-enabled device, from PCs and laptops to tablets and cellphones. It's great for listening to music as well as taking calls.
The construction flaunts an IPX6 waterproof rating, as it features an inner nano-coating material that prevents any fluid from seeping through and damaging the unit's components. This means that you can use this unit for more than just trucking, you can use it for cycling, running, camping, lifting weights, and a host of other activities.
✓ Water-resistant construction
✓ Extremely lightweight
✓ Great range of compatibility
✓ Crisp and clear sound quality
✓ Highly affordable price tag
‍
✗ Voice prompt is a bit annoying
✗ Not the best control scheme
The MPOW Pro Trucker is yet another cost-effective headset that displays an impressive range of features that can rival premium alternatives. The Pro Trucker can be paired with two Bluetooth-enabled devices simultaneously without any problems.
As the name implies, this headset is designed specifically for truckers, which is why it features hands-free calling. Just make sure your phone is within 33 feet from the headset to ensure an ideal call experience. The device is also perfect for making video calls and Skype conferences.
This headset is entirely optimized for comfort. It weighs only 0.11 pounds, making the lightest headset on the list. The headset weighs less than what an egg weighs, which is quite impressive. It features a stretchable headband to adjust it to your liking and ear cups that are well-padded to ensure maximum comfort.
Despite its highly affordable price tag, this unit flaunts advanced noise reduction technology, so whether you're in a hectic workplace that's contaminated with noise or chilling in the comfort of your home, you'll enjoy the crisp and clear sound quality. The microphone is omnidirectional, so it's essential to have it directly in front of you to ensure optimal use.
The MPOW Pro Trucker flaunts excellent battery life of up to 12 hours of talk time. Of course, this isn't much compared to any of the BlueParrott headphones, but let's not forget that this unit costs a fraction of what a BlueParrott headset costs.
The Pro Trucker is designed to comply with the FCC regulation, so don't let the cheap price tag throw you off. You should keep in mind, however, that this unit isn't designed for music listening. It's suitable only for calling.
✓ Impressive sound quality
✓ Extremely lightweight design
✓ Super comfortable
✓ Great battery life for the price
✓ Highly affordable price tag
‍
✗ Not suitable for music listening
✗ Construction is pretty delicate
How to Choose the Best Bluetooth Headset for Trucking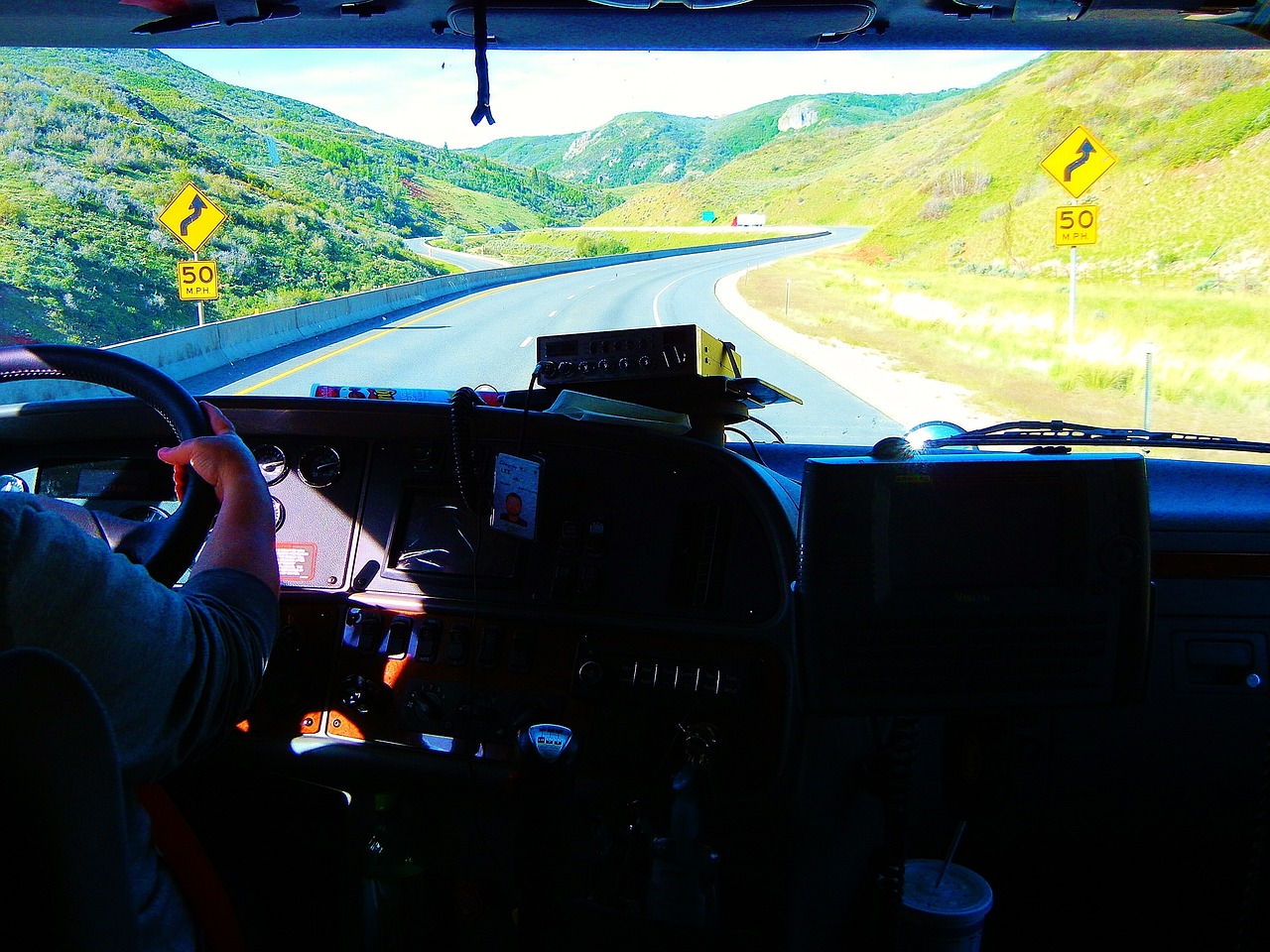 Even after learning about the best Bluetooth headsets for truckers, it can still be hard to pinpoint your ideal product. To ensure the most value for your money, consider the following factors.
Build Quality
The vast majority of Bluetooth headsets are quite similar in terms of design, but they vary when it comes to build quality and weight. You want to make sure you invest your money in a unit that strikes a reasonable balance between durability and weight convenience.
You might find incredibly lightweight headsets, but such lightness is often achieved via the use of fragile materials. On the other hand, you'll discover remarkably durable headsets, but some of them are just a burden to have on your head for too long due to their sheer weight. To put it simply, the perfect headset is a lightweight one without compromising durability.
Connectivity
Secondly, you want to make sure the unit you're about to spend your money on is compatible with whichever device you intend to pair it with. Some units are compatible with Android or iOS devices only, whereas others offer broad compatibility with all Bluetooth-enabled devices.
After finding a headset compatible with your smartphone device, you need to make sure that it's connectivity range is convenient for your needs. Ideally, the wireless range should be around 30 feet.
Comfort
Next, you have to inspect whether the headset is comfortable or not. This usually boils down to the quality of padding that the headset implements and the headset's adjustability. As far as the padding, you want both the headband and earmuffs to be padded in such a way that they mold to your ear, but shouldn't be overly firm or it'll be fatiguing to the ear.
To add, the padding should have a considerable amount of breathability so that it doesn't cause your ears to sweat and overheat. As far as adjustability, make sure the headband is flexible enough so that you can adjust it to your liking.
The Best Bluetooth Headset for Trucking has to be comfortable – You might have to wear it for many hours at a time.
Voice Control
This feature isn't available in all headsets, and it's not the end of the world if it's not present in the headset of your choice. Still, it helps to have it because it enables you to use your hands for other tasks than controlling the headset, which is of utter convenience for truckers.
Sound Quality
Sound quality is a matter of personal preference, really, but the higher the impedance, the clearer the sound will be. You should also consider the microphone's quality. You should look for headsets that feature omnidirectional mics to pick up sound from every direction.
You should also consider the headset's noise cancellation capabilities, especially for a trucking job where loud noises are everywhere.
Final Thoughts
We're quite confident that one of the above-reviewed Bluetooth headsets will meet your needs and budget, and with the aid of our concise buying guidelines, you'll be able to pinpoint it with ease. To conclude our review of the Best Bluetooth Headset for Truckers, we have narrowed down a winner whilst there are many fantastic options on the market.
Crowning a winner, we'd go for the BlueParrott B550-XT because it offers everything from suburb sound quality and reliable voice controls to excellent connectivity and build quality.