If you're building your own studio, you know too well that a mic is a crucial piece of equipment. With various types out there, each one of them can have certain effects on sound quality.
One of the most sought out microphones is the condenser mic, which is perfect for studio use.
Audio recorded by a condenser mic is crystal-clear and natural. However, if you're a beginner, you might not know what to look for to get the right one for you.
For this reason, we'll be your guide to the best condenser mic under $200.
Let's check them out!
Our Top 5 Picks for the Best Condenser Microphone Under $200
When it comes to condenser mics, you'll find plenty of brands out there offering a wide range of price options. However, we're more interested in those that would cost you lower than 200 bucks.
Let's dive in!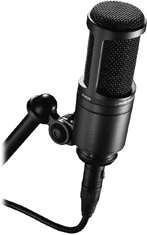 The first product on our list is this Amazon's Choice. A lot of features and details have landed the Audio-Technica this spot in the condenser mic category.
Let's begin by saying that this microphone is a favorite for many people with home studios and voice overs. It can offer an unmatched combination of price and performance that anyone might be looking for. If you are looking to be compared to voiceover artists, this is the vocal mic for you.
With a noise level of 20 dB, this mic can be an ideal choice for recording vocals with minimum background noise.
Also, this mic features high SPL handling and a wide dynamic range. This means that it can handle a broad spectrum of frequencies due to its sensitivity.
Let's discuss its build. The Audio-Technica comes with a cardioid polar pattern, which helps reduce the pickup of sound from the sides and the rear. It limits the sound pickup to the front, which should grant you crystal clear results.
Lastly, we admire the price, which falls in the midrange area. Sometimes overshadowed by it's successor, the Audio-Technica AT2035, at half the price with only minor improvements to the dynamic range, many reviewers and ourselves included think the price is awesome for such performance.
Pros
✓ Low noise level (20 dB)
✓ Wide dynamic range
✓ High SPL handling
✓ Extended frequency response
✓ Cardioid polar pattern
✓ Moderately-priced
‍
✗ Might not be great for streaming without a USB cable adapter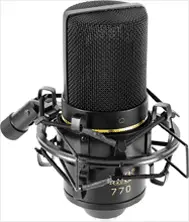 Now, here's another awesome condenser mic at a bit more affordable price. With its multi-purpose features, you might find a liking to this impressive microphone.
The manufacturers claim that it can be used for many applications, with an integrated pop filter and switchable high-pass filter at 150 Hz by 6 dB per octave you can be confident any background noise will be eliminated, whilst still giving you the flexability to upgrade if you feel the need.
In addition to that, the MXL 77 comes with a balanced bass response, which provides high-end clarity. Many users have addressed its output, describing it as warm and praising its quality, being perfect for recording vocals or an acoustic guitar.
What we also find great about this mic is its high dynamic range. Last but not least, it features low-frequency roll-off, which can keep undesired rumble from the sound produced by the mic.
All in all, we think that the MXL 770 represents a great deal for the price. To be honest, we're not the only ones who think so.
Many user reviews went on and on about how the price was a surprise paired with such outstanding performance. Therefore, as a beginner, this mic might be a good product to start with.
Pros
✓ Versatile
✓ Clear output
✓ The noise level is only 20 dB
✓ Balanced bass response
✓ High dynamic range
✓ Low-frequency roll-off
✓ Midrange price
‍
✗ Doesn't come with a USB feature to use with a PC, laptop, or smartphone
✗ Some users faced issues with customer service
✗ Might produce an unwanted hum after months of use

This is another amazing mic by Audio-Technica. However, it might cost you more than its previous sibling because it offers more features.
The most sought out feature that we loved about this mic is that it's USB-friendly. For all the streamers and podcast creators out there, this might be exactly what you need in a condenser mic.
You can connect it to your PC or laptop with the help of a USB cable without the need for an adapter, power supply (sometimes referred to as Phantom Power) or audio interface. No more cash spent on additional accessories.
Now, let's discuss its performance. This mic comes with a high-quality A/D converter with a 16-bit, 44.1/48 kHz sampling rate. Therefore, it can produce outstanding digital audio quality.
Also, you'll find mix control as well as headphone jack volume control on the body of the mic. The mix control lets you adjust your microphone signal and blend it with any audio you've previously recorded.
As for its frequency response, you should find it quite fascinating. The mic offers an extended response, which should result in smooth sounds and no background noise. With a perfectly defined cardioid pattern it ensures everything other than what you're interested in is ignored.
The Audio-Technica Cardioid Condenser mic is the most expensive on our list. However, many users thought the price was worth the multiple features that the mic offers and comes highly recommended from those that have transitioned from a typical fan-favorite, the Blue Yeti.
Pros
✓ USB compatibility
✓ Awesome for streaming
✓ Nice audio quality
✓ Mix control and volume control
✓ High volume
✓ Extended frequency response
✓ Cardioid polar pattern
‍
✗ The price might be over-the-top for beginners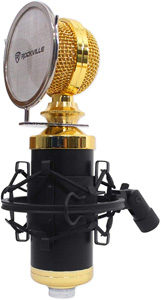 Since we've discussed our most pricey condenser mic, we'll offer you our budget-friendly pick. Not only is the Rockville microphone a great choice for small budgets, but it's also an Amazon's Choice.
Let's discuss the features that earned it this position.
First of all, we admire its sturdy aluminum construction. It comes with a metal shock mount and a large diaphragm to provide you with a smooth, noise-free sound.
As for its equivalent noise level, you'd be pleased to know that it's less than 18 dB.
The Rockville mic also features a cardioid polar pattern. As we pointed out before, this feature keeps the mic from catching sounds from the back and the sides. The result should be a rich and warm sound.
Now, speaking of sound quality, we love how versatile this mic can be. This is because it has a wide dynamic range, which is preferable in any recording mic.
The proximity effect offered is not as much as other microphones on our list, but if you are working on a budget you will struggle to find a better offering.
All in all, this mic is great on many levels. It's become a favorite of many people because it's a blend of an affordable price and noteworthy quality.
Pros
✓ Strong build
✓ Minimum noise level (less than 18 dB)
✓ Cardioid polar pattern
✓ Compatible with a PC or a laptop
✓ Budget-friendly
‍
✗ Some users needed instructions when using it with a laptop
✗ Might produce muffled sounds after a while of use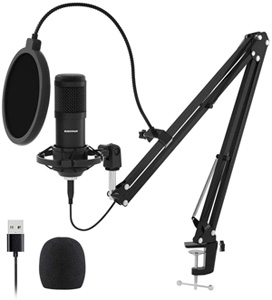 Here's our final candidate for the best condenser mic under $200. We're back in the midrange category with this amazing microphone by SUDOTACK.
For every podcaster and streamer out there, prepare yourself for the awesome features that this mic should grant you. We'll simply start by saying that being PC compatible might give this mic an advantage over other products.
It's as simple as plugging the mic USB cable into your computer. There aren't special installations or drivers needed as opposed to other products.
It comes with a 24bit/192khz bit sample rate. You should be able to produce digital sounds effortlessly and with no additional attachments.
This mic also has a wide frequency response. Therefore, you can enjoy high-resolution audio with other noises kept to the minimum.
Just like some of its predecessors, the SUDOTACK comes with a cardioid polar pattern. This design eliminates the pickup of any background noise. All you have to do is place the sound source right in front of the mic.
Speaking of noise, we like how this microphone comes with accessories to help you keep it at its lowest levels. From a sturdy mic stand to an anti-wind foam cap, your mic shouldn't pick up any vibrations.
A lot of people who tried this mic were blown away by its quality. Some commented on the balance between the reasonable price and outstanding performance.
Others thought it was a must-buy for streamers.
Pros
✓ USB connectivity
✓ Cardioid polar design
✓ An awesome mic for digital recordings
✓ Easy PC installation
✓ Wide frequency response
✓ Comes with noise-reducing accessories
✓ Moderately-priced
‍
✗ The clamps might be prone to come off occasionally
✗ The arm might not support the weight of the mic in the best fashion
✗ The sound might seem muffled to professional users
How Are Condenser Mics Different From Dynamic Mics?
Dynamic microphones do a better job of recording louder sounds. These sounds can be vocals or especially loud musical instruments such as brass instruments.
This is why dynamic mics are more suited in live performances, which isn't the case with condenser mics.
Instead, condenser microphones are great for capturing softer sounds in controlled environments. Therefore, they're used in recording studios.
What to Look for When Buying a Condenser Mic
With this buying guide, we'll help you focus on the most important factors to keep in mind before deciding what is the best mic for you.
Budget
Naturally, the first thing you should think about before buying any product is your budget. The best cheap condenser microphones may not be what you are after and instead you want the best microphone, with higher frequencies and excellent quality. You'll find that there's a wide range of prices on the market.
As a general rule, the higher the price is, the more the mic is suited for professional use.
For instance, if you intend to use your mic in your home studio, you can go for the midrange category. Microphones in this category should have all the features you'll need for podcasting and streaming.
However, if you plan to use it in a professional studio, then your best bet should be getting a high-end condenser mic. This means better performance and sound quality, as well as maximum background noise control.
Intended Use
This point goes without saying. As you know, not all condenser mics are fit for every use.
For instance, by taking a look at our list of products, you'll find that these mics can vary in use. Some are better suited for recording vocals only, which can be great for streamers and podcasters.
It's all a matter of finding what exactly you need in a mic to do its job.
Connectivity
By connectivity, we mean choosing between USB or XLR mics. Wondering what the difference is?
USB-powered microphones depend on your computer or laptop to work. As for XLR mics, your computer won't be enough to power them. Instead, you'll need an external power source.
Deciding which one to choose is based on your budget, since buying an external power source will add to the overall cost.
However, if you'll use your mic at home, you'll most likely get a USB mic. It's easier to install into your computer and should cost you less than its sibling.
Other Features
Of course, you should keep in mind the technical features that you should find in a microphone. These should make your choice even easier to make.
Noise Level
As you know, background noise can be an issue when recording vocals. Look for the lowest noise level that you can find, which is measured in dB.
For instance, if you're a podcaster, a noise level between 10 and 20 dB is your best shot.
Frequency Response
Always look for a mic with a wide frequency response, therefore, no matter what type of voice yours is, it should be able to pick it up with maximum clarity.
The Final Verdict
For many of us, a condenser mic is essential to our job or hobby.
It might be a bit confusing to pick one out of countless products in the market. This is why we'll suggest our favorite pick for the best condenser mic under $200.
We love the Audio-Technica AT202 Condenser Microphone for more things than we can count, we believe this to be the best option as a high-quality microphone with a great frequency range and high sensitivity.
For starters, it falls under the mid-range price category, which can be great for beginners as well as advanced users to keep within your price range.
Also, with its outstanding performance, it combines a reasonable price and excellent sound quality. With its high dynamic range and sensitivity, this mic can be your number one choice as a podcaster.