iClever BTH03 Review
I will be reviewing the iClever BTH03 Bluetooth On-Ear Wireless Headphones. They are for Kids and come in pink or blue models. They have a wireless range of 10 meters and can be paired with two devices simultaneously. They come with a nice case that doubles as a stand and has a charging cable that charges the headphones via micro USB. They also have a built-in microphone. The units are foldable, making them easy to store and they weigh about 200 grams or 7 ounces in weight.
These headphones feature in our Best Headphones for Kids review.
Build quality
The build quality is very good on these headphones. I have a son who is a bit rough with his headphones, and these are holding up well. The headphones themselves feel very solid and have a good weight to them. You can quickly tell they were made with high-quality plastics, and the hinges feel secure and don't feel like they will break. They are also easy to clean if they get dirty and the headband itself is covered in soft padding, which makes them very comfortable to wear.
✓ Fit type: Over-ear
✓ Back: Closed-back
✓ Connection: Wireless, Bluetooth
✓ Colors: Pink, Blue
✓ Excellent construction, good sound quality
Noise Cancellation
I'm not sure about noise cancellation on these, but my son says that when he's listening to music, he can't hear the TV when it's on in the same room. My son says he can hear people talking around him though, so it's not perfect, but it's pretty close.
Design
These are designed for kids, so that means they have to have an appealing design so that kids want to wear them. The design is adorable. They have an excellent blue or pink color scheme to them, and they look fun, but can still appeal to adults since they have a nice design as well. The kids' version also has some small "gumdrops" on each ear cup that give them a nice look as well. The headphones themselves fold flat, which makes them easy to store and carry with you if needed.
Comfort
I think these are comfortable, but that's coming from a grown man with big ears. My son says they are comfortable and don't hurt his ears even after wearing them for several hours at a time.
Features
There are a lot of features on these headphones.
They are Bluetooth enabled, which means you don't need wires if you want to use them wirelessly, but they do come with an audio cable in case you want to use them wired instead of wireless. You can connect the headphones via Bluetooth by turning on your Bluetooth settings on your devices and then turning on the headphones by holding down the power button for 3 seconds until the blue LED flashes three times indicating it's ready to pair with your device.
It should pair with your device automatically once you turn it on and turn it on Bluetooth for your device as well. It will pair automatically with your devices upon powering up. Still, if you want to pair with multiple devices, you press the same button for 3 seconds until the blue LED flashes five times indicating it's ready to pair with another device (up to 2 devices at once).
The built-in microphone allows you to answer calls while wearing them via the built-in microphone and the buttons on the headphones will enable you to control volume and playback.
The headphones also have a built-in battery which allows you to use them wirelessly for about 12 hours (the box says 10 hours, but my son has used these for over 12 hours).
The headphone case doubles as a charging stand. You place the headphones in the case when not in use, and the headphones charge via micro USB. It takes about 2 to 3 hours to charge fully and then you're good for another 12 hours of wireless listening.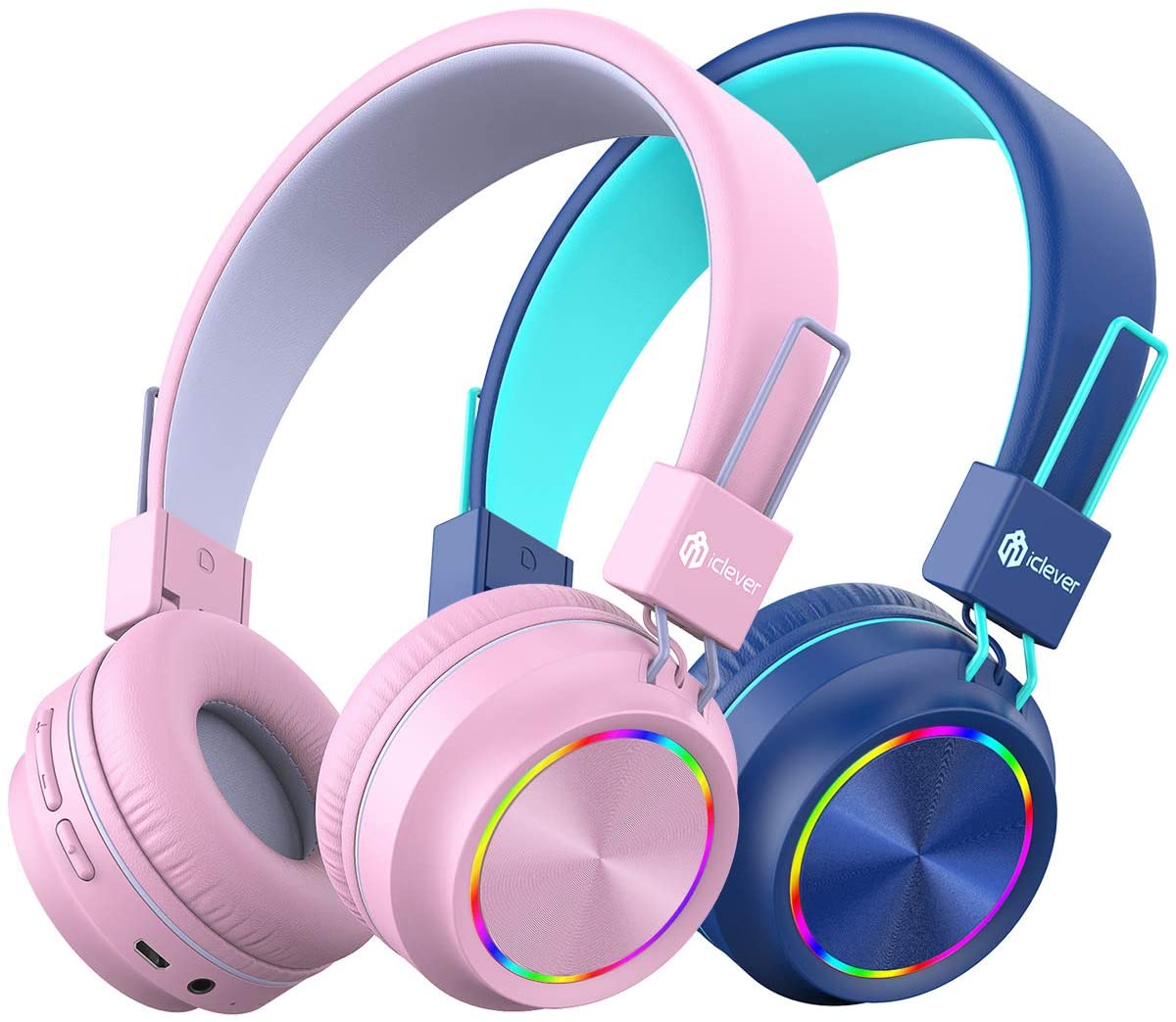 How do they sound
The sound on these is pretty good. I'm not an audiophile so don't have a lot to compare it with, but my son says they sound great. They sound very clean and clear, and he thinks he can hear all the instruments very well even with some of his favorite bands like Linkin Park, A Day To Remember, and Blink 182. He says the bass is pretty good too and likes how deep it sounds when listening to some of his favorite songs by those bands. I also tried them out myself and was pretty impressed with the sound for a pair of headphones made for kids at this price range.
Usability
The usability on these is pretty easy once you get used to using them. My son was able to figure out how to use them after a few minutes of playing around with them, but he had used other Bluetooth headphones before, so he knew how they were supposed to work already.
You can easily pair them with two devices at once which is a massive plus for me since I have both an iPhone and an iPad so I don't have to keep switching them back and forth between devices all the time as I did with my old headphones.
What about wireless
I'm very impressed with how well these work wirelessly. My son can walk around anywhere in our house or even outside on our property without any issues. He had good quality audio from his music as long as there are no walls in between him and the receiving device (phone, tablet, or computer).
How good is the case?
I like this case! It's small enough that it doesn't take up too much room but large enough that it can fit both pairs of headphones in it along with the charging cable if you want to travel with them. The slots in the case also allow you to store your audio cable if you choose not to use Bluetooth with them, so that's a nice feature.
The headphones also have magnets built into them so they will automatically turn off if you close the case which is a cool feature and convenient if you don't want them to be on when you put them away in the case.
What's in the box?
You get one pair of headphones, one audio cable, one carrying case, and a user manual. You can purchase other colors if you wish that come in different color cases. You can also buy a second pair of headphones to use at the same time if you want to instead of having to alternate between the two since they can be paired with two devices at once.
Are they compatible with games consoles?
I haven't tried this out myself, but I have read many reviews that say they are compatible with games consoles like the Xbox One, Xbox 360, PS4, and PS3, but not with the Wii U or Wii since those consoles use proprietary cables for their controllers.
Should I buy them?
If you are looking for a nice pair of Bluetooth wireless headphones for your kids or yourself at a reasonable price, I would recommend these. These are perfect for your kids since they are designed for kids and have some excellent safety features like auto shut off if you close the case or if they get too far away from your phone or tablet.
They are also very nicely designed, so kids will like wearing them too. They work very well and sound great as well, and I'm delighted with how well my son likes them. I highly recommend them!