Otium Bluetooth Headphones Review (Otium Beats)
The Otium Wireless Bluetooth Headphone is a pair of wireless headphones that are Bluetooth compatible. They are available in black and white and have a wireless range of 10m. They are incredibly lightweight at only 9g and are designed to be used for sports or everyday use. The earpieces are also IPX7 waterproof rated, so they are sweatproof, so ideal for running, cycling or working out. The earpieces are ergonomically shaped to fit snuggly in the ear.
The manufacturer is Otium, established since 2016.
Let's dig into our Otium Bluetooth Headphones Review!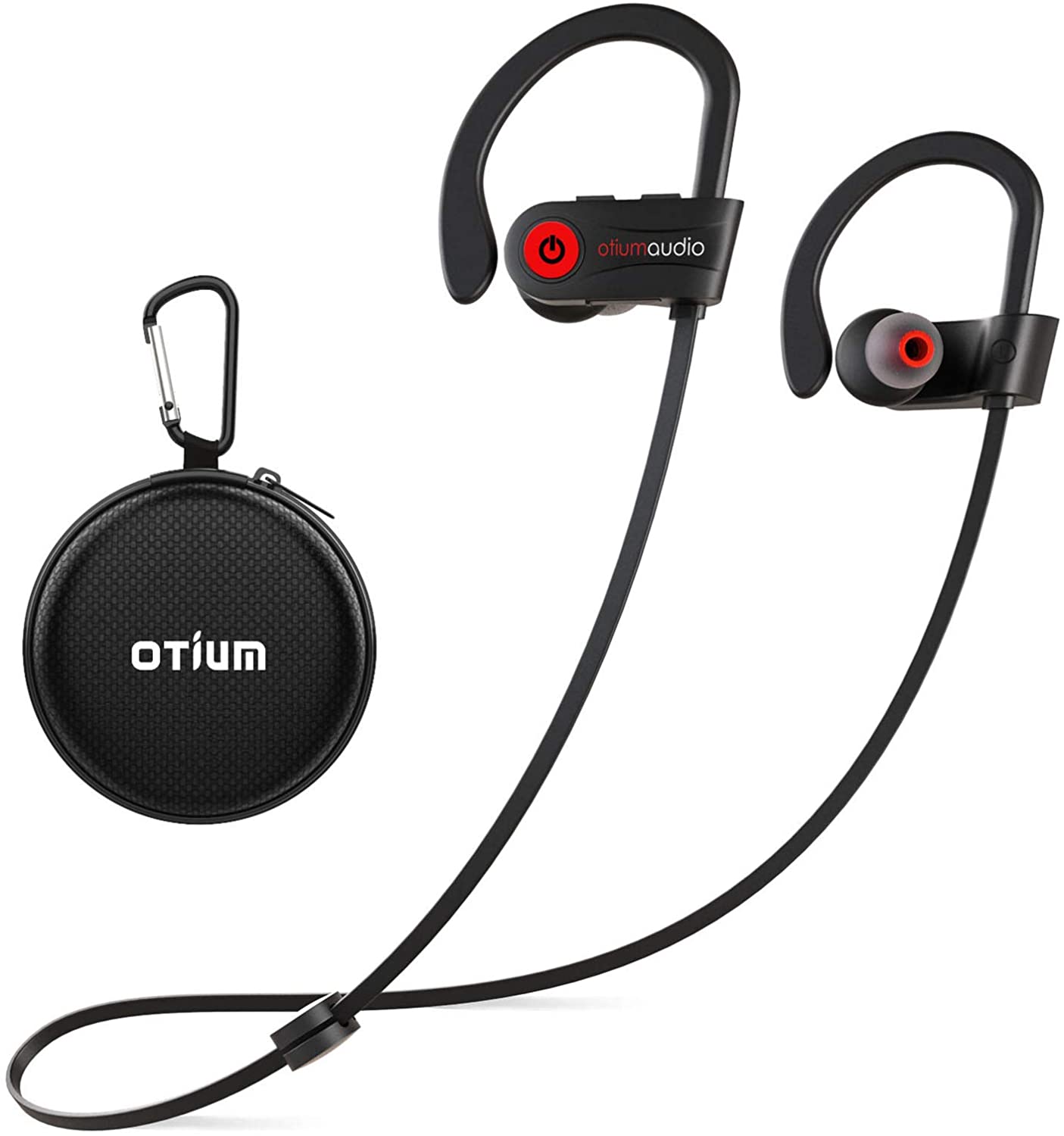 Build Quality
The build quality is the best part of the earphones; the case is sturdy and well made. There is a tiny but useful LED on the right earpiece for charging and pairing. The buttons on the right earpiece have a good positive feel to them and are easy to identify by feel alone.
The microphone is positioned on the left earpiece and does not get in the way when I am exercising.
The charging time is very fast taking only 30 minutes to charge fully. The battery life of these earphones is a massive 10 hours which is incredible for something so small. The earphones are relatively light at only 9g, which makes them very comfortable to wear for long periods. The earpieces are also sweatproof, which is great for sports use.
They have a sturdy construction, and the earpieces feel solid. The material is a mix of rubber and plastic, but it doesn't feel cheap. The earpieces are relatively small compared to other headphones, and they don't feel heavy on the head – which is nice.
The in-line controls have an aluminum finish which gives them a premium feel. They have a good weight and won't easily fall off your head. The rubber finish is good at resisting sweat and water.
✓ Fit type: In-ear
✓ Connection: Wireless, Bluetooth
✓ Colors: Black
✓ Excellent construction. The sound is very good. The battery lasts for a long time. The headphones are comfortable to wear.
Noise Cancellation
The noise cancellation is decent but not the best I have used. The Otium Bluetooth Headphones have a good seal in the ear, which helps. You can use them in the gym or on the commute without any issues.
Design
They are designed for sports and outdoor activities which is why they have their IPX7 waterproof feature. They have an LED on the right earphone that changes colour depending on specific actions like pairing or charging etc. The buttons feel good to use and are easy to identify by feel alone.
The microphone is positioned on the left earpiece, so it doesn't get in the way when I am exercising, it does its job well, and my calls are clear. The case is well made and sturdy; it has a magnetic clip to hold it closed and feels good in the hand.
Comfort
The comfort of these earphones is excellent as they only weigh 9g each, so they feel light when running or cycling.
The earpieces are made of good quality rubber, and they sit comfortably in the ear. The rubber seal ensures a good seal against external noise and makes for a great listening experience. The earpieces are small and light, which can be a problem as they fall out easily.
Overall these wireless earphones are very comfortable and lightweight, which is essential when using them for sports or just general everyday use.
How do they sound?
The sound quality is decent but not exceptional; however, I think that this isn't what Otium designed these for and considering the price I don't think you can complain about the sound quality at all.
If you want better sound quality, then you need to look for a high-end pair of headphones, but the price range that these are selling for I don't think that you can do better.
The bass is good, and the mids are surprisingly clear; the treble is crisp and clear. The bass hits punchy and sharp with some weight behind it, but it doesn't overpower the mids.
The treble is also crisp and clear, with no sign of harshness or sibilance. If you're a fan of music with heavy bass, then these are the right headphones for you if you're a fan of music with little or no bass then maybe these aren't for you.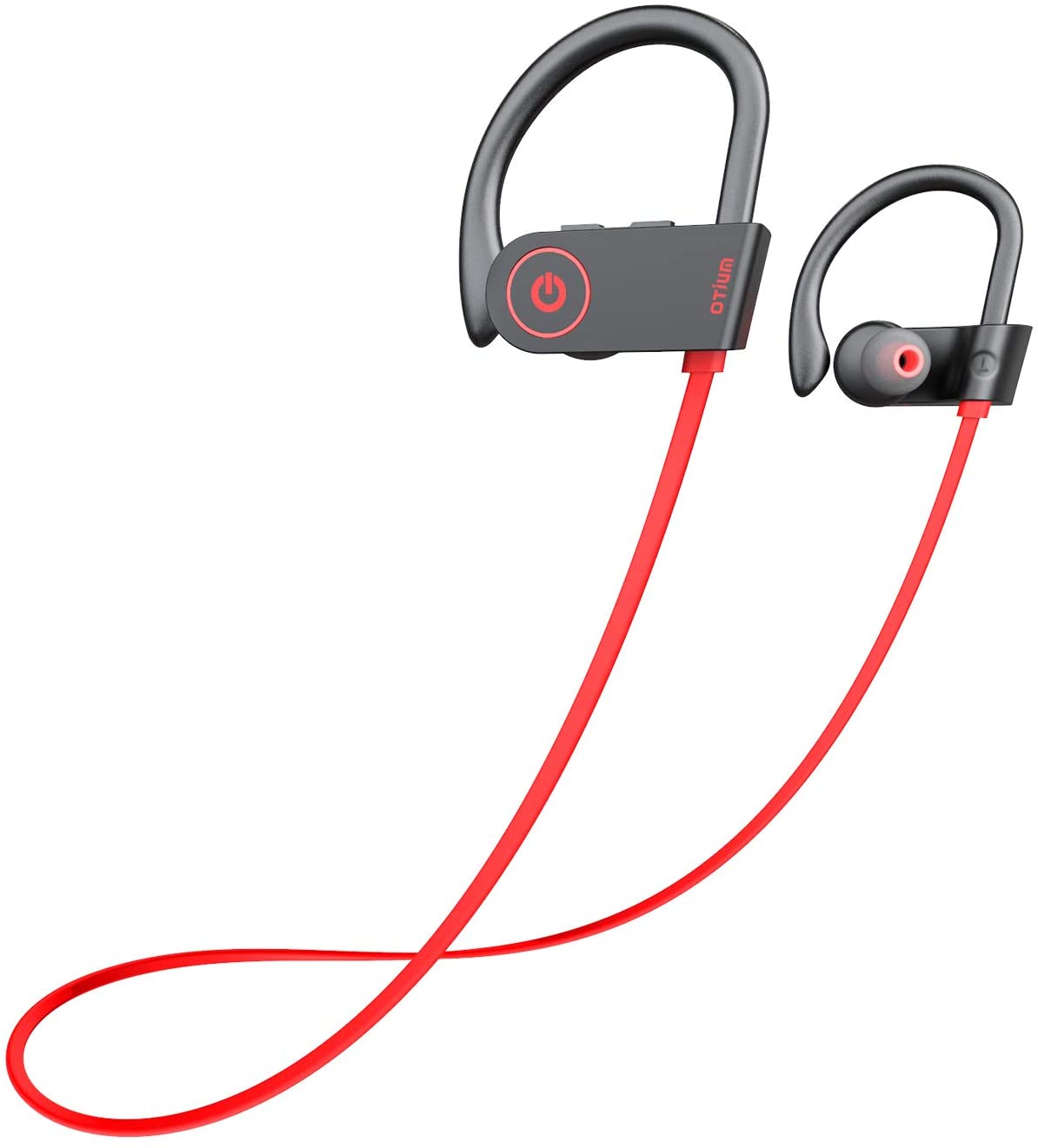 Do they have a microphone?
Yes, they do. The microphone works well, but it is positioned on the left earpiece, which can make it a little awkward to use while you're exercising. However, it does the job, and my calls are clear when using these headphones.
What about wireless?
These earphones are wireless using Bluetooth 4.1, which is excellent for sports or just general everyday use.
I find that having a wire hanging around my neck or in my pocket gets in the way and I often end up snagging the cable on something which then stops the music which can be annoying when you're running. With these earphones, I can just put them in my ears and go, no worries about a wire getting caught on something and stopping the music.
How good is the case?
The case is handy as it has a clip to hold it shut with a magnet that keeps the case closed securely. It also has a micro USB port on the bottom for charging. The case is nice and sturdy with an orange soft silicone inner lining. The headphones fit snugly into the case with no movement at all.
Are they compatible with games consoles?
These headphones are fully compatible with all games consoles. I tried them on my Xbox One, and it worked perfectly.
Should I buy them?
Overall these earphones are a great pair of earphones for sports use, and they are comfortable, lightweight and sweatproof, which is all you need for sports or just everyday use.
If you're looking for a pair of stylish looking headphones with fantastic sound, then these are the ones for you. They are incredibly comfortable and feel like they are an extension of the ear, not something that is being forced into them. The case is also handy for keeping the headphones safe when not in use or when traveling. Overall these are a great pair of headphones, and I would highly recommend them.
What else do Otium offer?
Take a look at our Otium Wireless Earbuds review if you want to see what else Otium have to offer.