It's essential to start by establishing the fact that just about every guitar amp is portable to some degree. A guitar is not exactly the kind of instrument that you're expected to play in a single location all the time. Clearly, it's no piano, so there is a high possibility that you want to take it around with you.
Be that as it may, not all guitar amps were designed with the movable factor in mind. So, if you can drag those around with you, it's merely a matter of happenstance. Now, there are manufacturers who designed guitar amps specifically to be convenient for the purpose of transportation. 
These portable guitar amps are very handy for people who travel extensively, and for those who may be street musicians. When portable amps just started to become a trend, they weren't used as heavily as they are today. However, guitarists tend to be much more mobile than they were in the past, which means that having the option of portability is a huge plus.
To this end, this article covers three of the best portable guitar amps on the market. You may be looking for a portable one for the first time, or you may simply be looking to replace the one that you already have. Whatever the case may be, the information that you need is included below. 
Included with each product review is a list of advantages and disadvantages that you can expect if you opt for each model.
Marshall MS2 Review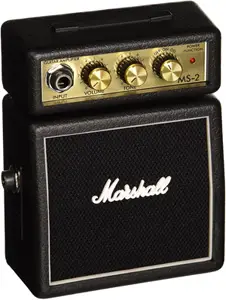 The first entry on the list comes to you from Marshall. If you're familiar with musical equipment, then the chances are that you have heard of this brand before. After all, Marshall brand products have been used in practice and on stage for over 50 years. If you were to look back to the era when rock-and-roll was at the height of its popularity, you would realize that there was almost nothing more synonymous with the time and the genre than Marshall stacks.
✓ Small and lightweight design is conducive to immense portability
✓ Both clean and overdrive channels are present 
✓ Sound quality is free of distortion 
‍
✗ The belt clip is a bit loose, which can make carrying the unit slightly uncomfortable
✗ The volume could stand to be a bit louder
The Marshall MS2 is a nod to that classic design, and it is perfect if you're looking for an amp that you can easily take around with you. In terms of power, 9V batteries are required for a 1W output. If you need to warm up or have a practice session, then that is way more power than you need. The mobility factor is significantly increased because of the lightweight design of the unit. Additionally, the inclusion of a belt clip means that the convenience of this amp for travel is even greater.
The standard controls and quarter-inch input that you would expect are all included, and these can all be found on the unit's upper area. The modeling that you get is not the most comprehensive, but you do get the fundamental functionality required in this regard. This is thanks to the tone knob and master volume knob that form a part of the design. Additionally, you can jump between overdrive and clean channels with the channel nob that also doubles as the power knob. The design also includes a headphone output, which means that if you want to rock out in your own time or use an external power amp, this device has you covered. For a unit that is only 14 x 11 x 6 cm and less than a pound, it packs an incredible punch. 
Boss Katana Mini Review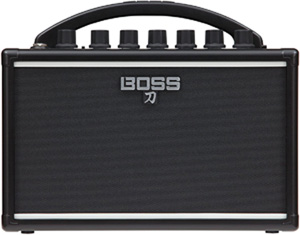 Do you even need an introduction to the Boss brand? There are so many applications in the world of audio for which Boss has designed amazing products. From entertainment systems, to speakers, to even car radios, this is a brand that seemingly does it all where sound is concerned. Of course, guitar amps could not be left out of the innovations. 
✓ Thanks to the provision of three channels, there is a wide array of sounds that you can achieve
✓ The unit offers a tremendous level of power 
✓ The sound quality provided is crisp and free of static 
✓ The tape delay effect is a huge plus 
✓ Size, weight, and handle make carrying convenience incredible 
‍
✗ Though you have the option of using AC power, the cable that you would need for this is not included 
✗ There are no accessories that allow for alternative methods of carrying the device
Though this guitar amp is portable, you get a multipurpose feel from it based on its design. It seems to be the midpoint between a portable amp and a standard-sized one. This is because it is designed to suit both applications as efficiently as possible. With the analog gain and turn control circuits included, the sound that you get is nothing short of marvelous. This is what you want as a street performer, as you need to ensure that your appeal to the ears of your audience is as high as possible. 
There are two sources of power that you can use for this guitar amp. The first is standard AA batteries, and this unit requires six of them. Alternatively, you can take advantage of the AC adapter. Note, however, that the power cord that you need is not included, so be prepared to buy one if you are opting to get your hands on this unit. 
Channel variety is always an essential part of deciding how feasible a guitar amp is. This amp has three channels, which are brown, clean, and crunch. With these inclusions, your sound variety is off the charts, as you can switch from the heaviest of metal to the most soothing of tones. Additionally, you can configure your effects with the level and time knobs that form a part of the design. To this end, there is a built-in tape delay, which lends itself to the warm ambiance that you may desire. There is also a traditional analog EQ, for those who wish to take advantage of it. 
For the price, this offering from Boss far exceeds many of the other portable guitar amps in the same class. The Katana Mini is just as travel-ready as smaller mobile units, and its handle makes it super easy to lift and carry. At only 3.3 pounds, it's almost as if you're carrying nothing at all. 
Yamaha THR5 Review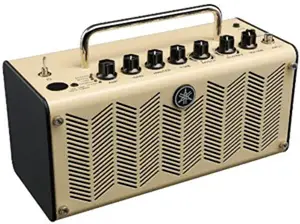 The final entry is from Yamaha, which has also thrown its hat into the creation of numerous electronics for various audio applications. When you opt for a battery-powered guitar amp, there is usually a level of functionality that you expect. Naturally, a full-sized unit that you may use for your private recording or practice sessions can pack quite a wallop when compared to those that must rely on nothing but battery power.
✓ The sound quality is clear and free of distortion
✓ Onboard effects allow you to take your sounds to the next level 
✓ The feature set is on par with that of full-sized models
✓ There is a digital tuner included
✓ Though the amp is a single channel one, it can emulate multiple models 
‍
✗ Thanks to the power of the device and the inclusion of the two speakers, the battery life is relatively short
The Yamaha THR5 was designed to be the difference in this equation. This is because it aims to offer the same kind of functionality that is synonymous with these full-sized devices. Of course, it brings all this to you in a portable amp that is conducive to your traveling needs. 
Unlike many other amps that boast multi-channel capabilities, this unit is a single channel one. However, you can get the effect of modern, clean, crunch, lead, and Brit-Hi models from it. This is all offered through emulation, as opposed to native design. 
The Yamaha THR5 ships with a pair of speakers, and it is a 10W amp. There are basic controls included for master, tone, and gain. Additionally, there is a slew of effects, such as tremolo, phaser, flanger, and chorus. 
Delay, delay/reverb, spring reverb, and hall reverb modes of delay are also included. Based on all this, you can tell the sheer level of features that are packed into this portable unit. This means that you can use it for practice, recording, and street performances. 
Conclusion
Today's guitarists require more mobility than ever before. While all guitar amps allow for portability to some degree, full-sized ones are not the easiest things to lug around. Therefore, it's best to get one that is designed with portability in mind.
While some of these may use AC power, they are most commonly battery operated. In selecting a portable guitar amp, there are a few considerations that need to be made. First, you must ensure that the portable factor is taken care of. How easy is the unit to carry around? 
The functionality that you get is also essential. What controls are available? How many models does the amp support? Is it a single channel or a multi-channel amp? Is the sound quality clear?
The three entries reviewed above are some of the best in the industry, and they make allowances for the highlighted considerations.