You know that an electric guitar isn't going to work well unless you have an amp to go with it. However, you might not know that there are a variety of functions, capabilities, and sizes available. The type of amp you choose is going to depend on many things, such as the music you play and where you play it.
Therefore, we chose to focus on five products so that you can choose the best guitar amp for your needs. Whether you're just starting or you've been playing for years, you're going to find something you like. Plus, they are all are under $500, making them a bargain.
Fender Champion Review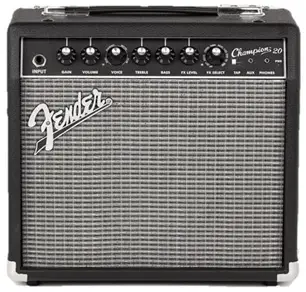 There are four wattage options available, including 20, 40, 50, and 100. For today, we are going to focus on the 100-watt version, as it seems to be the most popular on a variety of third-party e-commerce sites.
Fender is well-known for producing the best guitars in the world, and its amps lead the industry, as well. With the Champion 100, you get two 12-inch speakers, each with 100 watts of power coursing through them. Your amp is also going to have an aux plug, so you can jam out with the band or by yourself.
Of course, there's also a headphone jack, which means you can listen to your music at any time. Though you may enjoy a particular type of music, it doesn't mean the whole household does. With this option, you don't bother anyone and can practice throughout the night and early morning if you prefer.
There are also two channel outputs, which allow you to switch between overdrive and clean channels. This amp is quite easy to understand and use and doesn't come with a lot of special features. Even though there aren't a lot of add-ons, it's to the point. Plus, it offers crisp and clear sounds.
If you're on the 'clean' channel, you can easily rock out to light rock, country, and the blues. When you're on the 'overdrive' channel, you can get that heavier rock sound. However, it may not be ideal for heavy metal music unless you separately purchase effects pedals for the amp.
✓ 100 watts
✓ Simple design
✓ Built-in aux input
✓ Two channels for output
‍
✗ Electronic pop noise when turning off unit
✗ Knobs don't click onto each setting; rotates freely instead
✗ Might hum with time
Marshall Acoustic Soloist Review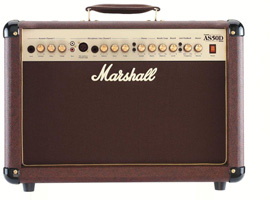 The Marshal brand is known in the metal and hard-rock scene. However, that's not the only sounds it can produce. You're going to like this guitar amp if you're playing at home and want an acoustic setting. It comes with many tones and effects so that your guitar is going to sound amazing. Plus, you get two 8-inch woofers, which can provide a richer, deeper bass.
The poly-dome tweeter is essential so that the amp provides clearer trebles. If you're playing with friends or just want to sing along, you can use a microphone and plug it into the amp. It also features stereo RCA inputs, which allows you to plug in a drum machine and an mp3 player. This amp isn't very large and only weighs about 35.6 pounds, making it suitable for small spaces.
Of course, the Marshall brand always delivers when it comes to guitar amps. It's really convenient to have this one around the house to jam out or practice. Plus, it's got a decent sound, just like you could find with other amps in its price range. The clean channel is reliable and crisp; overdrive is also excellent.
✓ RCA inputs
✓ Perfect for smaller venues
✓ Offers balanced sound
‍
✗ Distorted sound at higher volumes
✗ Flimsy speaker cover
✗ Overwhelming bass
Monoprice 611815 (15-watts) Review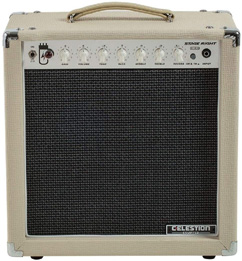 The classic design of Monoprice makes this an excellent amp if you're looking for a 15-watt option. Though it's small, it brings a large punch to the table. These small tube amps aren't very prolific, but they have a full tone, which is raw and powerful. For some people, it seems more real and genuine. There's only one 12-inch speaker, which is powered by EL84 and 12AX7 tubes.
It's possible to connect an effects loop, and this amp features a built-in reverb option. If you're just starting out, you're going to like the small size. Plus, it works well as a practice amp in the studio or your home. For a 15-watt amp, it has an amazing sound and is going to give you the power you want.
The cabinet itself is ported from the rear. Plus, you get a leather handle that's sturdy and reliable. That way, you can easily carry it to gigs or to the basement to practice. Its exterior is textured and made from synthetic leather. Also, it features chrome guards on the corners to help protect it from damage during travel.
However, this amp is not the best choice if you want to play with a band. This one is ideal if you're hoping to practice at the house to get better and blow away the competition. For its smallness, it has some impressive sound. We think that tube technology is still the best option for amplifiers.
✓ Classic design
✓ Compact
✓ Effects loop
✓ Good tone
✓ Built-in reverb
‍
✗ Reverb quite subtle
✗ Issues with quality and/or shipping
✗ Noisy tubes
Peavey Vypyr VIP2 Review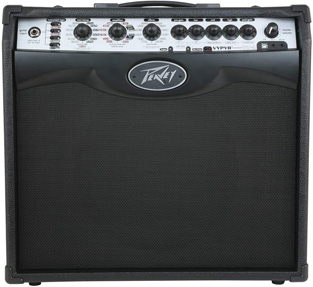 When it comes to amplification, Peavey is another brand that everyone has heard of and wants. While Fender may be the most popular, Peavey is a close second (and more preferred by some people). Its reputation for delivering high-quality products at attainable prices makes it an excellent option.
This amp is available as a 20, 40, and 100-watt version. The amp itself suggests that you can easily harness the power of sound, whether you choose bass, electric, or an acoustic guitar. There aren't many amps that can do that. You can also find a variety of upload-able models, which means you get to pick from many amp tones to meet your particular taste or preference.
Regardless of the wattage you choose, this amp can make your jam session better and can allow you to play at a small venue. With so many options available, you can also just use it at home to create some unique music for yourself. Consider recording it (or asking a friend to help) so that you can share it on social media. Make yourself a star and show your friends what you can do.
If you choose the 40-watt amp, it only weighs about 22 pounds. This is quite reasonable and allows for some portability, though it is important to lift it properly.
Of course, the sound is where it's at, and you have fantastic model tones with this one. Metal-heads are sure to enjoy the various options available.
You need versatility if you're going to play bass using a guitar amp. That's hard to find, but this one has it. Plus, you can easily switch between instruments.
✓ Multiple sizes (watts)
✓ Lightweight
✓ Bass capabilities
✓ Modern design
✓ Excellent modeling tones
‍
✗ Not suitable with a microphone
✗ Volume controls are a bit off at times
✗ Can create a lot of feedback at first
Yamaha THR10 Desktop Review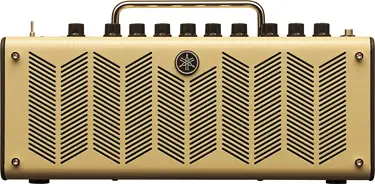 The Yamaha brand is also well-known for its acoustic guitars, selling them at reasonable prices. Now, there is the THR10 desktop amplifier. Though it is elongated, it offers five classic models, as well as instrument modes, acoustic, and bass. You're also going to have a variety of effects processing. This works well with the CVM technology, which is Yamaha's signature.
Though it's quite long, it's portable and lightweight, weighing just about six pounds.
Keep in mind that the amp isn't designed for use outside the house. This is definitely the one you're going to want for your basement or practice room. Still, it's compact enough to fit almost anywhere. Also, it offers tones that are quite impressive with crisp highs and dense bass. However, it only provides 10 watts of power. That can be ideal, though, as it's not going to knock down doors or kill your ears.
You've also got variations, such as the THR5, THR10X, and THR10C. Regardless of the option you pick, you're sure to get the best sound, whether for original or high-gain needs.
✓ Clear sound
✓ Ideal for a desktop
✓ Lightweight
✓ Excellent, vintage design
✓ Built-in effects
‍
✗ Boxy and flat sounds are possible
✗ Inability to change channels
✗ Odd tube glow; can be unique or annoying
Conclusion
While all five products were suitable for something, we feel that there was one that stood out from the crowd. Those who play acoustic or electric guitar are sure to find that the Fender Champion 100 is the best guitar amp.
Of course, it has the classic Fender design, as well as a variety of controls and two different channels. There are also two speakers to help pump out the music. Plus, at 40 pounds, it can be portable if you're strong and want to carry it around with you for gigs.
Though it was one of the more expensive options, we feel that the price you pay can affect quality. Therefore, if you're looking for durability and a long lifespan for the product, this may be the right one for you.