Watching movies with the family? Escaping the quarantine to a fantasy game with your lockdown buddies? Even if you're just letting your favorite rock band shake you to your very core, a good pair of computer speakers are now a must.
Gone are the days when your trusty headphones made up for poor built-in speakers. Nowadays your computer is your main source for movies and music. With PC multiplayer gaming still big as well, it's not just you at your computer anymore.
Tune into our budget-friendly list of the best computer speakers under $100.
Our Reviews
Here are our top five computer speakers for different types of consumers.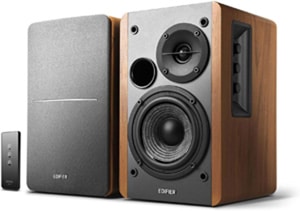 – Top Pick
With their 13mm silk dome tweeter and four-inch full range, these speakers provide studio-sound quality. The bass and treble controls are easily found on the side of the main speaker.
They can be connected to any device with a 3.5mm headphone output or dual RCA output. Made of excellent-quality MDF wood, these speakers come with a retro wood-effect vinyl finish. The two-year warranty removes any anxiety about faulty parts and added costs.
Pros
✓ Remote control to adjust the volume
✓ Two auxiliary inputs let you connect two devices at once
✓ 8-inch standard cable provided
‍
✗ Some people may receive the occasional defective speaker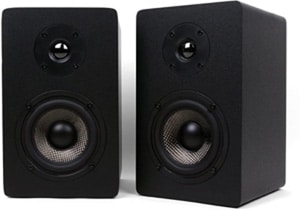 – Best Passive Speakers
These speakers come with a woven carbon-fiber woofer and a sensitivity of 85Db 1W. Their frequency response ranges between 60 Hz to 20 kHz. Even though they're our pick for bass heads, they come with excellent treble, thanks to the top-notch silk-dome tweeter.
They come with a highly optimized 12Db crossover, which is a fantastic upgrade from the Micca MB42 for the price difference. This crossover features baffle-step compensation and Zobel network. The ported enclosure ensures extended bass response and low distortion.
Their sleek, classic design fits any decor.
Pros
✓ Ideal for bass heads
✓ Dynamic, balanced dramatically transformed sound signature
✓ Silk-dome tweeter promotes accurate imaging
‍
✗ Requires a separate amp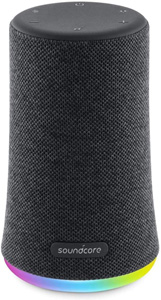 – Best Portable Speaker
At 0.78 lbs, this speaker is lightweight enough to go anywhere with you. It can fit easily inside bags and backpacks thanks to its compact design. The Bluetooth connectivity has an extra-long range of up to 66 feet.
It can play for up to 12 hours nonstop. Its IPX7 waterproof treatment protects it against rain and spills. It can even stand up to 30-minute submersion in water. It comes with a cloth cover that feels and
Pros
✓ Twin rare-earth drivers ensure front-row sound everywhere
✓ Dual IIR passive radiators for optimized sound
✓ Optional LEDs pulse and glow with music
‍
✗ No pause/play button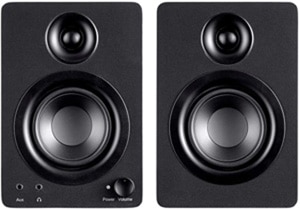 – Best for Medium Rooms
These speakers come with a 3.5mm TRS stereo input jack on the front panel for easy access. Their 0.75″ silk-dome tweeters and high-output 3.5″ Polypropylene woofers are powered by a 50-Watt class-AB amplifier. This ensures a clear, crisp sound.
You can turn off all sounds in a heartbeat with the 3.5mm headphone jack on the front panel, which immediately mutes the speaker's output. They come with a frequency response of 75Hz 20kHz.
Pros
✓ Custom-tuned MDF cabinet for outstanding near-field frequency response
✓ Rounded, sleek design goes with most decor
✓ Generous sound
‍
✗ No Bluetooth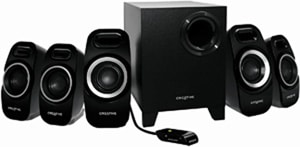 – Best 5.1 Setup
This system brings music to the forefront. The dual-slot enclosure includes a tightly enclosed port tube. This means a much better frequency distribution and a louder playback with a lot of mid-bass.
With a flare surrounding the satellites, the improved image focusing plate means improved sonic directivity and imaging. This means preserving tonal accuracy despite a much broader, sweeter sound. The setup is quite simple and the input channels are clearly marked.
The powerful, down-firing ported subwoofer comes with adjustable bass levels. Keep in mind that the cables are too short for the system to actually surround you. You may need to order RCA extensions to solve the too-short cable problem.
Pros
✓ Convenient wired remote control and volume control
✓ Ideal for gamers
✓ Super-realistic sound experience
‍
✗ Cables are not color-coded
What to Look for in Computer Speakers
Here's the single most important question you need to answer: What do you use your computer for? That will determine the right setup for you.
The 2.0 Setup: Ideal for Music, Dialogue-Packed Shows, Youtube
This is the most common desktop PC setup. It usually comes with small speakers to the left and right of your monitor, and this offers reasonably good stereo sound.
While this is ideal for most uses, it's not a good fit for gaming. Without a dedicated subwoofer, you won't get a full reproduction of the bass effects.
Because only two small speakers are used, extra-high volumes bring distortion. This means gamers won't get to lose themselves completely in a game's soundtrack.
The 2.1 Setup: Ideal for Regular Gaming
This setup is the next step up after the conventional 2.0 system. The extra number in the name represents the all-important subwoofer.
Subwoofers were designed to cover a vast frequency range from 20 Hz all the way to 200 Hz. This is quite impressive: A frequency of 150 Hz is the limit for most bookshelf and monitor speakers.
All those bullets whizzing right past your ear, or the terrifying crunch under a massive misshapen foot somewhere behind you? You have subwoofers to thank for those super-realistic sounds.
The 5.1 Setup: Ideal for Home Cinema and Super-Gaming
This is your classic home theater system and the setup with the most realistic sound experience. It generally comes with two front stereo speakers, a center speaker, two surround speakers in the rear, and a separate subwoofer.
Surround speakers are the best setup for gaming because they turn the whole room into the specific scene you're playing. The super-realistic sounds alert you to potential attacks, such as an enemy trying to sneak up on you.
With games that come with breathtaking surround soundtracks, a surround-speaker system is the only way to do them justice. Surround sound has become such an essential part of gaming that both Xbox One and PlayStation 4 support it and provide necessary 5.1 connections.
Active Speakers vs. Passive Speakers
You can get great sound from both active and passive speakers, provided you choose a good-quality speaker. That said, here's a quick look at the major differences between active and passive speakers.
Built-In Amplifier
Active speakers come with a built-in amplifier while passive speakers don't. This means that passive speakers won't make a squeak until you hook them up to an amplifier.
Space and Readiness for Use
Most active speakers are bookshelf-sized, although you can find active tower speakers. Bookshelf speakers don't take up much space. They also come ready for use and don't need anything else.
This makes them ideal PC speakers. Hook them up to your audio output and you're good to go. Some come with ports for separate subwoofers, which is attractive to bass lovers.
By contrast, buying a passive speaker doesn't mean it's ready for use. Because it has no built-in amplifier, a passive speaker needs an integrated power amplifier to work. This means you'll be paying for two pieces of equipment and you'll need enough room to place both.
Flexibility
This is a major disadvantage where active speakers are concerned: They offer zero opportunities for future upgrades. This means you're pretty much stuck with the speakers you buy.
Passive speakers, on the other hand, come with astonishing flexibility. You can upgrade your setup down the line by buying a new amplifier with a Bluetooth feature. If you have an AVR system, you can add more speakers to your existing setup.
Moreover, if something goes wrong with your passive speaker setup, you can isolate the problem and fix it. For instance, you have the flexibility to replace the left or right speakers, or the amplifier. You don't need to get rid of the whole setup as you would with active speakers.
Noise Floor
Many active speakers have quite high noise floors, whereas equivalent passive speakers tend to have a lower noise floor.
Placement of Controls
Many active speakers come with inconveniently placed controls. It's annoying to have to keep reaching out to the rear of the speaker to adjust the volume, for instance.
You won't face this problem with a passive-speaker setup. Regardless of where you put the passive speakers, you can place the external amp at a convenient location for you.
Cost
Because of their built-in electronic goodness, most active speakers cost more than passive speakers with similar performance.
Active Speakers vs. Studio Monitors
Unlike active speakers, studio monitors aren't made for people who mainly use speakers to enjoy listening to their favorite albums or immerse themselves in their favorite video games.
Studio monitors are professional equipment made specifically for musicians, engineers, and other professionals who create and mix music. They rarely come with bells and whistles like Bluetooth and bass or treble adjustments.
More importantly, they come with a super-flat response frequency. Professionals consider this sound honest, while many non-pros find it dry. Most consumer-geared speakers don't have flat response frequency in the first place. They also cost significantly more than non-pro speakers.
This doesn't mean only professionals enjoy them. Many regular folks enjoy and own studio monitors. Your best bet is to try them out and decide for yourself.
Do You Really Need Lossless Audio?
When music is converted and compressed into mp3 format, the machine-process gets rid of all the sounds it thinks the human ear can't hear. High-bitrate versions keep more data, so you can enjoy a better-quality version of the song.
Lossless-audio compression takes this up several impressive notches. It preserves every single bit of data in the original music. No sound is lost, hence the name.
There are two catches: First, you'll need more storage room because the file size will be significantly bigger. Second, you'll need a dedicated software to enjoy it. The lossless format is not mp3.
There will presumably always be heated debates about lossless audio and how necessary it is, but here's our take: Unless you have highly trained musical ears, you don't need computer speakers that support the lossless format.
Best Computer Speaker Brands
In addition to the brands we listed today, Audioengine, Klipsch, and Harman Kardon are among the most prominent names in the computer-speaker industry.
Audioengine
Audioengine is an American company that was founded in California in 2005. It designs and builds powered high-quality computer and studio monitor speakers.
Harman Kardon
Harman Kardon is a division of Stamford-based Harman International Industries, a subsidiary of South Korean Samsung Electronics. Founded in 1953, it makes home and car audio equipment.
Klipsch
Established in 1946, Klipsch is an American loudspeaker company based in Indiana. Its name has become synonymous with high-end, high-fidelity sound systems.
FAQ
Q: What exactly are powered speakers?
A: This is simply another name for active speakers, which don't need an external amplifier to produce sound. Similarly, you'll often find mentions of unpowered speakers. This is just another way to refer to passive speakers.
Q: Are wired speakers better than wireless ones?
A: Once upon a time, wired electronic devices were always considered better than their wireless counterparts. Physical wires carried more data than wireless technology, plain and simple. This is no longer quite so cut-and-dried.
With wireless technology racing ahead in leaps and bounds, it can transmit increasingly larger amounts of data. It all comes down to quality. If you compare a top-notch wireless speaker and its top-notch wired cousin, you'll find it extremely hard to pinpoint a difference in sound.
Q: Isn't surround sound always better?
A: Granted, a 5.1 or surround-sound setup plonks you in the middle of that action movie or video game. However, it can make stereo songs sound off. If you mainly use your computer to play songs, you're better off with a 2.0 or 2.1 setup.
Wrap Up
No matter how good your headset is, it can never drench you in sound like a good pair of computer speakers. With their super-faithful reproduction and outstanding studio sound quality, the Edifier R1280T Powered Bookshelf Speakers are our top pick hands down.
If passive speakers are more your thing, the Micca MB42X Bookshelf Speakers are your best bet. They're ideal for bass heads but they don't skimp out on the treble. The highly optimized 12Db crossover is a fantastic upgrade from the Micca MB42 for the price difference.