The Best Wired Permanent Outdoor Speakers
There's nothing better than listening to your favorite tracks while you're enjoying a drink in your backyard. But surely, you can't just throw your delicate bookshelf speakers into the harsh outdoor conditions.
In this article, I'll review 5 of the best wired permanent outdoor speakers. I always prefer wired options to rule out issues with connectivity and latency.
Make sure to stick around until the end of the article to explain the top factors you need to consider before buying speakers. I'll try to simplify most of the technical jargon if you're still new to the hi-fi world.
The 5 Best Wired Permanent Outdoor Speakers
How do the speakers sound? How well do they perform in extreme weather? And what shortcomings do you need to consider? These are some of the questions that I'll answer in each of the following reviews.
After my thorough research, I couldn't find a company better than Klipsch to start my roundup. Since the '40s, they've been supplying the hi-fi community with high-quality speakers at reasonable prices. In the outdoor category, the AW-650 speakers are definitely among their best.
The first great thing about these speakers is their sturdy build. Klipsch equipped them with UV-resistant enclosures to prevent overheating on sunny days. In the winter, the rustproof aluminum grilles will successfully defy moisture.
To be fair, the AW-650 are probably the heaviest speakers on the market. Each speaker weighs about 9 lbs and measures 9.5 (W) by 11 (L) by 15 (H) inches. But since you'll hang them permanently on the wall, this shouldn't be a significant problem.
When you turn on the AW-650, their real perks start to unfold. They have 1-inch titanium dome tweeters connected to the patented Tractrix horns of Klipsch. Together, these two parts make sure the highs are sent directly to your ears without bouncing too much off walls.
The IMG woofers aren't phenomenal, though. Since they can't go any lower than 70 Hz, you might lose some of the thumpy bass in your tracks.
But Klipsch successfully made up for this fact by increasing the sensitivity to a whopping 95 dB. This makes the AW-650 work perfectly in vast areas without producing distortions.
✓ Sturdy all-weather construction
✓ High sensitivity
✓ Clear highs directed at listeners ears
‍
✗ Limited bass range
Although Polk was founded after Klipsch by about 30 years, they quickly took over a major market share. Their products were valued for their crystal clear quality and prolonged durability. The Atrium 4 speakers no exception.
Just like Klipsch, these beasts are built to defy whatever mother nature throws at them. Be it rain, humidity, sun, or even snow; the Atrium 4 will keep working no matter what. Best of all, they manage to do that while keeping the weight capped at 3.5 lbs. They're also a bit compact with measurements of 7.50 (W) by 6 (L) by 9.50 (H) inches.
So far, the Atrium 4 might seem better than the AW-650. But when it comes to performance, the real differences start to unfold.
The Atrium 4 are equipped with 0.75″ anodized aluminum dome tweeters. Instead of the classic horns, Polk chose to surround the tweeters with neodymium magnets to produce a smoother response. As you can tell, the small driver size and the absence of horns lead to lower volume output. At 89 dB, they're not bad. But they're certainly worse than the AW-650.
However, when it comes to bass, both speakers show the same response. With the lowest frequency set at 75 Hz, the Atrium 4 won't produce the emphatic thumping that everyone craves.
✓ Runner-Up
✓ Sturdy all-weather enclosure
✓ Compact and lightweight construction
✓ High sensitivity
‍
✗ Somewhat weak bass
To be honest, hi-fi isn't cheap, not by a long shot. The lower the budget, the less the quality. Nevertheless, some brands manage to cut down on the price without messing too much with the quality. The LU53PW speakers should be the best bet in this matter.
Dual Electronics claims that the build of these speakers can resist all weather conditions. And to be fair, this is somewhat true. The LU53PW speakers will maintain their performance year-round. But will they stay in perfect condition? Not really.
Many users have posted images showing how rust took over the whole white grilles after winter, which is definitely a bummer. Still, you can't expect something better at this price range.
However, when it comes to sound quality, things turn out surprisingly great—the LU53PW feature three drivers: a 0.75-inch tweeter, 1.6-inch midrange polypropylene cone, and 5.25-inch woofer.
As a result, those speakers can produce frequencies between 70 Hz and 20 kHz. Nevertheless, don't expect them to be great in wide setups since they have a maximum sensitivity of 86 dB.
These speakers' warranty doesn't cover them for longer than one year, which is pretty expectable at this price range. But as I said, most of the damage will be limited to rusty grilles or worn enclosures. The sound quality remains quite acceptable for a long time.
✓ Budget Pick
✓ Surprisingly good sound quality
✓ 1-year warranty
✓ The three drivers produce more accurate tones.
‍
✗ Poor construction that doesn't resist moisture
In wide setups, such as restaurants' patios, hanging the speakers on a wall won't cut it. In these scenarios, the best option would be putting on-ground speakers right beside your audience or customers. If this is what you want, you'll definitely love the TIC GS3.
As you can tell, the design of these speakers considerably differs from the usual outdoor design. They come as sturdy ABS cylinders that fire the audio from a foam-lined depression at the top. I absolutely love how they're colored in green. This way, they can be placed alongside plants and flower beds without attracting too much attention.
Surely, such a use demands a highly rugged design to withstand moisture and occasional bumps from the wandering crowd. Luckily, the GS3 enclosures couldn't be any more robust. Their unique design can produce 360° omnidirectional sound, which, again, is perfect for wide areas.
If you were impressed by design, you'd be literally blown away by the performance. Internally, these beasts have 8-inch woofers and 2-inch tweeters. As a result, they can produce frequencies between 45 Hz and 20 kHz. This is even wider than my top pick!
Furthermore, their sensitivity is rated nearly at 90 dB. This means that the sound will be loud and clear with little distortions at relatively far distances.
✓ Best On-Ground
✓ Wide frequency range
✓ High sensitivity
✓ Epic design
‍
✗ A bit bulky and heavy
In these speakers, Klipsch took the saying "hard as a rock" to a whole new level. The AWR-650-SM looks like a rock, literally! They're still made of ABS but it's given an incredibly unique granite finish that instantly captures the eyes.
There's also a brown version that resembles sandstone! Surely, both versions are supplied with enough ruggedness to defy harsh outdoor conditions.
As I stated earlier, Klipsch never disappoints, especially in performance. These speakers are equipped with two drivers: 6.5-inch coil polymer woofers and 0.75-inch dome tweeters.
Unfortunately, this doesn't give the best thumping bass since the lowest possible frequency is 66 Hz. On the bright side, the high sensitivity of 94 dB makes sure that the sound will get nice and clear to the furthest distances.
The only thing I wish was different is the build's size and weight. The AWR-650-SM weighs around 13 lbs and measures 11 (W) by 15 (L) by 17 (H) inches. Clearly, this puts them well into the bulky category. Then again, the heavier build always means better durability and, by extension, excellent performance.
It's important to note that these speakers are sold as singles. Even though a single speaker would perform typically, I'd recommend getting a double to enjoy the best sound quality.
✓ Best Design
✓ Excellent sensitivity
✓ Epic design
✓ Rugged construction
‍
✗ Expensive
✗ Their bass isn't powerful enough
What to Consider Before Buying Wired Permanent Outdoor Speakers
Not sure how to choose the best product? No worries! Here are the top factors you need to bear in mind.
They Must Be Sturdy and Rustproof
The first, and the most obvious, requirement for outdoor speakers is the build quality. The speakers must be strong enough to withstand different weather conditions, no matter how harsh it gets. ABS is the most common material thanks to its rugged, lightweight structure
Moreover, the grilles must be made of rustproof material like Aluminum. Otherwise, the sound quality will drastically drop after the rust blocks the tiny openings of the grilles.
Choose Between On-Wall and On-Ground Speakers
Outdoor speakers have two common designs: on-wall and on-ground. As the names imply, the first is permanently mounted on a wall. The second, however, has a bit more freedom since it's not fixed to anything. But you still can't move them as much as wireless speakers.
As you can tell, both designs can be equally perfect. Thus, choosing between them is more of a personal decision than a technical one. Nevertheless, here are some points that can help you decide.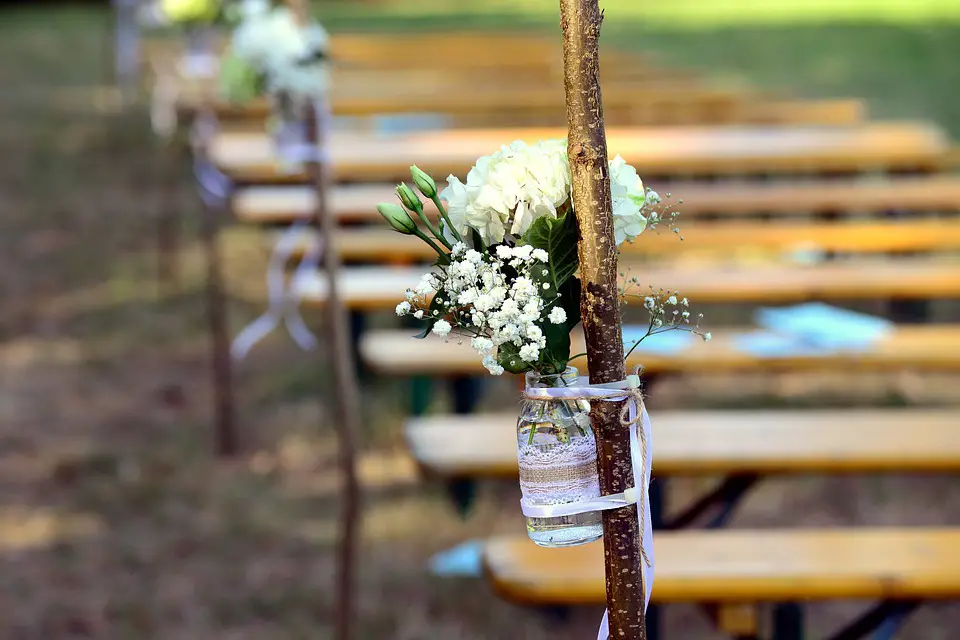 On-Ground Speakers Fit Large Areas
If you're buying speakers to place in the patio of a restaurant or in front of a store, then you should go for on-ground speakers.
Why? Wel, on-ground speakers are often designed with a bigger size so that people can avoid kicking them by mistake. With a larger enclosure, brands can equip larger drivers with better quality.
Take the TIC GS3 8″ for example. Their powerful drivers are capable of producing frequencies between 45 Hz and 20 kHz with a sensitivity of 90 dB.
However, if these speakers were placed in the middle of incredibly busy traffic, people will inevitably bump into them. No matter how hard the construction is, no speakers are built to withstand such heavy constant forces.
Furthermore, due to the more sophisticated construction, on-ground speakers typically cost more than their on-wall counterparts.
On-Wall Speakers Are More Durable
If you don't mind trading a bit of the sound quality for enhanced durability, then you'd probably love the on-ground speakers.
Expectedly, their smaller size makes it mandatory for brands to use weaker drivers. That doesn't mean they'll sound horrible, of course. But they'll miss some small details that might be noticed by true hi-fi experts.
However, because they don't encounter environmental conditions as heavily as on-ground speakers, they tend to live longer.
Consider the Rest of the Setup
As you must already know, wired speakers are passive. In other words, they need to be hooked to an amplifier to pick up the audio signals from phones, pcs, turntables, etc.
Before you get such a type, you need to make sure you have a sufficient budget, space, and skills in order to properly manage this setup. If you don't want to bother with technicalities, you'd be better off with active, Bluetooth-compatible speakers.
Get High Sensitivity
While you're considering the setup, you'll bump into a lot of technical specs like power, impedance, etc. I won't dive deeper into these concepts because they need a much bigger article.
However, there is one parameter that you need to consider before anything else, sensitivity.
Sensitivity describes how much sound speakers produce inside a range of 1 m in response to every watt. In simpler words, sensitivity determines how loud the speakers will be. It can tell you whether they'll be enough to cover your space.
For small backyards, go anywhere around 85 dB. In larger patios and gardens, choose speakers above 90 dB.
The Verdict
After comparing the available products, I can say that Klipsch AW-650 is the best wired permanent outdoor speakers. With a sensitivity of 95 dB, they can be louder than most, if not all, of the competitors.
If you want to cut down on the price, consider the Dual Electronics LU53PW. Durability isn't their strong suit, but they still give acceptable sound quality.
If you're considering speakers for a restaurant, I'd recommend the TIC GS3 8″. Their sturdy green construction gives them the ability to blend into gardens fashionably.
Remember, in an outdoor setup, sensitivity is the most important factor to consider. Choose it high enough for the speakers to be loud enough.