There was a time when cat ear headphones were only seen in anime series. Now they're everywhere with different styles and colors.
Cat ear headphones are typical headsets with a fashion statement for anime fans and cat style lovers. They also provide high-quality sound and unique features.
If you're an anime lover or just looking for headphones that match your personality, then cat ear headphones are the best option for you.
Finding the best cat ear headphones with all the brands available can be hard work. But we're here to make sure shopping stays fun. There are several good selections below and pointers that should help you pick the right pair of Cat Headphones.
Our Top Picks of Cat Earphones
In 2020, several brands shined in the market with cat ear headphones. Each brand competes with its unique style and features.
We selected five headphones with various designs, sound profiles, and price points. Let's see which one suits you best.
These headphones are very stylish and chic. You'll outstand everyone with their beautiful purple color that appeals both to men and women. They also come in black and pink.
They provide high detail audio effects, allowing you to hear every detail in the gameplay. The large earmuffs offer you outstanding passive noise reduction to enjoy your music or game with less interference.
The earmuffs are also very soft and made of skin-friendly leather. You can wear it for long hours without feeling heavy on your ears. The headband is adjustable to fit your head nicely, and the cat ears can be detached as well.
✓ Lightweight and comfortable for prolonged use.
✓ High sensitive and 360° flexible bending microphone.
✓ Splitter cable to separate the headphones and microphone connections.
✓ Detachable cat ears.
✓ Great noise canceling property.
✓ Budget-friendly
‍
✗ Not wireless.
The device can work on both wireless and wired mode and it's compatible with most devices that are Bluetooth enabled. It has an adjustable headband and soft ear pads to allow you to wear it for your entire gaming session.
The control buttons are easy to reach. They're located on the earmuffs making it easy to control your calls and music. It provides you with strong bass and high-quality sound to enjoy your music.
The playback time in these headphones is outstanding. You'll have 70 hrs of battery life without the lights on and 30 hrs of wireless listening with all lights on. There's a backup cable to charge the battery while using the headphones.
The best thing about these headphones is the cute shining cat ears. The headphones have 7 colors LED lights with 4 different settings: all on, just ears, just cups, and all flashing.
The headphones have a holiday style design which makes them perfect for family gatherings. They also come in different colors.
✓ Rotatable ear cups.
✓ LED Lights with several colors.
✓ Foldable.
✓ Outstanding playback time.
✓ Budget-friendly.
✓ 12 months warranty and 24 hr customer support service.
‍
✗ Doesn't have the best microphone quality.
The design of these headphones is so chic and appealing for both adults and kids. The cat ears are small compared to the other headphones. They're also removable for everyone who wants a more modest look. The headphones also come in red and black.
They are also super comfortable. They're fitted with Korea protein soft leather, 3D cut, and crystal with memory foam ear-blasting technology design. This also provides you with a good noise cancellation property.
Censi headphones are wireless, so you don't have to worry about untangling cords. They're compatible with most Bluetooth devices and have a built-in microphone.
The headphones are sweat and water-resistant. This makes them the ideal headphones on this list for working out. But I don't recommend merging them in water.
✓ Great battery life, 10 hrs per charge.
✓ Adjustable with removable cat ears.
✓ Sweat and waterproof.
✓ Good noise cancellation property.
✓ Comfortable and lightweight.
✓ Decent audio quality.
✓ Comes with a premium carrying case for protection.
‍
✗ No external speakers.
✗ No LED lights.
✗ Expensive.
These headphones are perfect for kids. They can work on Bluetooth mode or your kid can use the cable to charge them during usage.
They provide your kid with quality natural sound and strong bass while having a limiting volume technology to ensure that the sound isn't at a deafening level.
The cat ears blink and change colors with the rhythm adding more fun and joy to your children's life. The LED lights can be turned off while on Bluetooth mode to save the headphones' battery for longer use.
Riwbox Cat Ear Bluetooth CT-7 Headphones are another great version of the Riwbox headphones. The differences between Riwbox CT-7 and CT-7S are the cat ears' shape and the headphones' driver.
CT-7S has the 85 dB volume-limiting technology making this version more suitable for kids. While the CT-7 version focuses more on children's sound quality above the age of 10, teenagers, or youthful-minded people.
Take a look at our review of the Best Headphones for Kids if you're shopping for your young one.
✓ Foldable
✓ LED lights that change between red, blue, and green colors with rhythm.
✓ 85 dB volume limiting.
✓ Built-in microphone.
✓ Budget-friendly.
‍
✗ The LED lights can only be turned on in wireless mode.
PewDiePie, the famous YouTuber, contributed to the popularity of this headset. Razer Kraken is very well known for its advanced headsets that give you the perfect gaming experience.
The headset has glowing cat ears on top with customizable lighting through Razer Synapse but if you want to take more advantage of the cool features it provides, download the Steamer Companion App. The app adds a new level of audience interaction with lighting that responds to your viewers' alerts.
It provides excellent sound performance for gaming and music without being way too bass-heavy as in most gaming headsets. The microphone on this headset is retractable. It can be pushed back into the headphones to mute the mic.
✓ Cooling gel ear cushions.
✓ Light, durable build.
✓ Active noise-canceling microphone.
✓ Cosplay Mode.
✓ Stream Reactive lighting.
‍
✗ Not wireless.
✗ Expensive.
✗ Could use a mute button.
How Did It All Start?
It first started when the popular anime artists, Wenqing Yan and Victoria Hu, designed a character with headphones in their anime series. Then, they decided to bring the idea to reality.
They tried to raise money to actualize the idea by launching a campaign but their partnership failed. This when Brookstone marched in to save the situation and offered Wenqing Yan a partnership.
The successful launch of the Axent Wear Cat Ear Headphones encouraged many other manufacturers to get into the game. Each brings its unique style and features.
Ariana Grande And PewDiePie
Ariana Grande and the famous Youtuber Pewdepie contributed to the cat earphones' wide success after they were seen wearing them in live performances and on Youtube. They inspired fans and non-fans to try out these fashionable yet functional headphones.
Why Are Cat Ear Headphones so Popular?
Cat Ear Headphones have features that make it so fun to use. The LED lights feature and the cat speakers in some of them turn the party on with friends.
Their look and chic style attract both adults and kids—all ages and genders like the colors and the cat ears. Cat ear headphones are also of high quality regarding the audio sound and the other necessary features. So might as well buy something fashionable.
They make amazing gifts, especially for gamers. Most of the cat ear headphones are designed with features that take your gaming experience to a whole other level. Anime lovers and girls like them too. If you're about to buy someone a gift, consider buying them one.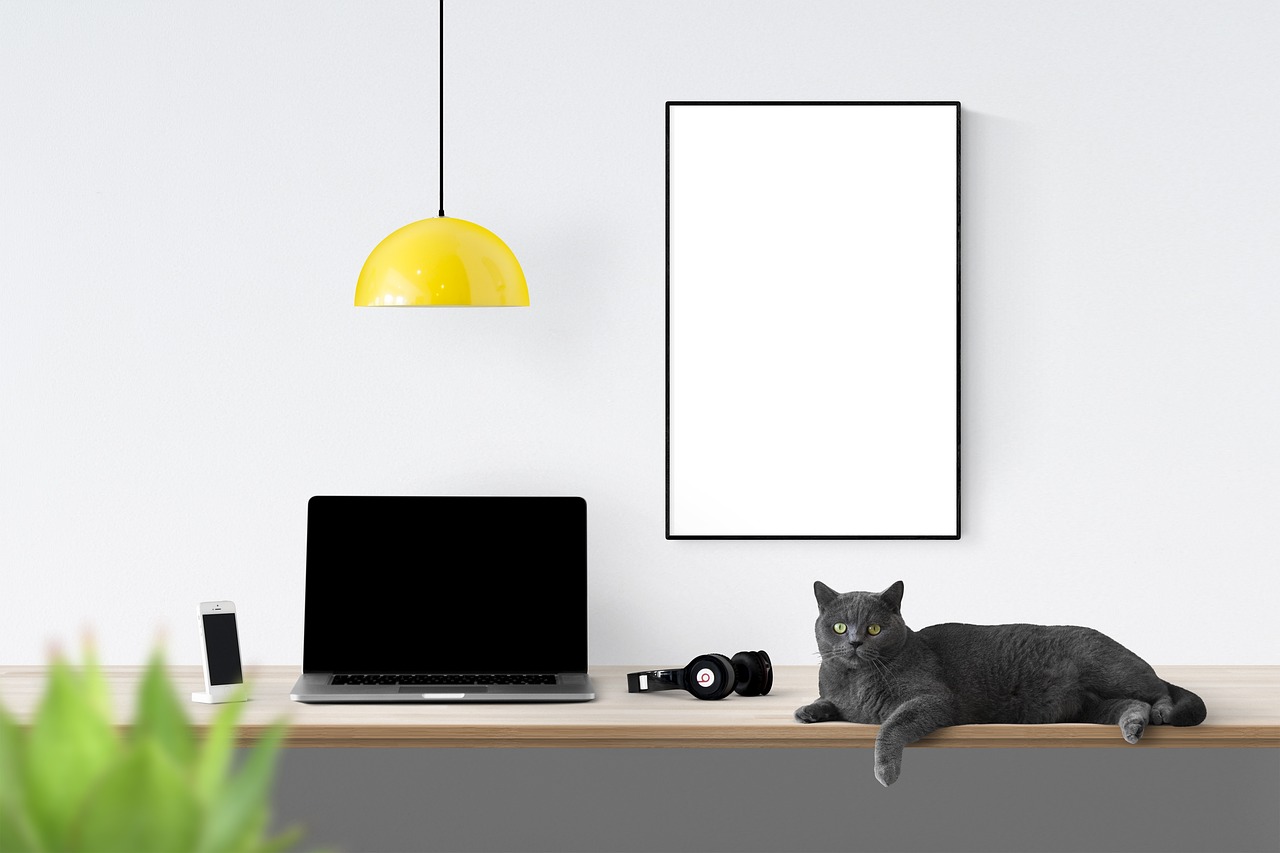 Features To Look For In Your Cat Ear Headphones
There are some important features that you need to consider before buying your cat ear headphones:
Design and Color
Cat ear headphones are popular mostly because of their chic and stylish looks. There is a variety of colors and designs out there for everyone's taste. So make sure you don't settle on a basic one. Try to choose what expresses your personality and aesthetic.
Some of the cat ear headphones have night glow lights to increase your enjoyment while listening to your favorite music. Some of them even mix multiple colors.
Wired/Wireless
Most people buy cat ear headphones for the look so they don't prefer the wired ones. But wireless headphones are more expensive. So choose what works best for you.
Comfort
This is the most important factor of them all. You have to buy headphones that are comfortable to use for long periods especially if you're a gamer. It's best to get lightweight ones.
Make sure that the ear cups aren't made of a material that will make you sweat. Also, check if the headband is adjustable. It's a bonus if the ear cups are rotatable.
Playback time
Playback time means the longest time a single battery charge will last. If you need the battery to last for many hours there are good options for you with playback time up to 10 hrs.
Audio Performance
Wanting fashionable headphones doesn't mean to overlook the audio quality provided by them. When shopping for cat ear headphones make sure to check the frequency response, noise cancelation, and bass.
Compatibility
It's an essential factor in every device. It's good to buy headphones that can connect to most systems you use. Most of the wireless cat ear headphones have this feature.
Budget
Check your budget and choose accordingly. There are cheaper options that can cost $50 or less. But if you're looking for higher quality the price tag can go up to $200 and even to thousands.
FAQs
A lot of people have so many questions about cat ear headphones. We chose to answer some of the questions that we haven't discussed above yet.
Q 1: What Cat Ear Headphones does PewDiePie use?
PewDiePie uses Razer Kraken Kitty Gaming Headphones. In his Youtube video, he used the pink-colored headset.
Q 2: How do you pair cat ear headphones?
Turn on the Bluetooth on your device.
Press and hold the Bluetooth button on the headphones until the pairing LED indicator illuminates blue color and you hear a four tone sound.
The LED indicator will be blue for seconds searching for previously paired devices. If no connection happens it enters Bluetooth pairing mode.
Select "Cat Headphones" on your device.
If needed, use "0000" for the pairing code.
It's recommended to read the user manual of your headphones.
Q 3: What are the headphones called that cover your ears?
They're called over-ear headphones or "full size" headphones. The best types of headphones are usually the over-ear type.
Q 4: How To Clean Your Headphones?
Remove the ear pads if you can and extend the headband as much as possible.
Grab a toothbrush and brush off as much of the larger dirt and specks as you can.
Remove any hairs or debris that are stuck with tweezers if needed.
Dip a paper towel or cotton ball into Hydrogen Peroxide, diluted bleach, or alcohol that is at least 63%. Be careful don't use much as alcohol can damage leather and plastic.
Use Q-Tips for the hard to reach areas.
Remember to be gentle while cleaning the headband and the earcups. Don't get any liquid inside the drivers.
We have more details on how to clean your headphones to keep them in perfect working order for longer.
Conclusion
To wrap it up, we think that MindKoo Bluetooth Headphones Wireless Over-Ear Cat Ear Headphones
are the best headphones on our list for everybody to use. They're easy and fun to use with the LED lights features. They're comfortable to wear and very affordable.
Our second favorite on the list is Razer Kraken Kitty RGB USB Gaming Headset. They're the fancier headphones on our top picks. Their features and sound quality makes them the best option for gamers. They're expensive but worth every penny.
Whether you're buying cat ear headphones for yourself or as a gift for someone, you'll always find the perfect match for every personality.