The Best Bluetooth Speaker Under $100
Wireless speakers are far more practical than the ones tied up to the devices by a cord. Back in the day, the connection was moody, and the sound quality was rather tinny and crude. This is not the case at all nowadays.
Going with a wireless option is becoming more and more popular, especially with the increasing playtime, connectivity range, and decreasing prices.
Here's a roundup of the Best Bluetooth Speaker Under $100, along with a detailed guide on selecting the right one. Read-on!
The 10 Best Bluetooth Speakers Under $100 Reviewed
These speakers were cherry-picked from hundreds of options. Our selections are varied in their designs, functions, and themes. However, they all have one thing in common, which is superb sound quality.
The JBL brand is a big name in the audio world, considering that it's backed by Harman International. The name might not be too familiar or some, so let's add that it's a Samsung company. It's no wonder then that JBL audio systems are creating such remarkable devices.
The FLIP 5 speakers come as an enhancement to the previous FLIP 4 model. It's now equipped with USB-C quick charging, a larger battery capacity of 4800mAh, a booming power output of 20 W, and bigger driver size.
The previous specs translate to a wireless speaker that gives an incredible sound performance. Plus, it'll continue working for hours on end before needing a recharge.
You can take the FLIP 5 anywhere you like, indoors and outdoors. Its waterproof rating is IPX7, which far exceeds bearing with light rain. This one can take a splash, and if it falls 3 feet deep into the water, that's still no trouble at all.
✓ Portable and lightweight
✓ Stereo pairing
✓ Long playtime of 12 hours
✓ USB-C Quick Charge
✓ Comes in 14 different colors
✓ Waterproof with an IPX7 rating
‍
✗ Pairs only with JBL FLIP 5 speakers
Anker is a market leader in wireless audio systems. So it's not a big surprise that this speaker is among the most popular devices, with a fanbase exceeding 10 million happy users.
The sound coming out of the Anker is its best feature. It shows less than 1% harmonic distortion, even at blaringly high volumes. The bass port and dual full-range drivers ensure that the tunes come out rich, full, and layered.
✓ Exceptional sound quality
✓ Elegant design
✓ 66 ft connectivity
✓ Compact and highly portable
✓ 24 hours runtime
✓ Contains a built-in mic
✓ Drop-proof frame
✓ Instant hassle-free pairing
‍
✗ It's not waterproof, so be careful around the pool
It's a bit unusual for Bose to produce a budget audio device, but we're glad they did. The SoundLink is on the highest end of affordable wireless speakers, though.
You can take this Bluetooth Speaker anywhere you like. Hang it on your backpack, put it on a side table, bring it on a camping trip, or place it beside the swimming pool. It's resistant to falls, bumps, and splashes.
You could also put it in the middle of a conference room, and take a group call. It had a built-in mic that will carry a clear and crisp sound.
It can be paired with a twin Bose speaker for stereo effect, or you sync it with other Bose speakers' models via SimpleSync.
✓ Rugged exterior frame
✓ Fully waterproof
✓ Lightweight and compact
✓ Has a built-in mic
‍
✗ Limited connectivity range of 30 feet
✗ Playtime is around 6 hours only
This speaker comes with plenty of ambiance and warmth. It contains 96 LED lamps to mimic the way flames dance inside a torch.
This mood is complemented by the impressive sound quality coming out of 5 W drivers. It has a wide dynamic range that translated tunes faithfully from both ends of the audio spectrum.
✓ Original design
✓ Compact and easy to carry around
✓ Impressive sound quality
✓ Long-range of 33 ft
✓ Playtime up to 8 hours
✓ Can be gifted to friends and family
‍
✗ The charge time is a bit long; it takes around 5 hours
This is a remarkably elegant Bluetooth speaker. But behind that sophisticated appearance, it's as rugged and waterproof as they get. You can place it on a conference room table, or a rock by the beach – It works well in each case.
The sound quality is exceptional, and it has a high runtime of about 15 hours. It's also a true budget-buy that retails for less than $25, making it a perfect gift for a friend.
✓ Compact, sleek, and fully portable
✓ 15 hours playtime
✓ Auto shut-off after 10 min
✓ Comes in 4 different metallic colors
✓ Has a waterproof case
✓ Can be an amazing gift
‍
✗ The pairing on/off voice alert is rather loud and disruptive
The Aomais Go speakers take the word sturdy to a whole new level. Having a device that's so waterproof that it could stand soaking in water is excellent, but it isn't a big wow. What counts as impressive is being shockproof, dustproof, mudproof, snowproof, on top of being IPX7 waterproof.
The 40 W stereo booming bass speakers are easily the life of the party, and if you want to take it further, pair this one with another Aomais device. Think about the buzz you'll get with that!
✓ Rugged and built to weather pretty much anything
✓ Extra-long playtime of 40 hours
✓ High power output
✓ Hands-free functions
✓ Works well indoors and outdoors
✓ Futuristic appearance
✓ High connectivity to various devices
✓ Comes in 6 cool colors
✓ Works as an emergency power bank for other devices
‍
✗ Takes about 4 hours to charge fully
This is a Bluetooth speaker that was made for spreading entertainment everywhere. Showers included!
You can place it pretty much anywhere. Then you can enjoy fabulous tunes, FM radio, in addition to an audiovisual LED light show that goes with the music. And if you get a call, you can answer it then and there.
The sound quality is already outstanding, but you can make it more dramatic by pairing two of these 8W BassPal speakers. They'd synchronize and create a surround-sound experience.
✓ Small and completely portable
✓ Lightshow and mood creation
✓ LCD display shows time and battery level
✓ A high waterproof rating of IPX7
✓ Suction cup facilitates sticking it on vertical surfaces
✓ Can float on water
✓ Operating distance up to 66 ft
✓ Playtime 8 hours approx
‍
✗ The charging could be a bit inconsistent, and the unit shuts off unexpectedly
This is the ultimate party, outdoor, and street dance speaker. It's also a luxurious complement to your media center at home or work. The EIFER audio system is designed to play multiple media formats, connect with a wide variety of Bluetooth enabled devices, and surf the local radio stations.
The remote controller lets you make all the adjustments you need from the comfort of your chair or bed. You can pair the speakers in an instant, then start enjoying your favorite tunes.
✓ High power subwoofer
✓ 33-ft connectivity range
✓ Plays various digital media types
✓ Pairs easily with Bluetooth devices
✓ Large LCD display
✓ Mobile phone stand on top
✓ Smart remote controller
✓ Extra 3.5 mm AUX cable connection
✓ FM radio auto search for local channels
✓ Manual input of radio channels through remote controller
‍
✗ The instructions manual isn't too clear about using the smart remote controller
This is another mood-setting speaker, but this time it's in a relatively mellow and low profile manner. It's best used on a bedside table, or in the living room. Listening to the right musing with that soft light is a lovely way to unwind after a long day.
This nightlight/speaker is so easy to operate that a child can use it. It's quite popular in babies' nurseries and children's rooms. The soft music and pastel-colored dim lights are perfect for calming a baby (Check out the Best Headphones for Kids if you are looking for something for the young ones!).
✓ Exceptional sound quality
✓ Plays music from an SD card
✓ High connectivity to various devices
✓ 360 degrees surround sound
✓ Tabletop or outdoor lamp
✓ 6 different colors
✓ 3 levels of brightness
✓ Audiovisual syncing with the beats
✓ Built-in mic with noise cancellation
✓ Voice control of call functions
‍
✗ The volume is a bit too low
✗ The charging is occasionally inconsistent
JBL is a remarkable manufacturer of wireless audio systems, so it's common to see one more of their products in this roundup.
The CLIP 3 packs plenty of punch in its tiny frame. It's a sturdy, fully waterproof device that you can take anywhere. It clips easily on anything; your backpack, belt loop, clothes, or any other object it could attach to.
The sound quality is outstanding as you play music, and just as impressive when you use the built-in speakerphone. It has a powerful noise and echo-cancellation that'll let you have clear and crisp conversations.
✓ Compact and extremely easy to carry around
✓ 10 hours of playtime
✓ Built-in speakerphone
✓ Noise and echo cancellation for mic
✓ Large capacity 1000 mAh battery
✓ Has an integrated metal carabiner
✓ Fully waterproof
✓ Has a sturdy rubber housing
✓ Comes in 12 different colors
‍
✗ It connects with smartphones only
✗ The clip might become a bit loose after a while
How to Choose the Right Bluetooth Speakers?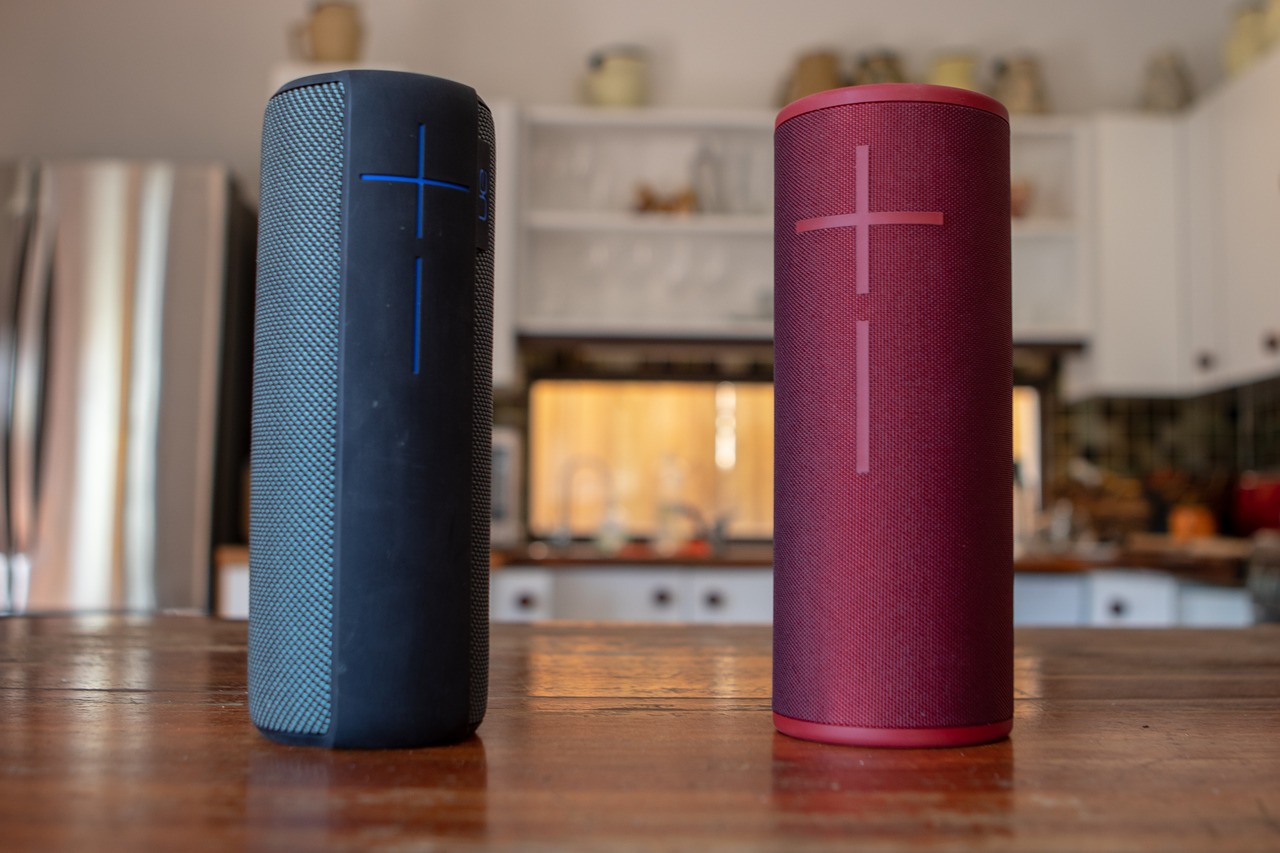 While these speakers aren't a huge investment, it's still better to spend a bit of time narrowing down the choices and buying the one that suits you best. Here are a few pointers that should help in prioritizing all the features that matter to you.
General Usage
Speakers can be used in many contexts, from jazzing up a beach party to playing some soft tunes as you read a book before going to bed. Home speakers can be a bit different from work speakers. And both don't look much like the device you'd take on a hiking trip.
Size and Portability
This point is directly related to the previous one. If you want a speaker to place in your living room, then size doesn't matter that much. And even if it's a little bulky and heavy, that shouldn't be a problem. You probably wouldn't move it much anyway.
If you're always on the move, then a compact model should be much better. A waterproof set would be best, of course.
Active Range
Do you plan to place your speakers close to your smartphone, PC, laptop, or another digital device? Then the smallest distance for Bluetooth connectivity would be sufficient. Alternatively, if you prefer more flexibility, you could look for speakers with a broader range.
Run Time Per Charge
This point is among the make or break features in Bluetooth devices. That's because this method of data transmission was known to eat up the battery charge and deplete the digital devices in a ridiculously short time.
This situation is different now, and Bluetooth tech no longer requires these amounts of energy to work. Playtime per charge is usually from 7-10 hours, but we occasionally see higher values from 15-24 hours. The latter group often takes more time to recharge.
Sound Quality
An audio system's primary mission in life is to produce fine sound quality. While most speakers do that reasonably well, some perform exceptionally well. Big brands like Bose and JBL are often more focused on providing a stellar sound profile.
Sound also extends to phone calls, since several of these speakers come with a built-in mic. The better ones employ noise and echo cancellation to boost the purity of sound quality to phone conversations as well.
Conclusion
The Best Bluetooth Speaker Under $100 is easily the JBL FLIP 5 Bluetooth Speaker. It's a compact speaker with big capabilities. It can be placed indoors or outdoors; it provides exceptional sound quality and an internal mic. On top of that, it has easy controls, and it's quite intuitive to operate.
If you'd like a thematic speaker, then you should consider the DIKAOU Torch Bluetooth Speakers. The firelight simulation is incredible, and it complements the superb sound quality beautifully.
If you are instead looking for the Best Computer Speakers under $100, you can check that out next!