Mpow MX1 Review
The Mpow MX1 Bluetooth Headphones are a wireless headset designed for listening to music. The manufacturer is Mpow, a company that makes many other products, such as the Mpow X5 (a product we have previously taken a look at). In our opinion, this is a definite upgrade. These are marketed as sports headphones, and they do feel like it. Let's dig into our Mpow MX1 Review!
Build quality
The first thing you notice about these headphones is their build quality. They feel very solid. They are made from solid plastic, so there's no creaking here, and the parts fit together nicely. The earpieces are made from a type of rubber that is soft to the touch. The case is a nice touch too, although it doesn't feel quite as stable as the headphones themselves.
The earpieces are made from soft plastic with a foam-like texture to them, and they fit snugly in your ears. They are also designed to be used for multiple purposes, such as running and the gym. They are held securely in place by the earpieces and ear hooks, which work well, and they never fell out of my ears.
The ear hooks are spring-loaded, which means they are easy to put on and remove. They are comfortable to wear, but they do push down on your ears a little bit more than some other headphones I've tried.
They have an IPX8 water resistance rating, which means they are waterproof and resistant to being splashed with liquids. Given that these are marketed as sports headphones, you can't complain about this.
✓ Fit type: In-ear
✓ Connection: Wireless/Wired
✓ Colors: Black
✓ Excellent construction. The earbuds are very comfortable, and the sound quality is good. The touch controls are a nice touch. The charging case is a nice touch, as well.
Noise Cancellation
The MX1 headphones are not noise-cancelling; however, because of their design, they do a better job at blocking out sound than most other headphones I have tried. They do an excellent job of keeping the outside world at bay while you listen to music or watch movies.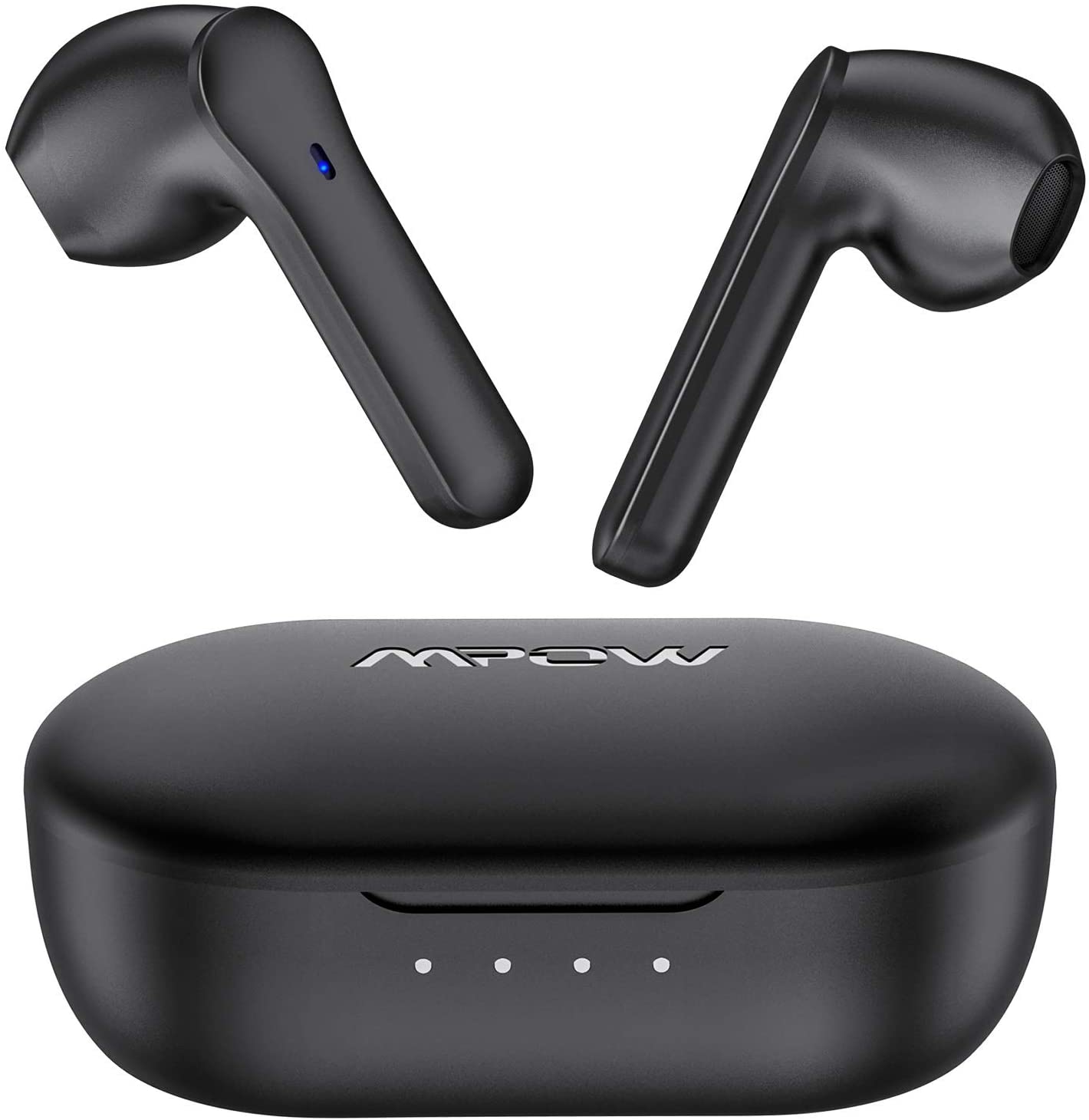 Design
The design of the MX1 is simple but effective. The headphones have the same matte black colour scheme and minimalist design as many other products by Mpow.
Each earpiece features a button, for power and volume control, as well as a micro USB charging port. There is also an LED indicator light on each earpiece which lets you know when the headphones are charging or when they're fully charged (this light will also tell you when you are running low on battery).
The cables connecting the earpieces are flat and tangle resistant, which makes them easy to store away in your pocket. They also have magnets in them, which allow them to stick together when not in use. The package even comes with a cloth carrying case so these headphones can be taken travelling with ease.
Overall, these headphones look great, and I had no problem wearing them during my daily routine where I went from sitting at my desk to walking around outside all day long. I was a little concerned that the cable connecting the two earpieces might get tangled up as it's pretty long, but I didn't find that to be a problem at all, and because of their flat design it was pretty easy just to put them in my pocket when not in use.
It would have been nice if there was one additional colour option though so people could match their favourite team colour, or make it easier for people who would rather not stand out so much.
Comfort
These are some comfy headphones, but that doesn't mean they're perfect.
The padding on the inside of the earpieces makes them very soft against your skin, but it does get a bit warm after wearing them for a while.
The foam-like plastic can also get a bit sticky when you take them off, but that's an only minor issue and doesn't affect comfort much if at all. The biggest problem I had was with the rubber that covers the outside of the earpieces. It's soft and comfortable against your skin, but it's also very sticky, and it attracts lint like crazy (and hair) which means that it can get dirty quite quickly, so you have to wipe it down from time to time if you want it looking pristine all the time.
Also note that because these headphones don't have an over-ear design, this means that they won't seal as well as some other similar products would so ambient noise will still be audible even at high volume levels (although it did seem louder outside than it did inside). For me, this was not an issue though, as I tend to listen to low volumes anyway.
I found these headphones incredibly comfortable overall, and I wore them for hours without feeling any discomfort or pain like I often do with other products I have tried.
They weren't quite perfect for use while running, however, as although they stayed in place very well during my short test run when I tried running around my neighbourhood block I found that they were too big and bulky for me to enjoy myself properly while running. To be fair though most sport-oriented headphones suffer from this problem, so it's nothing new here.
As mentioned earlier, these also do a great job of cutting out a lot of background noise which makes them ideal for use while running or walking through busy streets, etc.. Overall these MX1's were very comfortable during daily use for hours at a time, although they were less comfortable while running due to their bulkiness.
How do they sound
Mpow MX1's sound quality is impressive. The bass is nicely balanced with the mids and highs. The sound is not so warm or so good that people will want to wear them for hours on end, but the Mpow MX1's are good enough to make you forget you are wearing them. The battery life is a significant selling point of this product. After 8 hours, they will only need to be charged for an hour and a half, which is excellent news for people who like long listening sessions.
Do they have a microphone?
Yes, they have a built-in microphone. The call quality is a little lackluster, as the person on the other end of the call can hear some background noise. However, it is still understandable.
What about wireless?
The Mpow MX1's are wireless and have a range of 10m. You can easily pair them with any device that has Bluetooth 4.1.
How good is the case?
The case is a nice touch to this product. The battery case supports 5V/2A charging and adds 35 hours of playtime to your earphones. There is an indicator light on the back of the case, showing you how much juice is left in it.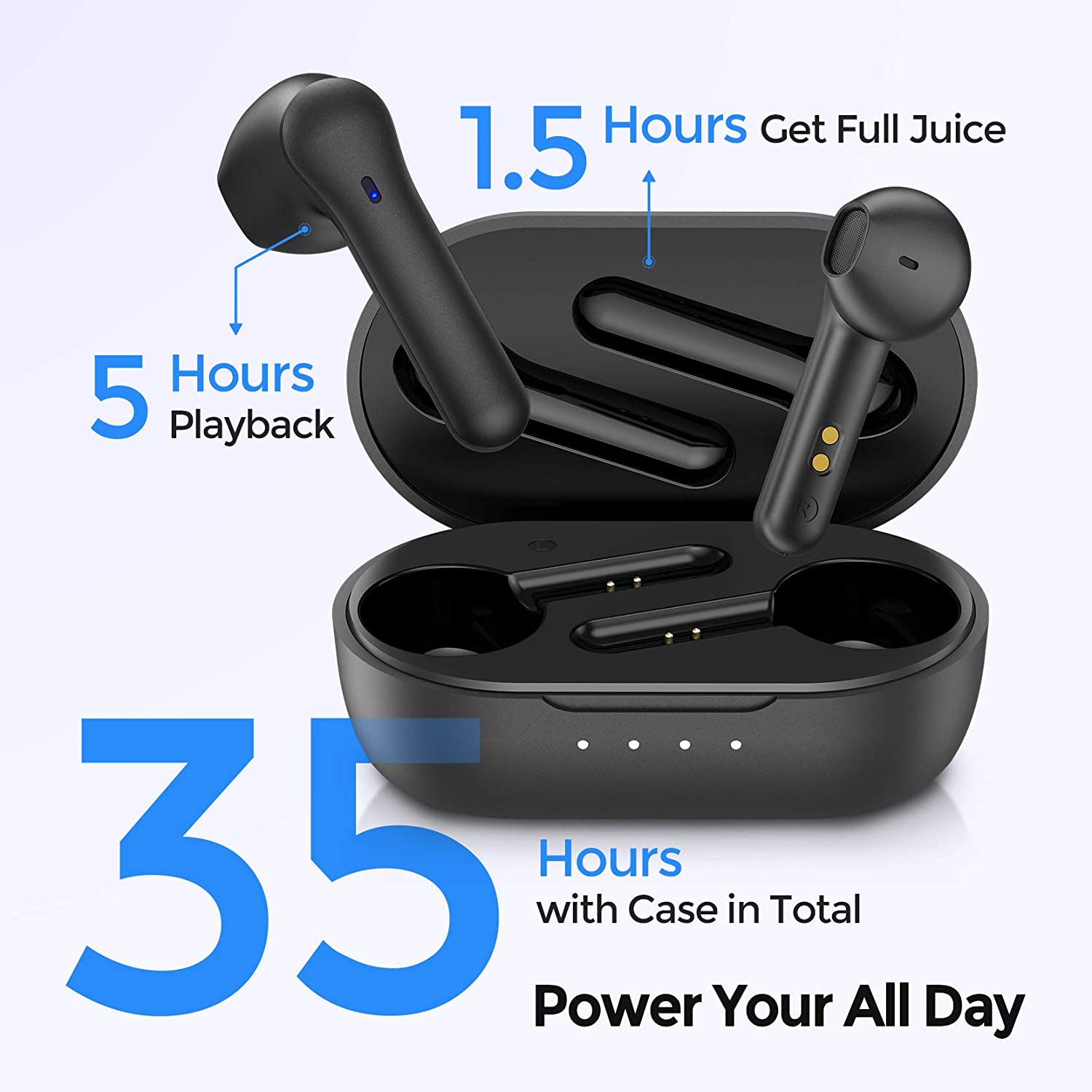 What's in the box?
Mpow MX1 Bluetooth Headphones, USB-C Charger Cable, 3 Pairs Silicone Ear Tips (S/M/L), 3 Pairs Comply Foam Ear Tips (S/M/L), Wireless Charging Case, Carrying Pouch, User Manuals
Are they compatible with games consoles?
Yes, the Mpow MX1's work with all devices with Bluetooth 4.1 and above. They do not work with devices that only have AptX audio (Bluetooth, 4.2). The manufacturers also warn that these headphones do not work well with smartwatches and other devices that use Bluetooth Low Energy (Bluetooth 4.0).
The Mpow MX1 also has a built-in microphone so you can use these headphones for taking calls or having conversations online while playing games on your consoles or PC. They are not as good at blocking out external noise as other headphones available on the market today, but they do block out some external noise so you can still hear what is going on around you if you need to listen to it for safety reasons. Just remember, if you are using them for watching movies or gaming, make sure you turn them off or reduce the volume when there is no talking going on so that you do not miss anything your character says aloud during gameplay!
Should I buy them?
If you are looking for wireless earbuds that sound amazing and have a great battery life, then I would highly recommend purchasing these!