What Are the Best Snowboarding Headphones?
Snowboarding is a naturally fun sport, but there are several things that you can do to enhance your experience. You may not believe this, but a great pair of headphones could be the missing ingredient to take your snowboarding to the next level. These headphones are incredible, and they will make a difference in how you enjoy your snowboarding vacation.
Headphones that are designed for snowboarding are built to withstand the elements. Snow, sleet, and even rain won't damage these headphones. The best snowboarding headphones are also completely sealed against the wind. Choose effective headphones against the cold because it's easy to have your hearing affected by extreme weather conditions.
The best snowboarding headphones will let you know if you need to make adjustments with your music. Some of the best snowboarding headphones have additional features, such as an extra set of controls for your music. Here, you'll be able to adjust the volume and change the song without having to get up from your snowboard. This is an incredible feature, and it will make an immediate difference in how you enjoy the sport.
We have all of this covered – Let's take a look at the Best Snowboarding Headphones!
The first headphone to be reviewed comes from Skullcandy, a headphone manufacturer that needs no introduction. During snowboarding, you are consistently in motion. Additionally, the ride is not always a smooth one. Therefore, if your headphone doesn't fit well, the possibility exists that you could lose it. Who knows? Depending on where and how it comes off, you may never get it back.
The Skullcandy Crusher Evo is designed to fit the contours of your head. This is why the apparent grooves that lie in the center of the underside of the headphone arch. Not only does this create an unbelievable level of comfort, but it also ensures that the headphone stays secure on your head no matter what you may encounter during your snowboarding. 
The sound quality is out of this world, and a special mention needs to be given to the bass. Even at low volumes, you can hear the level of power that this unit has to offer. At higher volumes, not only does the bass give the right level of vibration, but there is no distortion in the sound. There is also a bass sliding controller, which is independent of the master volume. 
While you can use this headphone with a cable, wireless is the way to go when you're snowboarding. The headphone is designed to have a crystal clear Bluetooth connection with a range of up to 10 meters. No matter how tall you are, there is no way your headphone is even two meters away from your audio device as you go downhill.
The next thing to mention is the battery life. It's always great to know that your battery can last, as you enjoy your favorite sports. Additionally, no one wants a headphone that needs to be charged every time it's used. The Skullcandy Crusher Evo has a battery life of up to 40 hours when charged fully. Note that you can get an hour's worth of musical enjoyment on only 6 minutes of charge.
✓ Incredibly long battery life
✓ Built to give a customized and comfortable fit
✓ Incredible sound quality with dedicated bass adjustment
✓ Very well-designed
‍
✗ Objects that get between the headphone and audio device may disrupt the signal
✗ Rubber padding under the arch can pull your hair
Most snowboarding helmets have slots for earphones, and this one capitalizes on those slots. The idea with this design by Outdoor Technology is to let you comfortably wear your helmet, while simply slotting the earphones inside them.
Don't get the wrong idea, as you don't need a helmet to use the earphone. It's nothing more than a convenience feature. The controls are easy to use (since it's a two-button control scheme), and they are also glove-friendly. Naturally, if you're out in snowy weather, then the chances are that you are wearing gloves. 
It's essential to discuss battery life again here. The Chips 2.0 earphone has a good battery life of 10 hours on a full charge. This means that you can get a marginally extensive amount of use before you need to run to plug it in.
This is an earphone that is built with 40-millimeter drivers that can produce 112 decibels. They may not look very powerful, but the kind of bass that can be generated is likely to shock you. Both the bass and the highs can be enjoyed at maximum volumes without the occurrence of any distortion. This is an earphone that is built to handle extreme conditions very well. Though you may not be sweating much during cold weather, you should also note that the earphones are sweat-resistant.
An excellent Bluetooth 4.0 connection allows you to enjoy your favorite audio wirelessly seamlessly. The maximum supported connection distance is 32 feet, and the signal is not easily thrown off by objects that come between the unit and your audio device.
Another cool design choice is the inclusion of a walkie-talkie function, which allows you to issue voice commands through the device's microphone. There is full integration with Siri if you have any questions or requests on your mind. 
✓ Sweat-resistant
✓ Very convenient and comfortable to wear
✓ Able to seamlessly fit into helmets that offer the proper support
✓ Can withstand temperatures as low as -20 degrees Fahrenheit
✓ The microphone is built-in that can be used for voice operation
‍
✗ The microphone only works over Bluetooth, though there is auxiliary cable support for the earphone
✗ Charging time is long based on battery life
As most of us are used to wearing earphones in our ears or headphones over our heads, the idea of an open ear design is one that can seem a bit strange. However, snowboarding is a sport that benefits from your ability to use your eyesight and hearing as much as possible. These earphones from aftershocks deliver music through your cheekbones.
This allows you to enjoy the audio that you want while maintaining as much situational awareness as possible. You can never be too safe while engaging in a sport that propels you forwards as you go downhill. 
The connection to your audio device is a convenient and powerful one, as the protocol used is Bluetooth 4.2. Though you may not have any use for a dual connection feature, these earphones can connect to two devices simultaneously using the multipoint connection feature. Just about any Bluetooth enabled audio device that you own can be used with the AfterShokz Aeropex.
The sound quality delivered by these earphones is top-notch. Not only is the bass crisp and deep, but there are also clear and well-balanced highs. A microphone is a part of the design, responding to voice commands and allowing you to make calls hands-free. Noise cancellation is built into the said microphone, which means you can enjoy your calls with the utmost clarity. 
The open wraparound design allows for immense comfort. Many other earphones become painful after consistent use. As there is a limited strain on your ears and head, these feel like a dream to use.
✓ Build quality is very durable
✓ The design lends itself to an immense level of comfort
✓ The audio output quality is tremendous
✓ Earphones can be used very comfortably
‍
✗ Windy conditions can make wearing this earphone a chore
✗ Sound quality is impacted by head positioning
✗ Equalizer settings are lacking.
The Bose QuietComfort 20 are great headphones and will enhance your experience on the slopes. They utilize a TriPort acoustic headphone structure which provides outstanding sound performance. The Bose QC20 earbuds will block out the drone of the snowmobile, the howl of the wind, and the chatter of your friends. They will even keep your music audible when you are riding on the lift. The soft and comfortable ear cushions provide a comfortable fit and block out any unwanted noise that might distort your music.
The Bose QuietComfort 20 offer a super-comfortable fit thanks to its lightweight frame construction. They are also available in an assortment of colors to suit your fashion tastes. This makes them ideal for wearing in any weather. You can wear them all day long and never feel uncomfortable. The design features a three-button inline remote for controlling your music or taking phone calls. The inline mic provides full-duplex sound and works well in noisy environments.
The earbuds are designed to work with your mobile devices. The Bose QC 20 use Bluetooth technology to connect to your iPhone, iPad, or Android devices. You can use the inline controls to adjust the volume, pause and play songs, or skip to your playlist's next track. The sound quality is excellent and lets you experience your favorite music in crystal clear detail.
✓ Excellent noise cancellation
✓ Lightweight and comfortable
✓ Comes with a carrying case
✓ 3.5mm cable for wired use
‍
✗ Only available in Black
✗ A bit pricey when compared to some of the other headphones on this list
Wireless headphones or Bluetooth headphones?
Technology has come a long way with wireless on-ear headphones, gone are the days where they easily fall out and are lost. However, we recommend against using wireless headphones for snowboarding. If you come off your board or slip on the ice, you will have difficulty finding your new headphones in the deep snow. Trust me; you don't want to lose your headphones on the first day of your trip and miss out on your favorite tunes for the rest of your holiday!
If you are going for an option that allows headphones to be wireless, make sure that they can also be attached with a secure wire to avoid your favorite songs being lost. The Bose QuietComfort 20 Acoustic Noise Cancelling Headphones are perfect for this.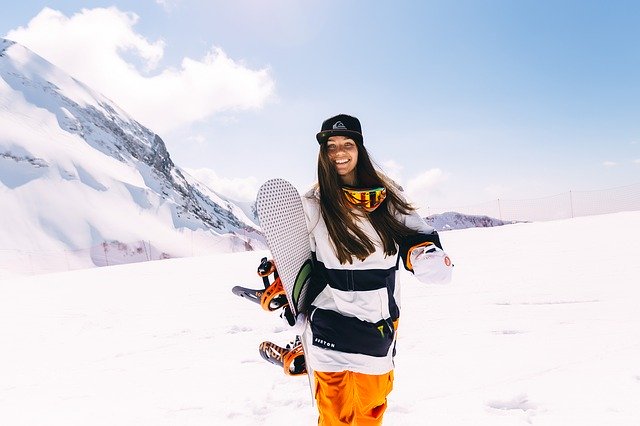 What Features Should You Look For in Snowboarding Headphones?
When you are looking for the best snowboarding headphones, you'll want to make sure that you choose a pair that has the features that are most important to you. Here are some of the features that can make a big difference when it comes to choosing a pair of headphones for snowboarding:
Water Resistance
If you plan on snowboarding in the rain, then one of the best options is water-resistant headphones. These headphones will withstand the water and continue to work even after they get wet. This is an excellent feature for any pair of headphones, but it's imperative when it comes to snowboarding, as you never know what the weather will be like.
Proper Fit
The best snowboarding headphones will stay in place as you ride down the mountain. To help ensure that this happens, look for a pair of headphones that have an adjustable band. This way, you'll be able to tighten them around your head and keep them in place.
Wide Frequency Range
Look for a pair of headphones with a wide frequency range. This will allow you to enjoy a full spectrum of sound, and it will make your music sound richer and fuller. (Frequency Response explained)
Durability
Snowboarders tend to be rough on their equipment. Because of this, look for a pair of headphones that is rugged and durable. You don't want to have to replace your headphones every season. We have an article dedicated to the Most Durable Headphones.
The best snowboarding headphones are those that are rugged, durable, and waterproof.
Conclusion
As stated before, snowboarding is not a sport that allows you to pick up any random pair of headphones. Several features are essential to this specific application, and they must always be considered.
The first is the design. Not only should the unit be comfortable, but it also needs to remain secure on your head as you take on the hilly terrain. Additionally, snowboarding is done in cold and harsh conditions, so your headphone must be able to stand up to these.
Sound quality is another crucial bit. Listening to audio is the reason for having your headphones in the first place. Wind and noise can deter you from doing this if your headphones are not very efficient at locking them out. Not only should the quality be clear, but some level of noise cancellation measure is a plus.
Wireless Bluetooth connectivity is also something that you should consider. You don't necessarily want to cable hanging around as you speed downhill. While different people may have different impressions of which headphone is best, don't expect to be disappointed by any of the options listed here.